Description
STAND AND SPEAK WITH CONFIDENCE
What could you achieve if you could speak confidently in front of an audience? The quality of your message will determine the level of your success. Are you held back by FEAR or lack of confidence? Learning to speak in public is proven to build confidence and self esteem. You may have the greatest idea or message but it is worthless if you can't stand before a group to articulate your message, engage and ultimately influence your audience to adopt your idea's and take action. Stand up and Stand Out!
Join us in our unique 1 day event "STAND AND SPEAK WITH CONFIDENCE".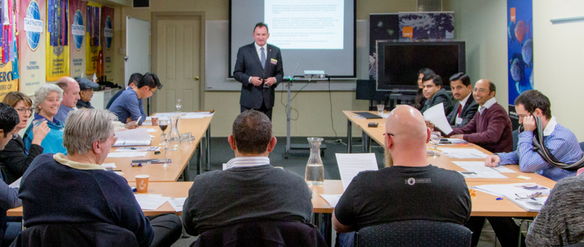 Our courses are fun, stimulating, interactive and conducted in a nurturing non-threatening environment by our 2 facilitators with a combined 30 years experience in speaking, coaching and presenting. Course numbers are capped at 12 to ensure we can provide the highest level of service and all attendees gain maximum benefit from the experience.
Understand the psychology and physiology of fear and anxiety and learn proven strategies to control anxiety and eliminate fear.

We will provide a practical, structured step by step framework to construct a speech. Begin to write a speech on the day and present to the group!

Learn how to develop and use body language, eye contact and vocal variety for greater audience engagement.

Develop compelling Impromptu speaking skills with clear and actionable structures. Never be stuck for a comment or response!

Giving or receiving evaluations are an important part or our work. Learn to structure, construct and delivery quality, meaningful evaluations which you can use in your business or workplace.

Introducing presenters is a skill and an important part of building credibility with the audience. Discover the absolute must's and must not's!

Receive a workbook and printed materials for your future growth.

At the end of the course receive a certificate of completion.

All our sessions include light catering and allow for dietary requests and specific allergies.

STRICTLY LIMITED SEATS AVAILABLE. ONLY 12 PER CLASS TO ENSURE OPTIMUM PARTICIPANT EXPERIENCE.