Description
What are we researching?
We are currently developing a modelled system of the effect of renewable energy technology deployment in the tourist accommodation sector in Queensland. This model captures why the sector deploys renewable energy technology, and the possible ripple effects of this decision to the Australian economic, environment and society.
Why you are needed?
In order the model to predict the above effects, its accuracy is crucial. You, as an expert about renewable energy and/or the tourist accommodation sector in Queensland, plays a critical role to ensure that this model reflects the reality. Your opinions and suggestions about this model will ensure that its predictions are accurate, which in turns will benefit your future decisions.
What are the benefits of this research?
This model, when finish, can assist the tourist accommodation sector to identify opportunities and barriers to deploy renewable energy technology, broaden the renewable energy sector's understanding about the effects of their innovations, assist the government to design their policies, and enlighten the public of the possible effects of this decision on their daily lives.
What you will be asked to do?
During this workshop, you will be asked to view a modelled system of the tourist accommodation sector and renewable energy technology. You are asked to comment on and discuss your opinion about this model with other stakeholders, and find a common ground to adjust the model if need be to best reflect the real system. You may also be asked for further clarification about your opinions towards certain factor in a model. This workshop takes approximately 2 hours between 9:30-11:30, followed by a complimentary luncheon.
Building location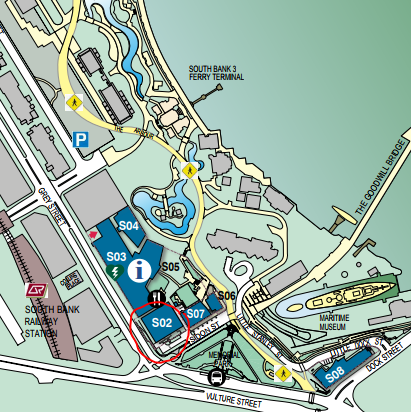 Who should attend?
You are a scholar in a university who have a research background in the tourism and/or engineering industries, and/or

You work in and/or own any type of tourist accommodations in the management, and/or
You work for an Australian Government in a department or agency that relates to the energy and/or tourism industries, and/or

You work in an electricity provider, and/or

You are the member of the public who are interest in this topic.
Your confidentiality
Upon arrival to the workshop, you will be assigned a name tag with pseudonym using a colour code and a number, for example RED1 or BLUE2. The meaning of colour code is not made public and is only known to the researcher. During the workshop, you will be referred to as this colour and number code instead of your name.
Your response to the model will be stored for analysis in a de-identified format. The completed model will be stored in a researcher's computer at Griffith University, and will be permanently deleted after 5 years. Only research team members have access to this model. Note that the results will be reported in a PhD thesis and may also be published as a journal article or presented at an academic conference. Your identity will not be identifiable in anyway.
The registration of this research involves the collection, access and/ or use of your name, surname, and email address. The information collected is confidential and will not be disclosed to third parties without your consent, except to meet government, legal or other regulatory authority requirements. A de-identified copy of this data may be used for other research purposes. However, your anonymity will at all times be safeguarded.
For further information consult the University's Privacy Plan at http://www.griffith.edu.au/about-griffith/plans-publications/griffith-university-privacy-plan or telephone (07) 3735 4375.
Your participation is voluntary
Your participation is voluntary. You do not need to answer every question unless you wish to do so. You can withdraw from the workshop at any time before the research result is being published as a thesis.
The ethical conduct of this research
Griffith University conducts research in accordance with the National Statement on Ethical Conduct in Human Research (2007).
If you have any concerns or complaints about the ethical conduct of the research project you should contact the Manager, Research Ethics on 3735 4375 or research-ethics@griffith.edu.au.
FAQs
What are my transport/parking options for getting to and from the event?
Southbank car park is located at Little Stanley Street, South Bank. Entry is via Tribune or Glenelg Street. For all information regarding the underground South Bank car park, please call 07 3867 2022, or click here.
Is it ok if the name on my ticket or registration doesn't match the person who attends?
Yes, that is fine. Please feel free to invite your friends and colleagues.