Event Information
Location
Disaster Management Centre. Located behind the Council offices. Access is via Grey Street (across from the state primary school). On street parking on Grey Street, and additional parking in Klinge Lane and other side of water tower
112-118 Victoria Street
St. George, QLD 4487
Australia
Get up to date with the latest social and economic data for your region.
About this event
ID Profile Training - South West Roadshow
Regional Development Australia Darling Downs and South West QLD are proud to partner with .ID to bring you this training event.
Join us for an informative presentation from .id economic consultants providing an overview of key impacts from COVID-19 on the local economy.
The presentation will include an overview of changes in local economic indicators as a result of COVID-19 as well as a comparison with national and State perspectives. Learn how to access this information, and more, through RDA Darling Downs and South West interactive economic profile, available free online.
This training will equip you to navigate through the different options available in the econcomy.id websites and will provide an opportunity for questions and answers after the session.
This session will also be offered virtually. Click here to register for the virtual session.
About .id
.id delivers online economic profiles to councils across Australia. These are delivered in public websites, branded economy.id, for anyone to access. The sites bring together economic data from multiple sources to tell the story of a local economy and how it is changing. This information is designed to be used by council staff, local businesses, investors, community groups, students and the general public.
You can be confident about the quality of the information in the economic profiles as it is derived from official sources, includes the most robust economic modeling and is analysed and presented by experts. Each data source is maintained with the latest series so you can be sure you are using the most up to date information.
Get access to local economic data in its most compelling form including Gross Regional Product, local jobs, local businesses, employment, unemployment, population, building approvals, industry structure, journey to work and much more.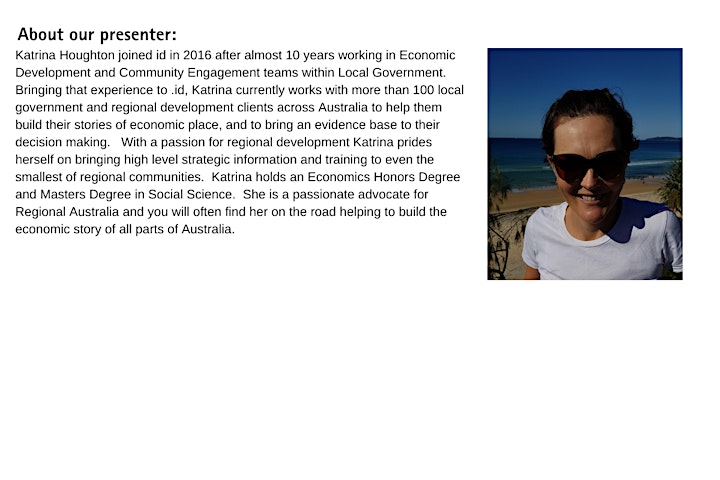 Date and time
Location
Disaster Management Centre. Located behind the Council offices. Access is via Grey Street (across from the state primary school). On street parking on Grey Street, and additional parking in Klinge Lane and other side of water tower
112-118 Victoria Street
St. George, QLD 4487
Australia
Organiser of St. George ID Profile Update - Community Session