Delve into the exotic world of Sri Lankan cuisine with MasterChef Contestant Dee Williams dishing up some deelicious Sri Lankan Street Food!
About this event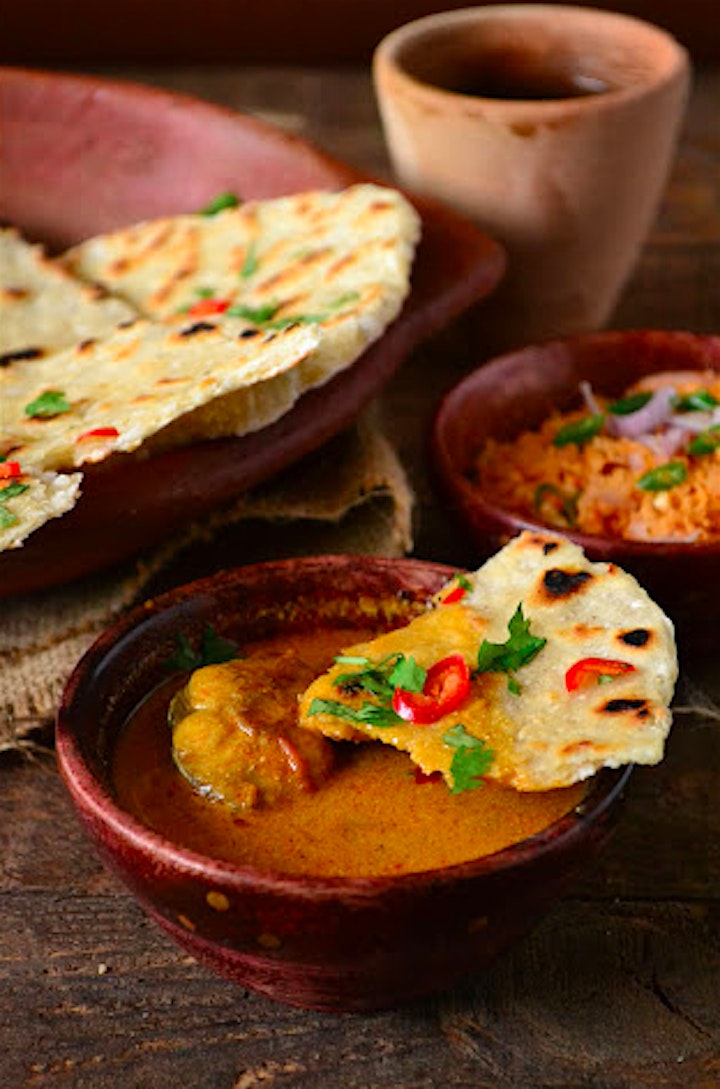 Delve into the exotic world of South East Asian cuisine as we transport you to the dazzling coastlines of exotic Sri Lanka with Sri Lankan born MasterChef Contestant Dhayanie (Dee) Williams teaching us how to master some Sri Lankan Street Food classics including Roti, Coconut Sambal and Dhal! This is a Vegan Friendly Experience!
What You Will Learn
In this culturally enlightening and interactive class, you can throw away the takeaway menu as we get the unique opportunity to roll up our sleeves and learn about Sri Lankan culture and cuisine from an expert!
We begin by delving into the world of Sri Lankan spices with a sensory experience, as Chef Instructor Dee showcases her personal new 'Deelicious' Spice Range which you will be encouraged to smell, touch and taste. These include a Roasted Chilli Powder, Sri Lankan Unroasted Curry Powder, Sri Lankan Roasted Curry Powder and Sri Lankan Dark Roasted Curry Powder.
Chef Instructor Dee will then take you through a detailed demonstration, before you will be guided step-by-step through making Roti bread from scratch and a Spicy Coconut Sambal. Dee will then demonstrate how to make a delicious Sri Lankan Dhal, showcasing her range of spices and how they can enrich this dish. Once you have created your dee-licious masterpieces, you will then plate and devour your creations with your new found foodie friends!
What You Will Get
Make handmade Roti Bread from scratch;
Make Coconut Sambal;
Learn how to make Sri Lankan Dhal;
Sensory Experience tasting four spices from the Dee-Licious Range;
Simple & Easy Recipe Cards.
Experience
No experience is required! All equipment, ingredients and aprons will be provided. Our events are casual and meant to be fun, relaxing and interactive. This class is designed to be just as fun for the cooking enthusiast who wants to be a part of every step as it is for the first-timer who's happier observing and assisting.
Please arrive 15 minutes prior to the class start time and wearing a mask in accordance with COVID-19 safety restrictions. Given how much alcohol will be consumed at this event, we strongly advise that you do not drive!
Terms & Conditions
*In placing your order, you are confirming that you have read and agree to our Terms and Conditions.
Ages 18yrs+ only.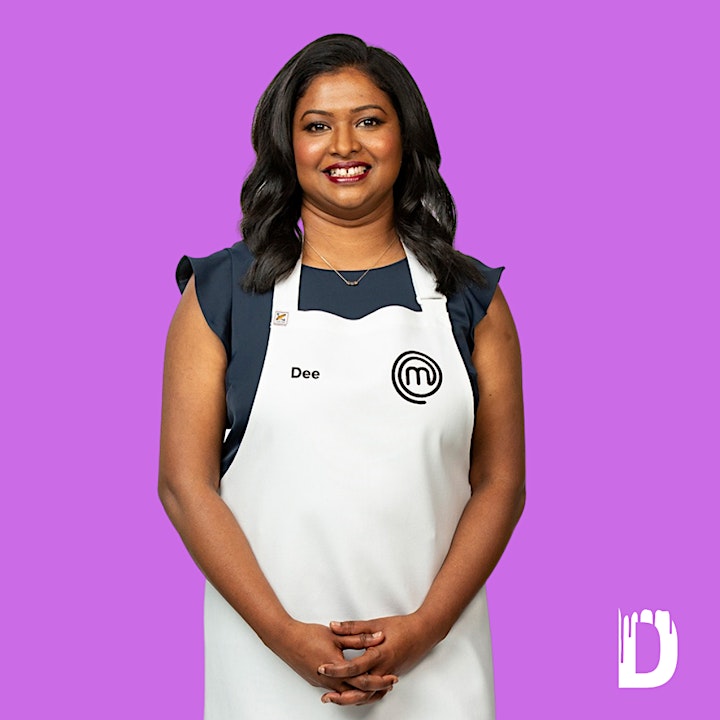 Your Instructor
Your Chef Instructor will be Food Ambassador, Media Personality and Season 11 MasterChef Australia Contestant Dhayanie (Dee) Williams. Born in Sri Lanka, Dee decided to move to Australia in 2007 to pursue a career in Hotel Management. However once having arrived, a whole new world of food and cooking cultures was introduced to her which inspired her instead to consider pursuing her passion in South East Asian Cuisine.
Whilst watching MasterChef Australia over the years, Dee had a desire to experience what all the contestants were experiencing in the competition. Despite several unsuccessful attempts, Dee did not let this dissuade her, and so she persisted on until she was selected to be part of MasterChef Australia Season 11, 2019 as a top 24 contestant. Dee was the first Sri Lankan female to be selected for MasterChef Australia.
Dee aims to showcase the authentic flavours of Sri Lankan cuisine by showing viewers on various social media platforms how to create dishes and explaining the different and complex flavours. Dee featured as a judge and mentor for Sri Lankan cooking show Supreme Chef. Along with continuing to be a Food Ambassador, Dee has also recently released her signature range of spice mixes showcasing her Sri Lankan heritage.
Organiser of SRI LANKAN STREET FOOD EXPERIENCE WITH MASTERCHEF CONTESTANT DEE WILLIAMS