Description
DUE TO COVID-19, WE HAVE HAD TO POSTPONE THIS CLASS. WILL WILL BE IN CONTACT WITH A NEW DATE AND TIME FOR THIS EVENT AS SOON AS WE HAVE THE OPPORTUNITY TO DO SO.
Sri Lankan Hoppers, one of London's hottest current street food trends. In their simplest form, they are bowl-shaped pancakes made from fermented rice flour and coconut milk. Cooked in small round pans, they are crispy round the edges, thicker at the bottom and served as the basis for a Sri Lankan Breakfast.
You may have been lucky enough to try one of Kumar's Hoppers at his own pop-up carts at various markets in Sydney... now is your chance to learn his secrets.

For this spectacular 3 hour course Kumar will show you 2 versions of this dish and then prepare a gorgeous menu to accompany them.
The Menu, all popular breakfast specials in Sri Lanka
Fish Curry
Dhal
Coconut Sambol
Red or Brown Rice Hoppers, using a naturally fermented sourdough batter
Kumars quick and easy version using rice flour and yeast

Complete this course for a lazy Sunday late breakfast of this feast that you have prepared served with a tall glass of Sri Lankan iced tea or an icy cold beer if you prefer!
About Kumar
We were first introduced to Kumar Pereira's lovely, humorous nature when he was a contestant on MasterChef Australia series 3, in 2011 as well as MasterChef All-stars 2012.
Kumar was born in Sri Lanka and has lived in England, Hong Kong and now in Sydney since 1988. His food is influenced by the four countries he has lived in, particularly, his native home Sri Lanka.
Kumar is passionate about healthy cooking with homegrown seasonal produce and taking a modern slant on traditional Sri Lankan cooking.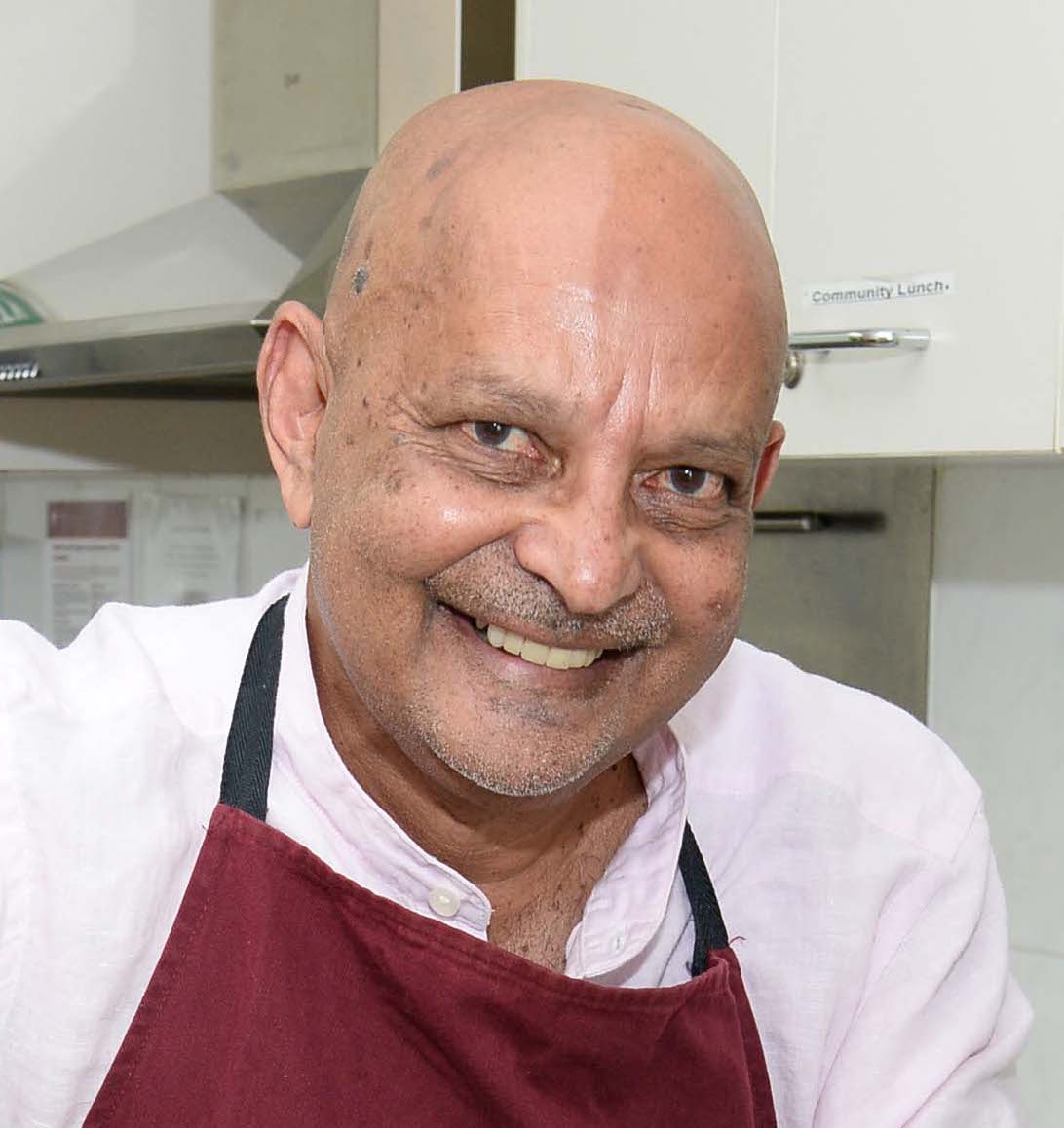 FAQs
To do list!
- Wear closed toed shoes (no 6-inch heels ladies!)
- Please tie back long hair
- Arrive early as the class will start on time (there's a lot to fit in!)
- Save the environment and bring a container in case of leftovers
We love Planet Earth
The Cooking School believes in recycling, reducing waste and reusing where possible. All food waste is collected by an organic recycling company that converts the waste into reusable energy.
Parking
St Margaret's Car Park at 417-435 Bourke Street, Surry Hills is a great option for parking with 80 spaces available and a 5-minute walk from the Cooking School. Casual parking rates after 5pm are $4/hour.
https://goo.gl/maps/wjqrwSKXBFF2
Booking Conditions:
Cancellations are non-refundable.
A change in personal circumstances does not entitle a ticket holder to return or exchange a ticket.
All bookings are confirmed on receipt of full payment and if a seat is available.
Reservations may be transferred to other classes with 30 days notice.
If you are unable to attend a reserved booking, you are welcome to send someone else in your place.
Reservations for classes and events close 30 minutes prior to the start time.
All classes and events require closed-in shoes.
The Essential Ingredient reserves the right to alter or cancel a class. Every effort is made to contact and accommodate guests in the event of alterations or cancellations. If a class is cancelled or moved to a date and/or time you are unavailable, you are entitled to a full refund.
Please inform staff of any dietary requirements whilst making a booking, we will attempt to accommodate you to the best of our abilities. Please contact us on 02 9555 8300.
Click here to view our full terms and conditions.

Proudly sponsored by: