Sri Lanka Adventure Retreat

Saturday, 8 April 2017 at 10:00 am

-

Saturday, 15 April 2017 at 12:00 pm (India Standard Time Sri Lanka Time)
Event Details
"ONCE A YEAR, GO SOMEPLACE YOU'VE NEVER BEEN BEFORE"
SRI LANKA ADVENTURE RETREAT
 A FITNESS & WELLNESS ADVENTURE

BROUGHT TO YOU BY THE ADVENTURE PROJECT CANBERRA & WILD SAGE WELLBEING
Saturday 8 April - Saturday 15 April 2017 
TALALLA RETREAT, SRI LANKA 
Find your flow
The flow state is a term used in positive psychology. Flow describes being in a mental state of energised focus, full engagement and enjoyment of an activity or the present moment. In flow, your emotions are harnessed in a positive, energised and aligned manner to perform the task at hand. Flow is experienced as a completely focussed motivation, a single minded immersion in your actions that leads to feelings of spontaneous joy. The Sri Lanka Adventure Retreat is uniquiely designed to help you reconnect you with your intrinsic state of flow so you can live vibrantly and thrive!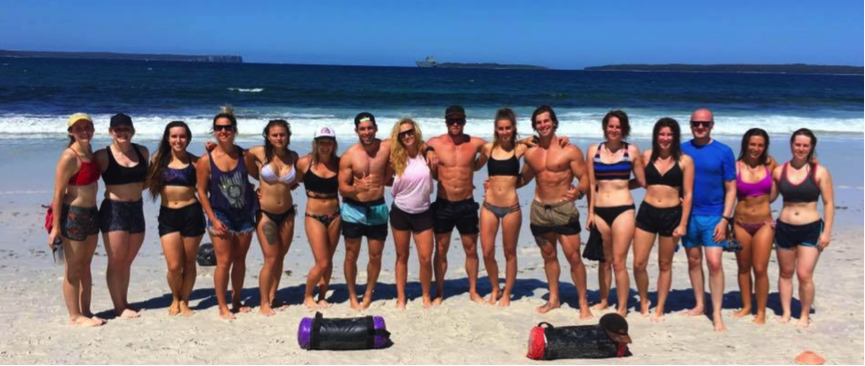 Want to explore the world while doing something great for yourself?
Are you looking for an active holiday where you come back revitalized, richer in experiences, with life-long friendships and transformed to a healthier, happier version of yourself? You'll find it on The Sri Lanka Adventure Retreat in idyllic, tropical paradise!
Retreat leaders Ramone Bisset, Luke Ardern and Lachlan Campbell have designed a week that challenges your physical limits, opens your eyes to magical Sri Lanka and will leave you feeling stress free, reenergised andready to leap into life at home!
Play
With the perfect balance of fun activities, quality down time and learning, The Sri Lanka Adventure Retreat is designed to leave you feeling relaxed, energised and inspired. Find your flow with surf lessons; harmonise your body and mind with yoga and strengthen physically and mentally with outdoor fitness challenges. On local adventures you'll get to immerse yourself in traditional Sri Lankan culture and experience it's wild, natural beauty. If you're a looking for a life transforming adventure book now to join us!
Take a leap of faith and invest in yourself
Yoga makes you flexible right? Well... Yoga is a set of tools and practices you can use to learn more about yourself and help disicpline yourself to act in your own best interests. This in turn helps how you interact with others as well. Some of those practices may help you stretch both your muscles and your mind in order to see life from a different perspective. This could be considered becoming more 'flexible'! 
Regardless of your level of yoga experience the yoga practice will open doors to the evolution of your body and mind. With a range of physical practices on offer your body will  be streched, cleansed and opened to freedom. There will also be ample opportunity to explore meditation. 
ALL YOU NEED TO KNOW 
Why do I need to be a part of this? 
So much more than just a holiday, at the Sri Lanka Adventure Retreat alongside the fun and fitness, you'll have the opportunity to immerse yourself in traditional Sri Lankan culture and customs. Adventuring outside the walls of the resort we'll explore local delicacies, visit markets, historic monuments and temples where we'll receive traditonal blessings. 

With a range of physical challenges and practices on offer from powerful team challenges to healing resorative Yoga your body and mind will be streched, cleansed and opened up to freedom.
Price Includes:
Seven nights of twin share accommodation at a boutique yoga and surf retreat, located on a stunning and safe stretch of beach in southern Sri Lanka.

Eight days of skilful, personal guidance through yoga and meditation workshops, personal training and group fitness challenges.

Transport to and from Colombo airport on arrival and departure.

Professional surfing instruction.

Fresh, delicious and locally sourced meals.

One 60 minute auyrvedic massage.

Transportation to and from a range of local activites. Activities

might

 include*:
          > Visit to historic Galle
          > Visit a wildlife conservation project
          > Visit a tea plantation and factory
          > Visit a local temple for a traditional ceremony
 *An official itinerary will provided on commencement of the reterat.
Don't Forget:  
There are a few things that are your responsibility to organise before you arrive for Samadhi Sri Lanka. These are not included in the retreat cost:
Your returm airfare to Colombo, Sri Lanka.

 Your visa for Sri Lanka.

 Travel medical insurance (mandatory for all participants).

 Additional health and beauty services from the Spa.

 Extra surf lessons or surfboard/SUP hire outsde the official itinerary*.

 Alcoholic beverages.
 *An official itinerary will provided on commencement of the reterat.
Hot Tips: 
Book your flights early to save! 
Make sure you know the visa requirements for entry to Sri Lanka and leave enough time to have your visa processed if required.
Check with your GP or travel doctor for a pre-departure medical clearance and travel health tips for South Asia.
 Be a smart traveller. Take responsibility for your travels and let someone know before you go.

Sample Schedule
7am - Sunrise meditation on the beach followed by a morning sweat session! 

9am - Healthy, delicious breakfast 

11am - Second morning movement session. Options: functional fitness, yoga, surfing, SUP
1pm -  take lunch at your leisure followed by a local activity or time off to explore, surf, relax by the pool, have a massage or an auyrvedic healing treatment from the resort spa
6pm - Restorative Yoga or Yin Yoga

8pm - Dinner 

*An official itinerary will provided on commencement of the reterat and will vary day to day. Participation in classes and activities is optional.
Please feel free to contact us if you have any questions! 
We can't wait to have you join us! 
Looking for a local adventure? Join the Summer Adventure Weekender February 2017!
Spend a fun, fully catered weekend at beautiful Bawley Point NSW with the Adventure Project Crew!
From Friday 24 to Sunday 26 February we'll play outside, get functionally fit, enjoy the sun, sand, surf and rrelax and stretch out with some yoga and meditation. Amazing food, stunning bush setting and accommodation or camping options available.
When & Where

Talalla Retreat
A2
Talalla, SP
Sri Lanka

Saturday, 8 April 2017 at 10:00 am

-

Saturday, 15 April 2017 at 12:00 pm (India Standard Time Sri Lanka Time)
Add to my calendar
Organiser
Luke Ardern is head trainer and creator of The Adventure Project Canberra.
Growing up on the NSW South Coast, Luke has always had a passion for the outdoors. With 10 plus years in the fitness industry, Luke has combined his love of playing outside with his talent for creating strong team environments through exciting, fun and functional group training with The Adventure Project Canberra (TAP). With a rotating roster of stunning outdoor training locations across the ACT, TAP helps the Canberra community explore the journey of health and fitness while enjoying the benefits of immersion in nature. 
Lachlan Campbell is Canberra-based Personal Trainer and Head Trainer at F45 Braddon.
Also hailing from the NSW South Coast , Lachlan's love for the ocean and outdoors started here. With a move to Canberra to study Physical Education, Lachlan has built a successful career in the Canberra fitness industry. Lach is known for his ability to create a postiive team training atmosphere and push people through their limits with a huge smile and contagious good vibes.
Ramone Bisset is head adventure planner and transformation leader at Wild Sage Wellbeing. 
Ramone is a movement and mindset educator with a strong case of wanderlust. With a focus on nurturing healthy movement, cultivating mindful self awareness and exploring the natural world, Ramone combines her extensive experience in yoga, meditation, healing and adventure travel to lead wellness retreats around the world.