About this Event
Adonis Athletics & PB Physio present The Squat PBs with Adonis Seminar
Attention coaches, gym owners and PTs, this seminar will help you:
- Reduce injuries and therefore reduce athletes quitting the gym and/or coaching.
- Improve your athletes performance so they can get PBs.
- Managing niggles/injuries for your athletes and yourself
- Screen for common injuries and how to assess for possible injury risks
- Program warmup/activation preparation for optimising training and competition results
- Program technique, cues and finding the right squat technique based on the anatomical structure of an athlete
Athletes and fitness, this seminar will help you:
- Learn the fundamentals of squat mechanics
- Correct your own squat form and resolve any squatting issues.
- Learn how to program yourself to improve your squat.
Who are we?
The Salty Strength Coach, Amir Fazeli
- Owner and founder of Adonis Athletics, Australia's largest chain of 24/7 strength and conditioning facilities.
- His best lifts are 258kg squat, 150kg bench press and 317.5kg deadlift at under 83kg
- Amir has produced world class athletes such as u83kgs world record holder Nathan Tanis with a 305kgs squat.
-Amirs qualifications include: Bachelors Sport & Exercise Science (Usyd), Master Sport & Exercise Science (Usyd) – Specialising in Sports Performance and he is a Exercise Physiologist
- His philosophy is if you are going to do anything you might as well do it right and be the best by immersing yourself in it and applying it.
The Powerlifting Physio, Pei Gan
- Owner and founder of PB Physio which is quickly becoming the go to clinic for rehabilitation and performance for powerlifters.
-She has worked with numerous world class and national powerlifting athletes such as Nathan Tanis, Chrissy Dask & Alex Hayes.
- Pei also works with world class bodybuilders, weightlifters and strongmen.
-Pei is currently the second best national powerlifter for the u47kg in the Australian Powerlifting Union.
- Pei's qualifications are B. App. Sc. Physiotherapy, Strength and conditioning coach, Personal Trainer, Musculoskeletal Physiotherapist.
-She is known to work around injuries, strengthen weaknesses and maximise performance.
- Her values are strength, honour and progression.
Ongoing learning:
-The learning and support does not stop at the seminar. We aim to change the industry by offering:
-3 months ongoing support and Q&A via VIP Facebook group
-Lifetime access to video of entire course content so you never forget the important content
-Automatic updates of video content to reflect latest scientific findings so you stay ahead of the competition
Terms and conditions:
- The event organisers reserve the right to change the date and or location of the event in the case of unforeseen circumstances . No refunds will be issues for a change of location or date.
- Tickets are non refundable and non exchangeable.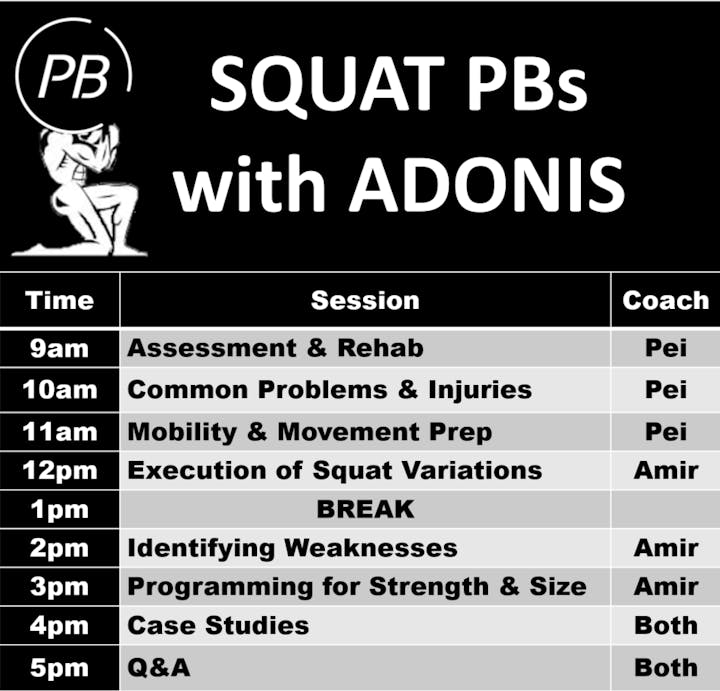 Where : Adonis Athletics Paddington. 385 Oxford St, Paddington NSW 2021
When : Feb 24th 2018 Sunday 9am to 6pm
Tickets: Strictly limited to only 20 spots.
Price :
- $599 per person
- Early bird $499 (Till Jan 24th)
Book now to achieve your personal best!