About this Event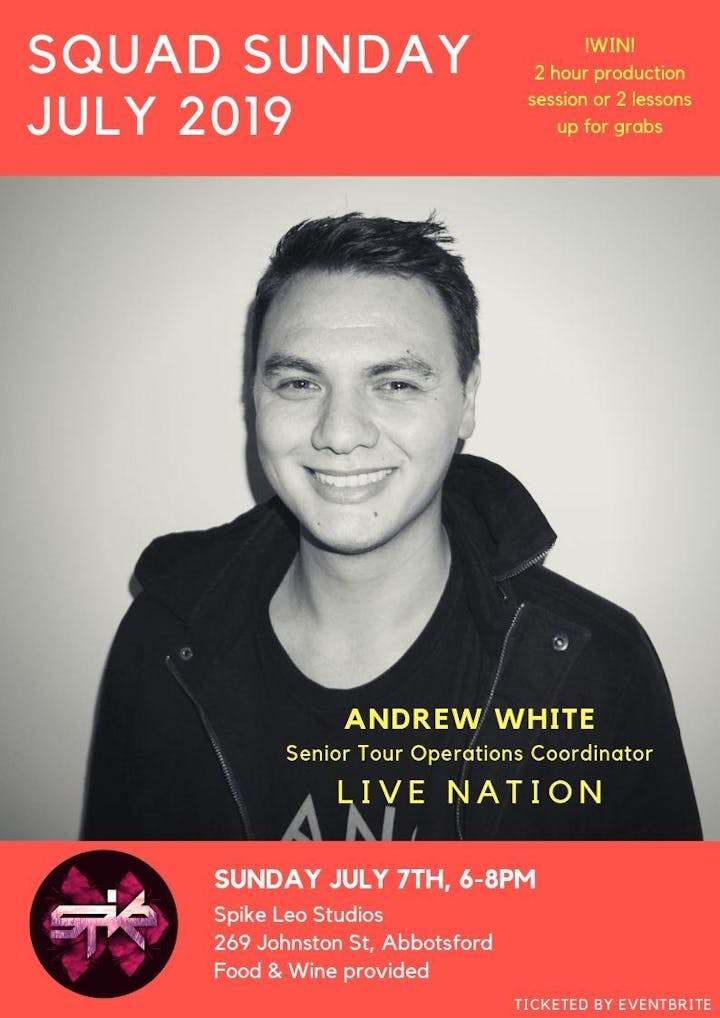 About our guest speaker.
Andrew White
With a strong foundation in artist management, concert promotion and the wider entertainment business, Andrew White is a passionate music industry professional. From humble beginnings playing drums and Latin percussion, Andrew was given a job as runner for Stevie Nicks' Gold Dust tour in 2006 which propelled him to pursue the industry. Putting his business mind to work he continued to work on concerts, live television and studio production, before starting a Music Business degree at RMIT University in Melbourne, Australia, picking up an internship at Illusive Entertainment (Mushroom Group).
Andrew moved to Los Angeles in 2011 and worked on the Emmy Award winning TV production 'Last Shot with Judge Gunn' by P&L Productions. He enrolled to UCLA Extension and completed a Certificate in Music Business, gathering more experience via an internship with Three Six Zero Group (Affiliated with Live Nation & Jay Z's Roc Nation), whose clients included Calvin Harris, Frank Ocean, Duke Dumont, Knife Party/Pendulum and deadmau5 among others; essentially working non-stop to gain experience across the industry. Before long, Andrew was picked up by Three Six Zero to work as a day-to-day manager, where he would continue for 5 years, stepping up into a role as the company President's direct report.
In 2017, Andrew returned home to Australia to work for Live Nation Australasia. Now as a Senior Tour Operations Coordinator, Andrew works across local content spanning everything from club shows to sold-out stadium runs.
About Squad Sundays
Squad Sundays is an event that started in the beginning of 2018.
The soul purpose of the event was originally created to establish a strong Melbourne based music community for artists and music producers . It has allowed a platform where creatives can share their up and coming music, releases and have a supportive environment to be able to share and collaborate with like minded artists.
Spike Leo along with some of Melbourne's most exciting and demanded artists and producers with over 20-30 years experience are invited to a number of events to discuss topics such as, songwriting, lyrics, marketing and release, social media, workflow, technique and many hard hitting topics based around mental well-being and building a full time career in the challenging world of music.
Tickets are limited to 30 people only for the year of 2019 per session. This is a non refundable event.
Sponsored by Rita's Cafeteria & Fight Night Records