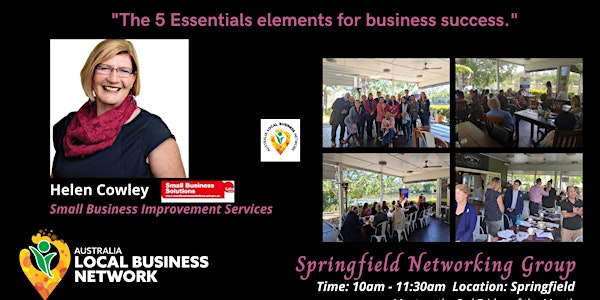 Springfield Networking Group - 5 Essentials elements for business success
Location
Moselle's Restaurant
18 Springfield Lakes Blvd
Springfield Lakes, QLD 4300
Australia
Refund policy
Contact the organizer to request a refund.
Eventbrite's fee is nonrefundable.
Springfield Networking Group - Start the new financial year successfully
About this event
You're invited to Network at the Springfield Ignite Networking Group
A Great Opportunity To Meet, Collaborate, Connect And Network At This Friendly Networking Event.
Presentation
"The 5 Essentials elements for business success."
Now you have started your new financial year the right way by knowing your numbers. Next, let us look at getting success ready for Business Growth.
Hear from Award-winning business and coach Helen Cowley from Small Business Improvement Services on
"The 5 Essentials elements for business success."
In this informative, interactive session, we will look at the "5 elements of business success" and how to make sure you have a map that works. Not just creating a dust collectors plan.
Over the years, Helen Cowley has developed, read, and heard about thousands of in-the-head business plans and seen the success and struggling businesses.
Business Planning is an essential business tool however it is often underutilized or not done at all, just a dream in the head.
So let's discuss and hear the management essentials of success. Take home some simple steps and ideas tools to help you get success and ready for rowth this financial year. Helping you to be on the onward and upward path to managing your business success.
Presenter
Helen Cowley has been in Small Business for 40 years; she had 5 adult children, studied, and managed the family engineering business 15-20 tradesmen plus admin staff. Helen has been the recipient of Employment Training and Consulting services awards. She has been interviewed for numerous TV and radio shows, including the Today show.
Helen is a Business Coach and Consultant who mentors, coaches, trains, and facilitates business people to improve their knowledge, confidence, performance, and profitability and make business life enjoyable. With 40 + years of experience helping businesses in many different industries, Helen has a broad knowledge base to support clients. Helen is a qualified ICF (International Coaching Federations) coach. She has a Master in Business (MBA); specialisation Graduate Certificate in Entrepreneurial and Venture Development; Grad Cert Management (Learning), Diploma's in Business Management, Leadership, Coaching and Mentoring as well as Certificate's in Trainer and Assessor, Entrepreneurship and New Business, Retail, Life and Business coaching and many other small courses.
Learn more about Helen at https://sbis.com.au/
Springfield Ignite Networking Group
We want to warmly welcome you to feel part of a supportive local Network Group that cultivates, nourish and helps you grow both personally and professionally. Our Events are about connecting, gaining knowledge, building relationships, sharing business ideas and challenges while being supportive of each other.
When you arrive, you have the opportunity to share your business card and promotional material. Grab a coffee and feel welcome by our members in a warm and friendly atmosphere. We allow each Business the opportunity to introduce themselves. Our Members are divided into smaller table groups that are a more intimate way to discuss, share and collaborate on our Business topics. Each event has Network opportunities to create connections and build relationships with other Local Businesses.
Through our Local Business Networking Groups platform we have designed it so both your network and business can grow and flourish.
A Networking Group that supports Local Business and is focused on you the Business owner.
Doing Business Locally
Doing Local Business is what we are about! When you Network Locally you can cultivate relationships with local clients, businesses, supplies that can strengthen your Business and the Community.
About The Meetings
Join us on the 3rd Friday of the Month at the Springfield Ignite Networking Group where you will be greeted by our wonderful Business Leaders, share ideas and collaborate with other Business owners plus gain knowledge with a special presentation once a month.
Springfield Ignite meets the 3rd Friday (features Guest Presenter) of every month from 10 am to 11:30 am.
Important Covid-19 Notice
Our priority is the health and safety of our Members. We ask that you do not attend any of our Events if you or anyone in your home have:
- Sick or have any flu-like symptoms
- Have been advised to isolate.
- Have been tested for COVID-19
We recommend following the Department of Health and Qld Government recommendations.
**In the event there is a risk of Covid to our members, this Event may move online. We will notify you by email and our social media.
About the Event Location 
Location: LBNG Springfield is located at Moselle's Restaurant & Cafe at Springfield Lakes where it occupies a stunning waterfront position overlooking the Lake. We encourage you to support this wonderful Cafe, feel welcome to order food or coffee throughout the event or even stay for lunch. Moselle's also has a children's play area where you can bring your child along to the Event.
About the Meetings
Join us as once a month at Springfield Local Biz Networking Groups where you will be greeted by our wonderful Business Leaders, share ideas and collaborate with other Business owners plus gain knowledge with a special presentation once a month.
Local Biz Springfield Ignite Networking Group meets every 3rd Friday of the month from 10 am start to 11:30 am.  
Cost
Casual Membership - $20
We understand you are busy and you are only able to attend a few events. We have the option for Casual Membership to suit your Business Calendar. Bookings are limited to spaces available.
Full Memberships -
If you want to join a Networking Group that is supportive, educational, inclusive and, can help you grow, expand, and develop connections locally and virtually then join as one of our Full Memberships.
This includes a Private Facebook Group, access to our Business Toll Box, Directory Listing with opportunities to refer, gain reviews & drive traffic to your website plus entry to your preferred Networking Event location.
Pricing:
- $250 for one location
- $350 for two locations or
- $485 for all locations. (Monthly plans available)
We want to make it affordable for all Businesses to attend, there are many benefits for a Full Membership with Australia Local Business Network. You will have a supportive team behind you. Make sure you book your place for each Event.
If you find the Local Biz valuable we encourage you to bring a friend. Bookings Essential Below. Membership details are listed on our Website plus welcome to discuss further with Leaders at the event.
https://australialocalbusinessnetwork.com.au/
Lucky Door Prize
If you would like to donate a lucky door prize & spotlight your Business please contact the organisers below.
FAQs
What can I bring to the event?
Bring along your business cards, promotional material, pen, paper, smile, and enthusiasm.
Are Children allowed at the event?
Children are allowed at the Events with permission by the Local Biz Leaders and Organisers. This is due to the availability of space. As we often have Guest Speakers and other Members have paid to attend we ask that you are mindful of disruption and responsible for your child while the Event is on.
Can Animals come to the Event?
We have had 'Pets' attend our Networking Events, please ask for permission by the Local Biz Leaders and Organisers as it is only allowed if the Cafe/Business where the Event is held is pet-friendly. Unfortunately, some Events are inside where animals cannot be allowed. Please also be mindful of disruption while the Event is going.
How can I contact the organizer with any questions?
Tanya Glancy on info@d-tec.com.au ph 0433420010
Gan In on Jane@kgrealpropertiesgroup.com.au ph 0431826889
**Terms and Conditions - Agreeing to attend our Event you agree to the below Code of Ethics, Standards and Privacy.**
Local Biz Networking Groups Code of Ethics:
This Code of Ethics sets out the principles and practices of professional conduct to be observed by the members, casual members and visitors of the Local Biz Networking Groups.
Upon attending any event by Local Biz Networking Groups you agree to:
Provide the highest level of service for all members, referrals and other clients.
Adhere to the highest Code of Ethics for our respective industries.
Be unbiased, supportive, open, honest, respectful and courteous to the Directors and Members of LBNG always.
Treat guests, venue owners with respect, fairness and in good faith.
Take responsibility for any referrals given and contact within 24 hours of receiving.
Standards
As a Local Biz Networking Groups Member, Casual Member of Visitor you must not act in an unlawful, abusive, defamatory manner towards any Local Biz Network Groups Members, Visitors or Presenters.
Local Biz Networking Groups will not in any circumstance be responsible for any dispute arising between You and another attendee at Local Biz Networking Groups Events. Any dispute will be resolved between the persons with the dispute.
Each member, casual member, and guest agrees not to take any action against Local Biz Networking Groups or make a claim against any member for any matter relating to Local Biz Networking Groups.
LBNG accepts no liability in relation to any Business conducted between Members, Casual Members or Guests.
All Members, Casual Members and Guests understand and acknowledge that any Business conducted is at their own risk and decision.
No public statement, publicity or press release is to be made concerning Local Biz Networking Groups without the written consent of LBNG.
Privacy
1) Without limiting you consent to LBNG publishing and promoting your Identifying Details and Networking Group on its Website and other Social Media Pages.
LBNG may invite you to different Networking or Social Events.
As an attendee of LBNG Events you will not send any unsolicited e-mails, direct mail or by any other means spam, harass, abuse or cause any harm to any members, casual members or guests.
You agree to protect each member's and non-member's right to privacy and confidentiality with respect to any personal information.
You acknowledge and consent that as a Member, Casual Member or Guest you may be photographed or filmed at an LBNG event.
Defined Terms and Interpretation
LBNG means Local Biz Networking Groups.
Like to know more about Local Biz Networking Groups? Visit our Website https://localbiznetworkinggroups.com.au/ and find out the value Local Biz Networking Groups has to help support your Business.
We look forward to seeing you there.