Sales Have Ended
Registrations are closed
Hi there, Unfortunately, ticket sales have now ended for this Sports and Exercise Event hosted by AMSL Diabetes. If you need to make changes to your registration or would like to register your interest for next year's Sports and Exercise Event, please contact AMSL Diabetes Events at events@amsl.com.au.
Join AMSL Diabetes for the Sports and Exercise Series, Session 3, hosted virtually!
About this event
NOTE: THE CONTENT OF THIS EVENT HAS BEEN TAILORED FOR PEOPLE LIVING WITH TYPE 1 DIABETES (T1D) WHO ARE 18 YEARS AND OLDER AND LIVE IN AUSTRALIA. FOR MORE INFORMATION, CONTACT EVENTS@AMSL.COM.AU.
In 2022, the AMSL Diabetes Sports & Exercise Series will be hosted virtually!
This series aims to bring together people living with type 1 diabetes (T1D) with a common interest in sports and exercise. AMSL Diabetes proudly introduces some of Australia's leading specialists who will share their latest knowledge and expertise about sport and exercise with T1D.
Join us for Session 3 on Strategies for Avoiding the Highs and Lows with Exercise, presented by Sally Double and moderated by Bec Johnson.
This session will provide strategies for managing exercise and diabetes, in particular avoiding highs and lows.
How the session will work:
All components of the event are virtual and will be hosted on Zoom. The link to join will be emailed to all registrants prior to the day.
Registration:
Registration is for each individual session, so you can tailor which sessions of the series you attend based on the relevancy to you.
Registration for Session 3 will CLOSE at 4.00pm (AEST), 19th July 2022.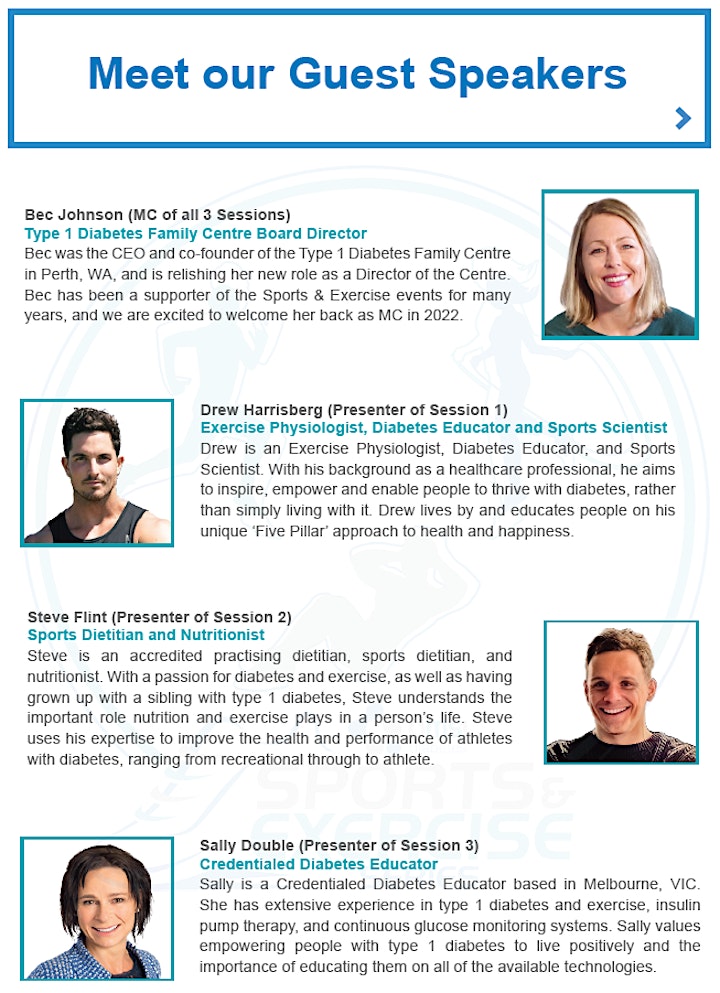 SPORTS & EXERCISE SERIES 2022 - additional sessions available:
Session 1: Decoding High and Low Glucose Levels with Exercise
When: Tuesday, 12th July at 7.00pm (AEST)
To register click here.
Session 2: Nutrition Tools to Achieve your Exercise Goals
When: Thursday, 14th July at 7.00pm (AEST)
To register click here.
Session 3: Strategies for Avoiding the Highs and Lows with Exercise
When: Tuesday, 19th July at 7.00pm (AEST)