Location
KOITOYA Design/Make/Japanese Woodworking Class
1/7 William Street
Oaks Estate, ACT 2620
Australia
Refund policy
Refunds up to 7 days before event
Eventbrite's fee is nonrefundable.
SPOON MAKING FOR FUN Apply now! 4 nights class 4 Wednesday Nights 18:00 - 21:00 (3 hours)
About this event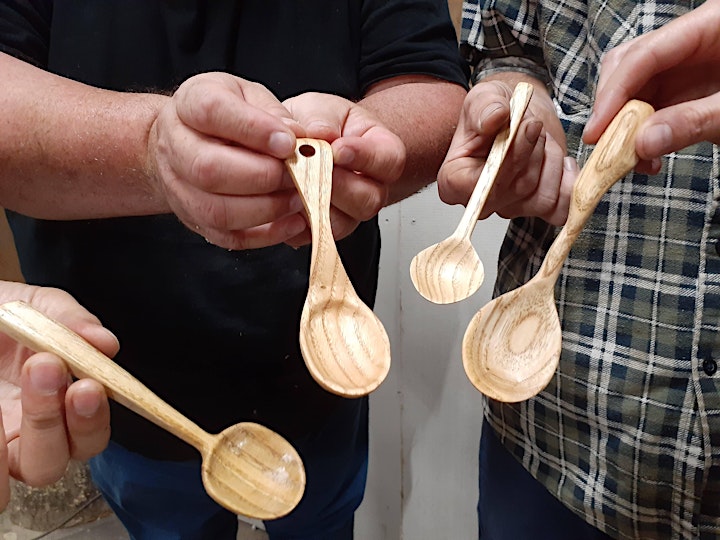 SPOON MAKING FOR FUN
!!! Feb workshop date has been delayed to avoid peak infection rate of Covid 19!!!
One workshop = 4 Wednesday nights class in a month
The price is for one workshop = 4 nights.
Wednesday nights,18:00 - 21:00 (3 hours)
$300 for Introduction Program
$150 for Continuing Students (2nd time)
$100 for Continuing Students (3rd time)
Lecturer: Nobuyuki Ohashi
You start your first month with an introduction program to get basic skills in spoon and cutlery making using wood. 2nd program gives you the chance to make a bigger sized spoon.
If you choose to continue for 3rd month, you can get access to workshop, tools, timber and tutoring from Nobuyuki to make various kinds of wooden cutlery.
This class is designed so that you can enjoy continuously making a range of handmade wooden cutlery.
You are most welcome to join any month`s class for the introduction program. 
2022 Yearly Schedule 
Spoon class will run on following months in 2022.
4 workshops are available in a year.
Each workshop has 4 sessions (=4 Wednesday nights)
If you apply for February workshop, you are able to attend Feb class only.
 1. !!New DATE!! Feburary - dates: 16, 23, Mar 2, 9
 2. May - dates:  4, 11, 18, 25
 3. August - dates: 3, 10, 17, 24
 4. November - dates: 2, 9, 16, 23
 -------------
Introduction Program
 - for your first Spoon Making experience ($300)
Introduction program is designed to give you the skills and ideas for making a spoon. You will use relatively soft timber to get an easy start. You will make a Dessert spoon, which is a relatively small spoon, to begin with. There will be adequate time for you to finish it in detail, while giving you further information about methods for making other spoons. Skills to be taught include bandsaw safety, knife carving, sharpening and how to finish/coat your spoon.
Continuing Students
 -  Join the class on a continuing basis for a special low fee ($150 for 2nd time, $100 for 3rd time) 
Carving a small piece of timber into a wooden spoon is fun and relaxing. We encourage people to continue after finishing your introduction class. Continuous classes will have access to the workshop and tools for making your own personally designed spoons and forks. You pay for monthly classes.
 2nd program for continuing students
  Making bigger spoon (Table spoon size), using supplied material (280 x 35 x 45 mm) 
 3rd program for continuing students
  Now you can make any size of spoon or wooden cutlery.
About Tutor
Nobuyuki Ohashi is professional furniture maker working at Thor's Hammer. Nobuyuki is passionate about wooden cutlery making and has exhibited his works in exhibitions in Canberra and Japan. He is originally from Japan and has 11 years of experience as a wood worker. 
What you can gain
1. Your own hand made wooden item of cutlery eg spoons, forks, butter knives, salad servers etc.
2. Knowledge and hands-on skills about wooden making spoon using Japanese tools.
3. Carving chisel and Japanese Kuriko Knife skills. 
Fee
Introduction $300 (including materials)
Continuing Students $150 (2nd, including materials), $100 (3rd, not including materials)
* The price is for 4 nights = 1 workshop.
Your first time workshop for the month (=4 nights) will be $300.
Your 2nd time workshop will be $150 for the month (=4 nights).
For your 3rd workshop will be $100 for the month (=4 nights)
- Sorry for the confusion, but the aim is to support the returning students!
Class size
Up to 5 students
Number of staff
 1 staff: Nobuyuki as main lecturer
How you apply.
Make a booking for each month you want to join. Application has to be made for each additional month.
You can chose any month to join. 
First month of your enrolment must be Introduction program ($300).
For your second month, you can join as Continuing Students (2nd) ($150)
From your third month, you can join as Continuing Students (3rd~) ($100)
Refund Policy
Personal cancelation
Refunds up to 7 days before event
Eventbrite's fee is nonrefundable.
Cancelation due to Covid 19 or your health on the day
Full refund.
COVID 19
We will follow basic public health practice and regulation at the time of the workshop.
If you have any questions, please contact Hiroshi.
KOITOYA Design/Make/Teach
Hiroshi Yamaguchi 
www.koitoya.com.au 
0412340619
koitoya@gmail.com