Description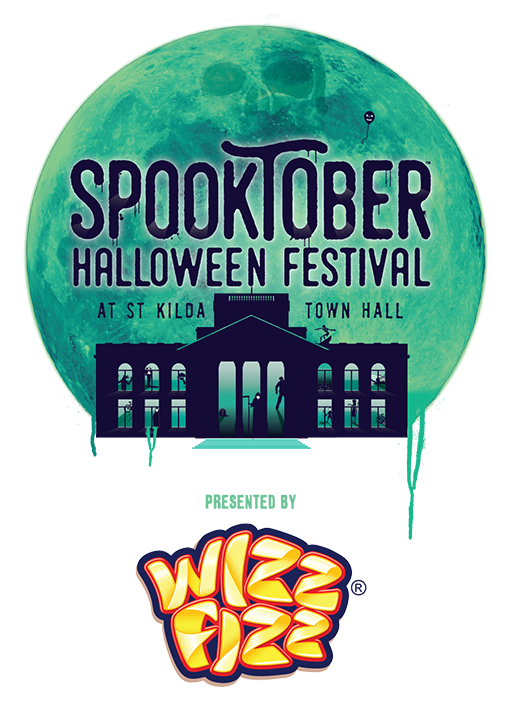 WELCOME TO
SPOOKTOBER'S HALLOWEEN FESTIVAL
Melbourne's most exciting, fully immersive haunt experience just got bigger! Spooktober is an annual event celebrating it's 4th year of scares. Join us this October for our 4-day Halloween Festival at St Kilda Town Hall, in Melbourne's iconic St Kilda neighbourhood. The Festival includes 2 Haunted Houses, games, amusements, Food Truck Village, Roaming Entertainment, costume contests and Melbourne's safest Trick or Treat Trail.
Spooktober Halloween Festival is sponsored by our presenting partner WIZZ FIZZ. The 7 Trick or Treat stations will be stocked with WIZZ FIZZ confectionary, complimentary for all children on the grounds. Just grab your map and follow the Trick or Treat Trail safely on the grounds of St Kilda Town Hall.
Our Haunted Houses have scares for all ages.
HAUNTED MANOR – WELCOME TO FEAR is host to Count Carlisle and his fanged friends. Come face to face with the blood thirsty creatures that haunt these hallowed halls. Haunted Manor is a family friendly walk-through attraction where you will experience a host of scares and live actors.
RECOMMENDED for 8+ years, not recommended for those that scare easily or those afraid of the dark.
HAUNTED MANOR AFTER DARK is not for the faint hearted! When the night falls the scares get bigger.
RECOMMENDED for 12+ years, for thrill seekers looking for scares
Asylum is our scariest Haunt and will PUT YOUR SANITY TO THE TEST. Dare to be admitted into the Asylum. The ultimate thrill in horror and suspense The derelict halls of the Asylum come alive with gruesome effects, live actors and terrifying sounds.
RECOMMENDED for 15+ years and older for mature audiences.
SPOOKTOBER HALLOWEEN FESTIVAL IS THE ONLY PLACE TO BE THIS HALLOWEEN.
TICKET INFO
Please read the information on your ticket carefully
Read all Warnings before entering the tours
For your safety please follow instructions from event staff at all times
Wait times may vary due to circumstances beyond our control
Max 8 people per group per tour
All tickets are non refundable
Children 12 and under are required to be accompanied by an adult
GENERAL ADMISSION
General Admission tickets are sold in 15 minute time slots. Your allocated time slot refers to the time that you may enter the General Admission queue – this is not the time that your tour will start. Wait times may vary. Please note, you will not be admitted to queue until your allocated time slot.
COMBO PASSES
When purchasing a COMBO PASS please select your preferred time slot for your first tour. You will then be automatically allocated a time slot for the second tour within one hour of the time you selected. When you arrive at the event, enter the General Admission queue as per the time on your ticket, for the tour you selected to do first – you will not be admitted to queue until your allocated time slot. Enter the second General Admission queue of second tour after completing the first tour, within one hour of the start time on your ticket. Wait times may vary, so please allow at least 1 – 1.5 hours to complete both tours.
VIP EXPRESS PASSES
VIP EXPRESS PASSES allow the ticket holder to skip the General Admission queues and receive priority check-in. You may enter the VIP Express line at any time on the date noted on your ticket. VIP Express Passes admit the ticket holder to one Haunted Manor tour and one Asylum tour, valid only for date on ticket.
'CHILD' TICKETS
Child Tickets are valid for kids under 18 years of age.
DOOR SALES
You may purchase tickets on the day of the event at the ticket booth, if not sold out prior. Ticket office opens daily 30 minutes prior to first tour.
NO REFUNDS
Please read the WARNINGS before entering the haunted attractions. Spooktober advises that no refunds will be given for this event.
LATE COMERS
If you've missed your allocated time slot, door staff will advise of the next available tour entry.