The brand new outdoor waterpark at Marion is open for us, open to allow us to have loads of fun with our friends.
About this Event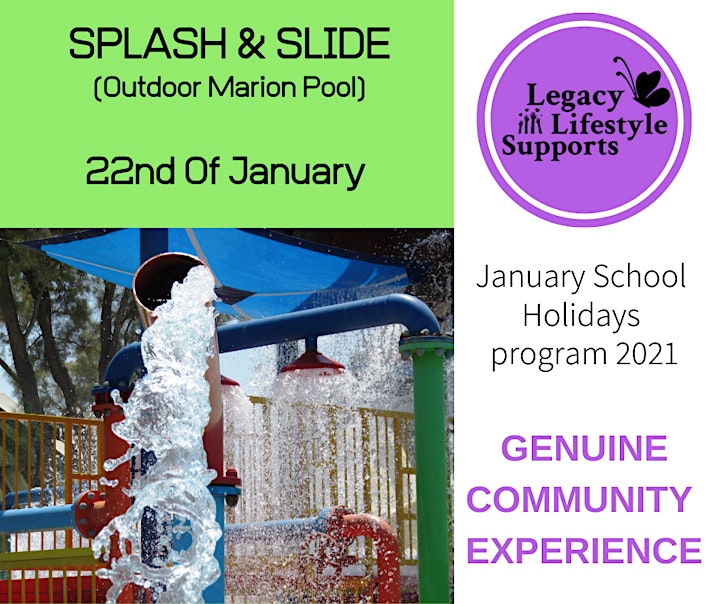 Taka an aquatic adventure with our support team and a bunch of the coolest kids.
Water is a great sensory play and quite therapeutic.
Meeting place: Legacy Lifestyle Supports Office - Bus transport to and from
Legacy Office Beach Rd at 10:00am, from there participants, will be transported to the Marion Outdoor Pool under the supervision of our experienced team, including aquatic trained staff. Whilst at the pool, children have unlimited access to pools and waterslides. Where necessary, staff will be able to slide in tandem with a child.
Included in a 2hr swim session 11:45am-1:45am.
After their swim, we will move over to the park, where participants can play and explore the grounds and build interaction confidence, and social skills followed by transport back to the LLS office at 2:30pm for a 3:00pm finish.
Lifejackets and floaties are welcome however all children should be able to swim without an instructor or staff member - If YOUR child hasn't mastered swimming please enquire about increased support for the day. ( This is important )
BYO Lunch. Please consider a healthier option when packing snacks, please include fruit and a bottle of water.
Please ensure all children pack dry clothes, towel, plastic bag for wet clothes, a hat and a drink bottle for a day out and journey home.
Sunscreen will be applied unless requested otherwise by a parent.
Benefits from swimming for kids and teens
It improves balance, posture, and flexibility as well.
Helpful in the prevention of teenage obesity.
It improves mental health and emotional hygiene.
It teaches water safety and awareness around water at all depths.
Fee NOTES:
NDIS Participants will be invoiced the support costs (full fees, minus $15) following attendance at the event.
Community Passes are for children who do not have an NDIS Plan and/or do not have a disability (that's right, we invite the WHOLE community to join us!) The remaining support fees will be covered by our own community funding in support of promoting genuine inclusion for all children.
COVID NOTES
As per Australian health care guidelines, the following measures are now in place for all events with Legacy Lifestyle Supports,
Included will be extensive cleaning of all equipment and services used at events and will be specific to each event. Extra staff will be allocated to each event with specific COVID safe and cleaning monitoring.
Hand hygiene will be closely monitored with observations by all staff. Hand sanitizer will be available at all venues where events are held.
1.5M social safe distance Recommendation: Physical Distance of all workers and participants will also be in place at all events and properly monitored by LLS Staff.
If you are unwell or been around anyone who has contracted the virus, please do not attend the event and stay home to isolate for 14 days. Selected events are online via zoom for at home convenience.
If you would rather stay home and attend our selected online events that way, please feel free to do so by following our online instructions via the booking here on Eventbrite.
Important :
Please also label all personal items to reduce lost property and misplaced items.
Please bring your own drink bottle to avoid cross contamination.