Event Information
Location
Wagga Wagga
Kildare Catholic College Hall
Coleman St.
Wagga Wagga, NSW 2650
Australia
Who is my neighbour? Let us Dream Let us Weave a new path SPIRITUALITY DAY for WOMEN May 14th
About this event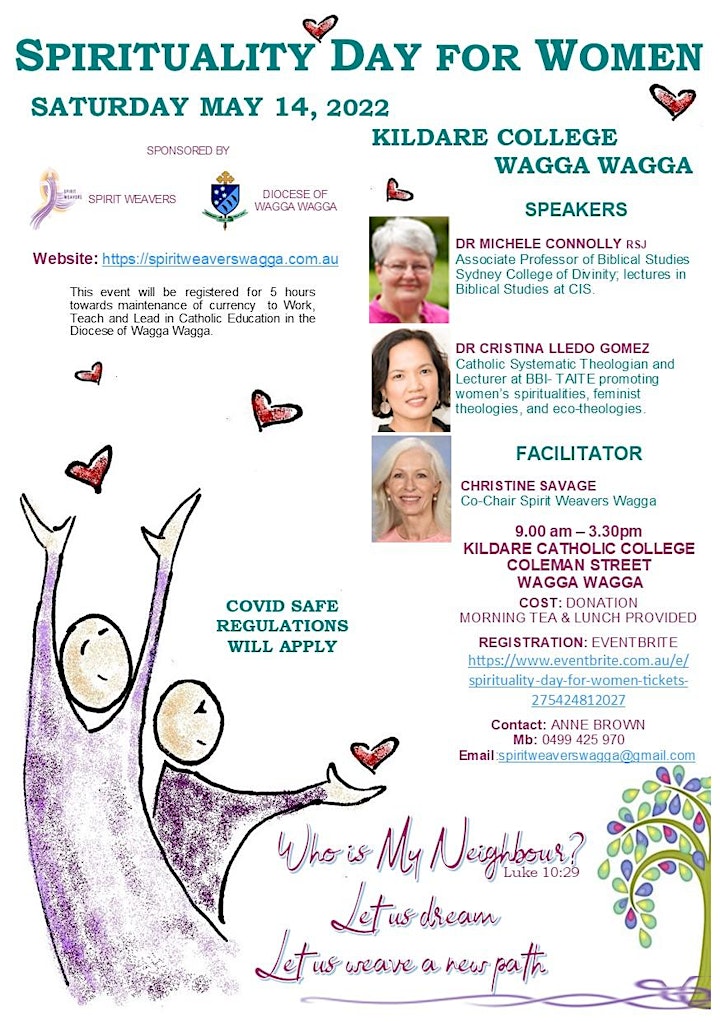 Reflections on Pope Francis's encyclical, Fratelli Tutti:
Who is my neighbour?
Ways to build a better, more just and peaceful world.
Join Michele Connolly and Cristina Lledo Gomes with Spirit Weavers Wagga Wagga Diocese to explore Fratelli Tutti: Who is my neighbour?
Let us Dream Let us Weave a new path
The event is organised by Spirit Weavers - Contemplative, Active, Christian Women ( formerly CACW) and sponsored by the Diocese of Wagga Wagga.
SPIRIT WEAVERS is a Christ-centred group, promoting women's spirituality, unity, journeying and connection, including inter-faith and cross-cultural exchanges.
Morning tea & lunch provided.
Please bring your own water bottle, if possible.
Date and time
Location
Wagga Wagga
Kildare Catholic College Hall
Coleman St.
Wagga Wagga, NSW 2650
Australia