Learn The Techniques...Master The Game! Successfully find and present to potential investors.
About this event
How do you find investors? How do you talk to investors once you've found them? What do you send to the investors? Do investors still read Business Plans? How do you show the investors that you're not wasting their time? What are the types of startup pitches? What are they, why are they so important and how do you master them?
Pitch them all like a pro after taking this ultimate Speed Pitch Masterclass.
Speed Pitch Masterclass SUPPORTS Small Business innovators and entrepreneurs wanting to join in and aim their game true.
Local Community Organisations, Startup Businesses, Product or Service Enterprisers, Artists and Creatives, Public Personalities and Introverted Thinkers, - YOU ARE ALL INVITED!
Sharpen your pitch and make sure you're getting the intended message across, with our FREE Speed Pitch Masterclass Session, where we'll Mentor you using our favourite pitch planner tools and give you our best advice on all the different kinds of verbal pitches.
Catering is provided for this evening event.
Register for FREE, bring a friend, learn something new and meet others in your local area. There's a great range of prizes and so much fun to be had! This event is presented in collaboration with Switch Tasmania and The Van Diemen Project.
START - MASTERCLASS:
(break for dinner)
FINISH - SPEED PITCH:
WHERE? parnaple Centre - (Level 1) Quoiba Room
145 Rooke St, Market Square, DEVONPORT
WHEN?
TUESDAY, 30th NOVEMBER 2021

6PM - 9:30PM
Find Switch Tasmania on Facebook, check out our website www.switchtasmania.com.au or call 6408 7005 for more information .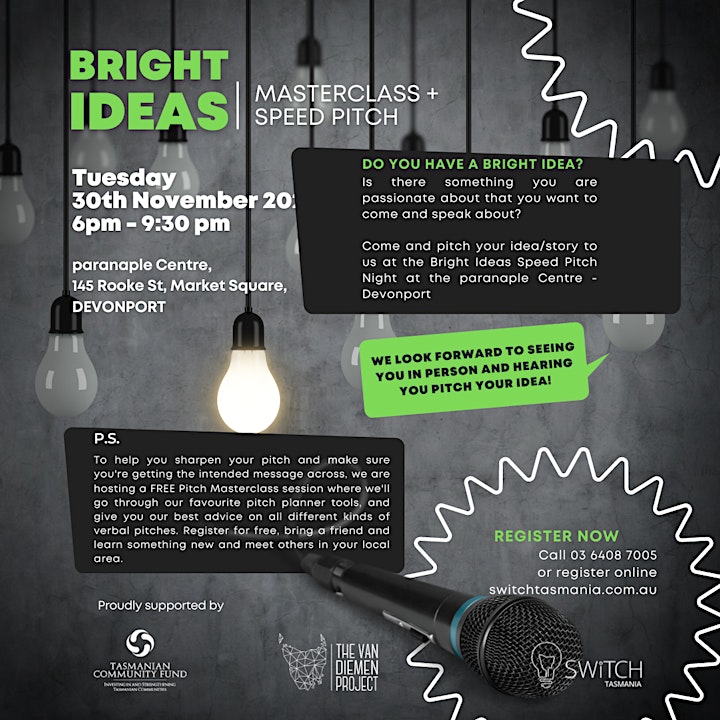 Organiser of SPEED PITCH MASTERCLASS - Devonport
Switch Tasmania has the contract for ASBAS Digital an Australian Government program that is providing direct education and mentorship to assist Australian small businesses to build their digital capability.
Through the program you can access: A series of workshops in your local area, Two hours of tailored mentoring and Webinars & online materials.
An Australian Business Number (ABN) is required to attend.