Speed Mentoring 2015

Thursday, 8 October 2015 from 6:30 pm to 9:30 pm (AEDT)
Event Details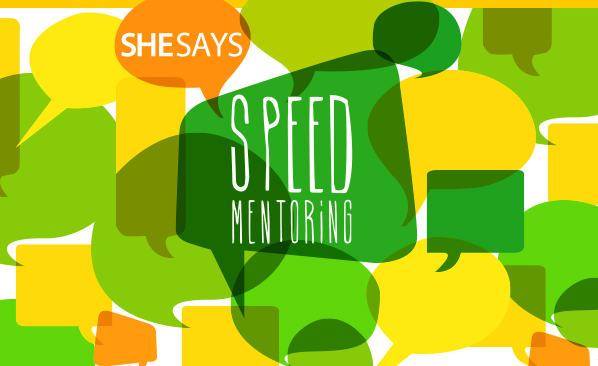 Design Credit: Lauren Riley at laurensgraphics@optusnet.com.au
"People who have mentors are promoted five times more than those who don't have one"

For a long time we've believed in the power of mentoring and its profound effect to address gender inequality in our industry. This will be the fourth annual Speed Mentoring night and our biggest one yet. So please don't miss out on this rare opportunity to talk one-on-one with some of the industry's most influential people. 
No matter if you're just starting out and in desperate need of some quality advice on how to get your foot in the door, or you're well and truly into your career and are longing to know how to take that crucial step up into a leadership role, then this is the night for you. 
Mentoring is incredibly beneficial at every stage of your career. 
So come along and take part in a one-off mentoring experience. Who knows, it could lead to a longer term mentoring relationship or a gem of advice given to you by a mentor could set you off thinking about your career in a whole new exciting light.
How does it work?
Just like Speed Dating. You will have ten minutes with the mentor of your choice to extract as much advice and wisdom about their journey before a bell is rung, then it is onto the next mentor. 
OUR MAGNIFICENT MENTORS
Client Service & Business Development 
Alex Dewhurst, Senior Account Director, SapientNitro
Brooke Chilcott, Group Account Director, Naked 
Emma Stone, Client Services Director, Frost
Gini Sinclair, Senior Account Director, Holler
Harry Preston, General Manager, Ensemble Create
Ines Almeida, Director of Client Services, SapientNitro
Shailei Forrester, Senior Account Director, Reborn 
Creative 
Barrie Seppings, Director of Creative Strategy, Wordsearch
Hamish Stewart, Executive Creative Director, R/GA
Jen Dobbie, Senior Copywriter & SheSays Who's Your Momma Mentoring Program, Freelance 
Justin Drape, Executive Creative Director & Founder, The Monkeys
Kimmie Neidhardt, Senior Copywriter, Freelance
Louise Cranley, Design Director, Fjord
Lucy Kough, Senior Creative, Ensemble
Matt Gilmour, Executive Creative Director, Archibald Williams
Russ Tucker, National Creative Director, Whybin \ TBWA \ Digital Arts Network
Scott Nowell, Executive Creative Director & Co-Founder, The Monkeys
Siobhan Fitzgerald, Creative, The Monkeys
Steve Coll, Chief Creative Officer, WiTH Collective 
Digital Development 
Karen Christolis, Supervising Consultant, Object Consulting 
Kristine Howard, Engineering Coordinator & Developer Relations, Speaker, Canva
Nik Long, Agile Coach & Solutions Architect, Reactive
Travis Gallion, Director of Technology, SapientNitro
Entrepreneurs
Denise Shrivell, Founder, MediaScope
Gavin Heaton, Digital Strategist, Keynote Speaker & Advisor, The Disruptor's Handbook
Kitti Gould, Founder & Director, The Brand Canteen
Leadership 
Dominique Hind, Founder and Chief Operating Officer, WiTH Collective
Liz Rowell, Managing Director, Red Ark
Merran Morton, Managing Director, Holler 
Rebecca Bezzina, Managing Director, Client Services, R/GA
Simone Blakers, Managing Director, RAPP
Timo Kugler, National Connections Design Director, UM
Toby Barbour, Client Services Director, Starcom Mediavest Group
Virginia Hyland, Founder & Principal, HM Communication
Marketing
Kate Jenkins, Brand & Loyalty Marketing Manager, Sydney Opera House
Holly Jain, Digital Content Specialist, Sydney Opera House 
Lara Brownlow, Head of Agencies, LinkedIn
Marlene Vicaire, Marketing Director, RadiumOne 
Nathalie Swainston, Head of Digital & Community, The Climate Council 
Nora-Kate O'Connell, Marketing Manager, KFC Australia
People & Culture
Amy Singh, Group Human Resources Manager, AAP
Lisa Gray, People & Culture Director, Starcom Mediavest Group
Madel Giles, Co Founder, Gemini3 (former HR Manager, Razorfish)
Shelby Robinson, Senior Manager, People Strategy, SapientNitro
Public Relations 
Charlotte Flood, Senior Talent Agent, PR & Communications, Firebrand Talent 
Corrie McLeod, Managing Director, Hello Espresso
Social, Content & Experential 
Andrew Garrick, Executive Producer, Development, Ensemble 
Davitha Rinner, Social Media Strategist, Reborn 
Gemma NiMaoltuile, Senior Activations Director, Ensemble 
Georgia Cockerell, Head of Video, Mamamia Women's Network
Kirsten Galliott, Editor in Chief, Qantas Media, Medium Rare Content Agency 
Marg Merten, Chief Content Officer, Medium Rare Content Agency 
Nicola Swankie, Head of Content, iquitsugar
Rick Govic, Senior Content Producer, VML
Strategy & Planning 
Annabel Jenkins, Senior Strategist, Holler
Carlos De Spinola, Head of Strategy, Orchard
Dom Hickey, Head of Planning, Wunderman Australia
Lynn Clift, Planning Director, Grey Australia
Maria Grivas, Head of Digital, MagnaGlobal 
Matt Scotton, National Strategy Director, UM
Melissa Mullins, National Strategy Director, Initiative
Olia Krivtchoun, Head of Digital, Initiative
Rowan Avis, Strategy Director, Red Engine 
Sarina Ballauff, Digital Director, MagnaGlobal 
Sue Carter, Head of Digital Business Strategy, AAP
UX & UI
Cass Kelsall, Manager of Interaction Design, SapientNitro
Kate Linton, Principal, Thoughtworks
Kate Verran, Agent, Vitamin T
Matthew Delprado, Founder, SeasonedHQ 
Michelle Stevens, Chief Strategist, Technocrat
THANK YOU TIME 
We're lucky to have the support of some generous people who help make these events a reality - and a free one too! 
OUR SPONSORS - Firebrand Talent, Vitamin T and Aquent 

They are the recruitment dream team you want behind you. Look out for team members milling about on the night and feel free to have a chat with one of them about the A to Z of your career. 
Carolyn Hyams, Marketing Director of Firebrand Talent, Vitamin T and Aquent shared a few words below around their involvement:
"This is the third time we're supporting and sponsoring this wonderful Speed Mentoring event and we couldn't be more excited. Each year, the event gets bigger and better and this you time you can really look forward to some wisdom and inspiration from the industry's top leaders, no matter what level of seniority you're at in your career. 
Our team can't wait to help you ignite your career. See you there!"
OUR HOSTS -  Starcom Mediavest Group 
We've been lucky to have SMG offer up the lovely open space they share with Publicis Mojo. We had our heart set on this place way back in November 2014 when we started planning big for Speed Mentoring. Luckily for us, when we contacted longtime supporter Sukhpal Sondh, Recruitment Director at SMG she made the magic happen. 
Here are a few words from Sukhpal:
"Looking to kickstart your career or just help it develop faster and further? Good news! We at Starcom Mediavest are proud sponsors and supporters of SheSays Sydney Speed Mentoring event. We've seen how our own best talent and aspiring individuals can flourish through our mentorship program, so we know it works! 
Please join us for an informal and rewarding night."
Our mentors
If you ever needed proof or reminding that our industries can be supportive ones, then this event certainly achieves that. We've been extremely lucky to put together this impressive list. What makes it even more impressive is when you consider how busy these people are and the generosity they're extending to give their time to be with us. Thank you. 
KEEP IN TOUCH 
Want to attend more of our event? Sign up to our mailing list: shesays.sydney@gmail.com
For regular inspiration join our Australian Facebook page 
When & Where

Publicis Mojo
30 Windmill Street
Bond Store #3
Sydney, NSW 2000
Australia

Thursday, 8 October 2015 from 6:30 pm to 9:30 pm (AEDT)
Add to my calendar