Special Music Event: Dva with Linsey Pollak & Tunji Beier House Concert

Sunday, March 1, 2015 from 3:00 PM to 5:30 PM
Event Details
Dva with Linsey Pollak and Tunji Beier
Join us for a special afternoon house concert at the Loves Data offices on Middle Head.
Concert: 3:00pm – 4:00pm
Post concert refreshment: 4:00pm – 5:00pm
Dva (pronounced D-vah) is simply the Macedonian word for 'two' which expresses the great love of playing together as a duo shared by its two members: Linsey Pollak and Tunji Beier.
Linsey (below left) and Tunji (below right) first performed together at the Border Crossings Festival in Germany in 1996 and have played together ever since. Although they have travelled very diverse paths and studied different musical traditions, they find their playing extremely compatible. They create improvisations and compositions that draw on the traditions of Macedonia and South India, their greatest musical influences.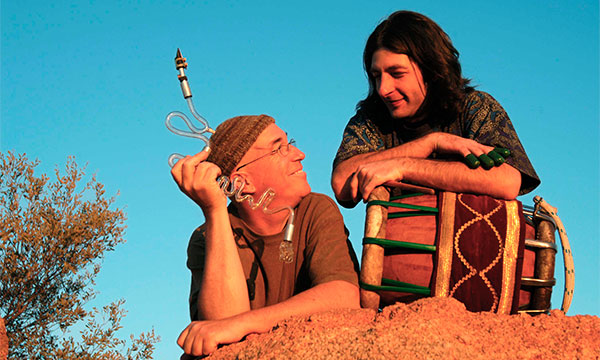 Linsey's collection of wind instruments is unique with 30 years experience in making & experimenting with wind instruments. He has come up with new single reed designs made from bamboo, wood, aluminium and glass. These wind instruments are combined with Tunji's Gangan (a small Yoruba talking drum), Tavil (South Indian temple drum), Kanjira (South Indian tambourine with a lizard skin), Jaw Harps and other percussion instruments.
Audiences respond enthusiastically to the intense musical relationship between these two artists, and while their music has its roots in Eastern European, South Indian and African traditions, they have developed it along their own very personal lines.
Their repertoire of original compositions is constantly changing and although based on a solid structure their performances are not rigidly planned and there is a great deal of improvisation that is both technically and emotionally dazzling.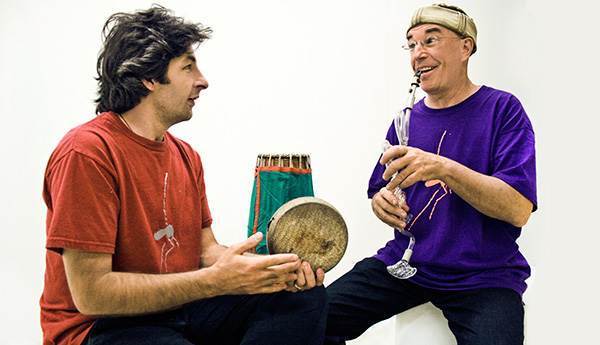 Linsey Pollak
For over 20 years Linsey has made an international reputation as a performer, musician-in-residence, musical director, instrument maker/inventor, and composer. A life-altering experience was an 8 month stay in Macedonia, where he studied the Gaida (Macedonian bagpipes). When he returned to Australia he founded the Multicultural Music Centre of WA and later created many multicultural music ensembles including the National Cross Cultural Ensemble Slivanje.
Linsey has performed all around Australia and internationally, and has recorded 22 albums. He is also well known for his solo music/performance art shows such as The Art of Food, Knocking on Kevin's Door and Playpen which have toured to Japan, Korea, Hong Kong, North America, Brazil and many festivals in Europe. He has also worked as a musical instrument maker for 30 years and has designed a number of new wind instruments and specializes in crafting woodwind instruments of Eastern Europe.
Tunji Beier
Tunji's success derives from the fact that he adjusted early to his father's nomadic life - constantly moving between Nigeria, New Guinea, Australia and Germany - and above all because he managed to absorb the contradictory influences of African and Indian music seamlessly into his own make-up as a musician. Undoubtedly it was his experience of Yoruba drumming as a small child that determined the entire direction of his future life. When Tunji was about eighteen months old, Ayansola (the powerful dundun drummer from Oshogbo) played in his parents house at Ile-Ife and the child danced all night, dancing himself into a trance like state.
He started his training at the age of 8. At age 10 he debuted at the Sydney Festival with Yoruba master drummer Muraina Oyelami. At age 15 he moved to South India for 3 years intensive percussion training with T.A.S.Mani. Since then Tunji has played with some of the finest musicians in the world. His impressive musical credentials include performances with such greats as Billy Cobham, Zakir Hussain, Trilok Gurtu, Hossam Ramsey, Greg Sheehan, Kayhan Kalhoor, Georgi Petrov & Ross Daly.
Dva review:
"Some partnerships, were meant to be. Dva is unique in both instrumentation and output, Pollak having invented many of the wind instruments he plays. Beier, meanwhile, plays an array of hand-drums from Africa, India and points in between. Their combined influences – primarily the music of Eastern Europe, India and Africa - add up to a swirl of colours as they enjoy almost telepathic dialogues on self-penned or traditional compositions, which give way to thrilling improvisations. Dva is at the forefront of Australian creative music." JOHN SHAND, music writer, The Sydney Morning Herald and Limelight.
Dva's performances include:
Woodford Folk Festival
Sydney Opera House
Govt House – Sydney
Sydney Film Festival
Melbourne Museum
Alice Springs Festival
Rudolfstadt World Music Festival (Germany)
Bellingen Global Carnival
Y'Gubi Festival
Music By the Sea – Sandgate
BEMAC / QPAC World Music Café
Brisbane Powerhouse – Worldbeat
Darling Harbour (Sydney)
Side on Café (Sydney)
The Basement (Sydney)
Thredbo World Music Festival
Australian International Music Market (2005 Brisbane)
Lake MacDonald Festival
Brazil (Salvador da Bahia)
When & Where

Loves Data
1110 Middle Head Rd
#Building 3
Mosman, NSW 2088
Australia

Sunday, March 1, 2015 from 3:00 PM to 5:30 PM
Add to my calendar
Organizer
Loves Data is proud to provide the opportunity for music lovers to experience the amazing collaboratoon of Lindsay Pollak and Tunji Beier as Dva.
Inspirational and innovative – just the way we like it!
---
Terms and Conditions
Tickets must be paid in full before we can confirm your booking. Tickets are non-refundable unless the event is cancelled.

We reserve the right to change the program at any time without notice. If the event is cancelled you will receive a full refund.

Recording, including audio and video is not permitted during the performance without permission.

Loves Data reserves the right to prohibit entry of any person, or eject any person from the event based on behaviour deemed inappropriate by Loves Data staff and/or their agents and others working under their authority.

Loves Data reserves the right to update and change these Terms and Conditions without notice.