Special Guest David Booth (Ghostpatrol) Artist. (Creative Darebin Networking Breakfasts #61)

Friday, 6 April 2018 from 9:00 am to 10:30 am (AEST)
Event Details
Creative Darebin Networking Breakfasts.
Networking is an essential part of your career.
If you live/work in Melbourne and you use your creative skills in any way this networking event is for you.
BREAKFAST #61
At our 61st Breakfast, we welcome our 28th                                       
SPECIAL GUEST David Booth (Ghostpatrol) artist.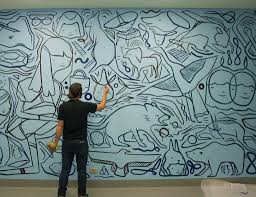 Born in Hobart, Tasmania. works and lives in Melbourne, Australia.
Working under the pseudonym Ghostpatrol, David Booth first made a name for himself on the walls of Melbourne's laneways. Working with ephemeral techniques, by 2007 Booth had built an international reputation and fanbase as a street artist. But Booth's practice, grounded in a passion for drawing and sketching, has always been split between ephemeral works — street-based works, as well as temporary sculptural and installation works — and works on paper and linen. As a result, Booth sees his practice as floating between the worlds of fine art, commercial design, fan service, large mural painting and commercial collaboration.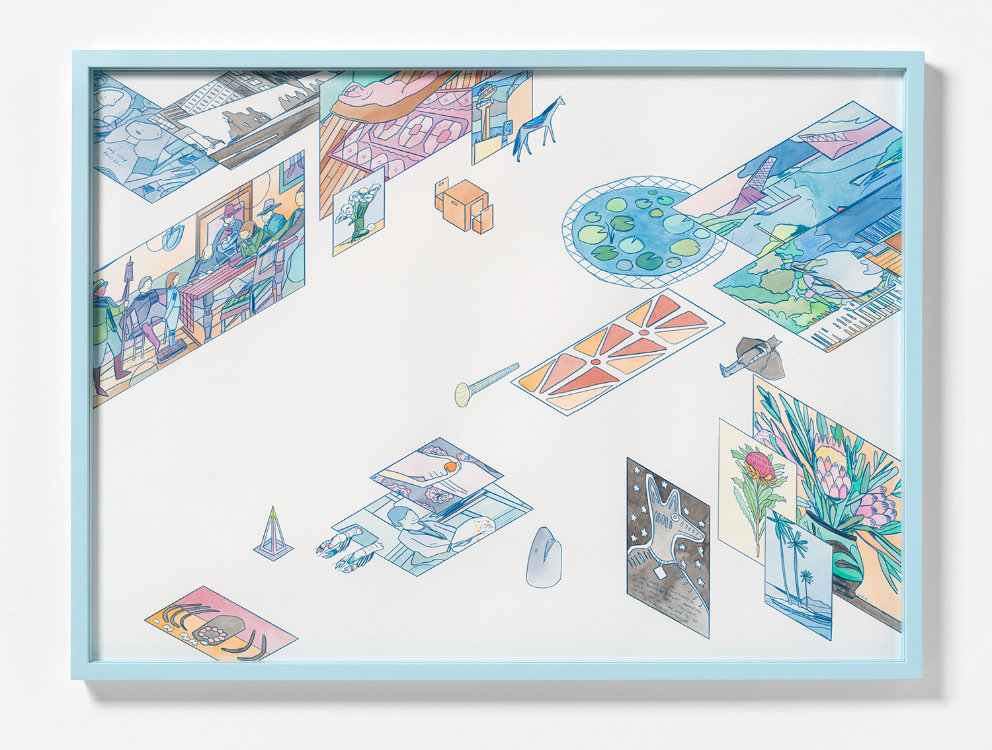 The legacy of his childhood environment — Tasmania being an isolated and halcyon island, densely populated with forests and bodies of water — is threaded through Booth's practice. His imaginary realms feel unearthly, meditative and ethereal; Booth is a creator not of simply works, but entire worlds. His works themselves feel like falling into a daydream; at once intensely familiar and welcoming, and entirely otherworldly. They are alternate realities.
Booth's finely-drawn worlds are woven in threads of hybrid animals, creatures and characters, pop culture references and childhood nostalgia. Booth's workspaces often turn, as he works, into small shrines; indulging and entering the realm he is conjuring. The whimsical and innocent qualities of his works ostensibly belie their conceptual concerns with metaphysics, cosmic scale, curiosity-led science, quantum physics and futurism. Booth's iconic visual language invites us to see beyond the scale of our earthly existence and the limits of our own atomic configuration.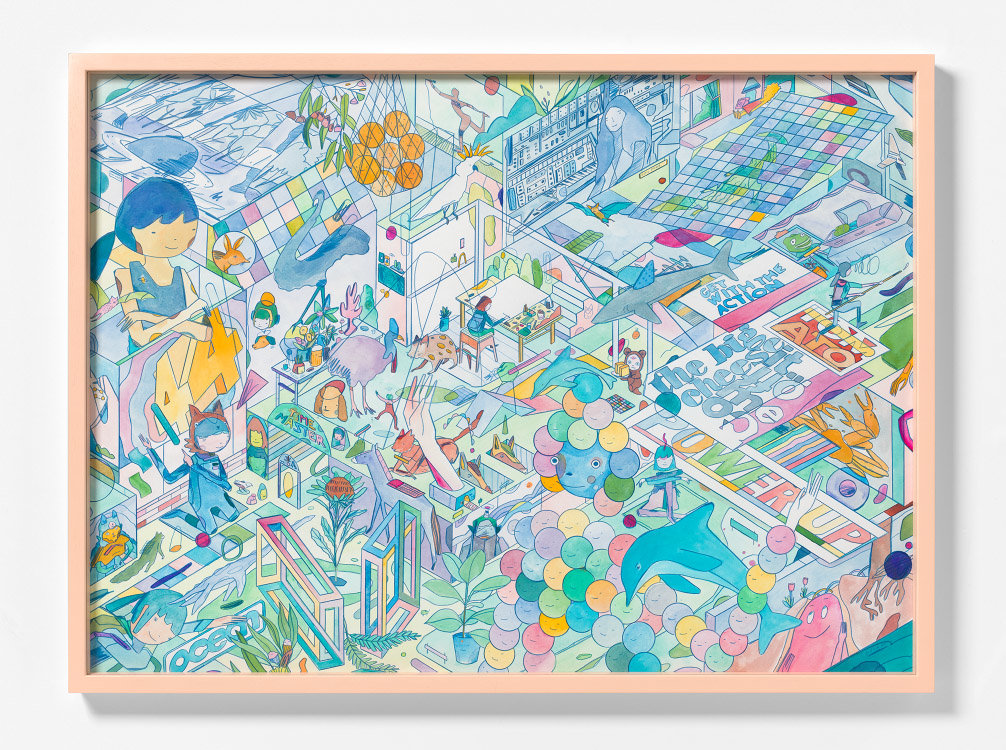 Booth's ongoing explorations are focusing, at present, on ambitious installation and painting projects and other multimedia experiments, often working collaboratively. These passion projects — among them, the Hepburn Wind Farm and the Royal Children's Hospital, Melbourne — inform Booth's studio practice and gallery work, and reflect the artist's social and environmental conscience.
David is represented by Hugo Michell Gallery and Black Art Projects and has exhibited in Solo and Group exhibitions since 2009. His work is held in the National Gallery of Australia, Artbank, Parliament House, Melbourne Museum, and the National Library of Australia Art collections.
David will join us for breakfast at the Cedar Bakery on 6th April to talk about his career and his creative ethos. 
Looking forward to having breakfast with you at the Cedar Bakery
on Friday 6 April at 9am
The first 2 tickets sold: Your First Coffee for the Day is Included free!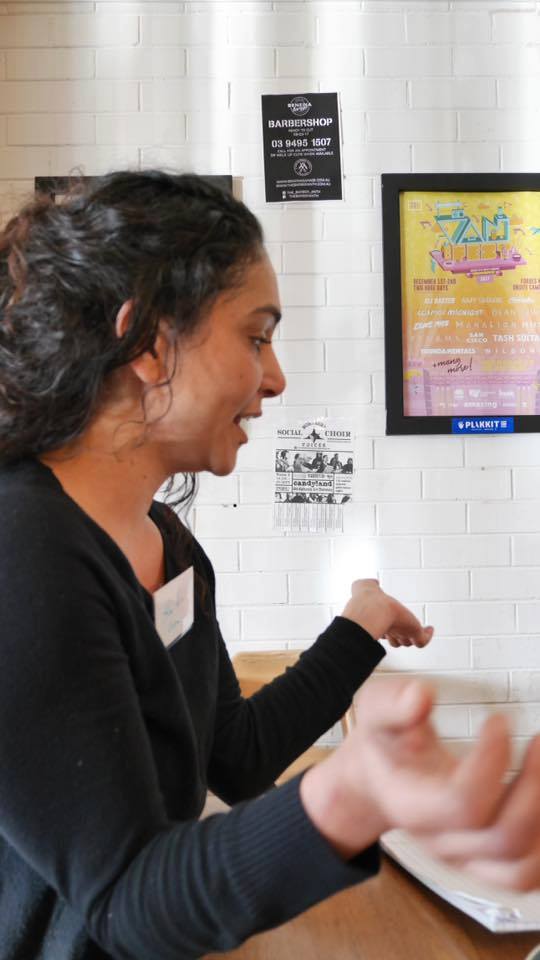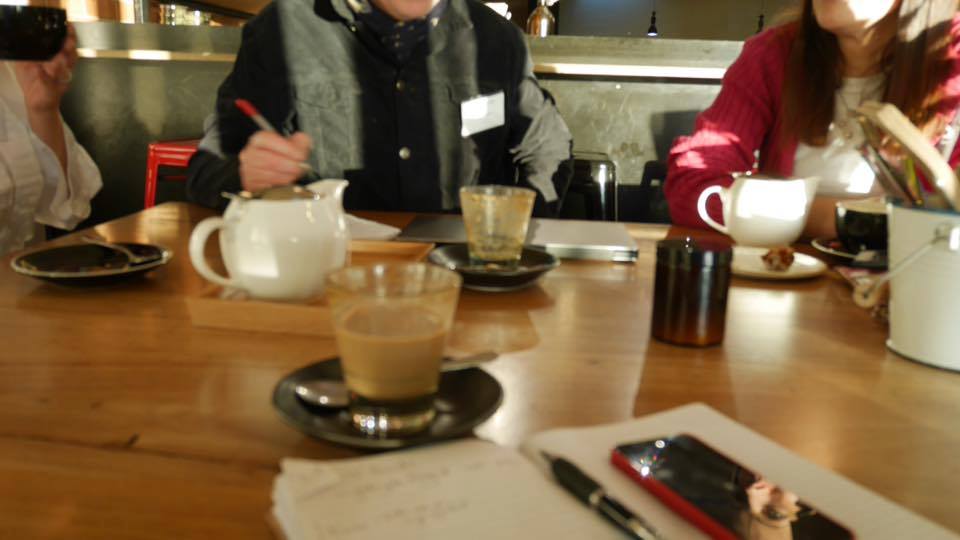 Photos by Lisa Greenough of the Northside Hub FB Blog.
Can't attend this week?
SIGN UP
for the CDNB Newsletter on
upcoming topics and Special Guests.

Testimonials:
I really love attending these meetings when my life/work/family schedule allows.   Part information, part entertainment and part support group.
The Northside Hub blog recently said this: 
It's heartening to see people from the arts and creative communities getting involved with networking too, asaside from the obvious benefits of connections, advice, profile raising, finding out new information and increasing your confidence, there's also an escape from the solitude that plagues artists, writers and creators. Nothing beats that human connection - not even burying your head in your phone or going on a Netflix binge!
And these days, networking is more necessary than ever. It's not just for the job hunters anymore, but an essential tool in our current environment where employment and industries can be temporary and/or uncertain, so it's good to keep up with the latest opportunities, contacts, apps, venues, grants and so forth.
For the whole blog read here!
Thanks for organising these Bruno. I had a great time last week. See you and everyone else at the next one!
Had an absolute blast! Thank you:)
I really enjoyed my first CDNB and look forward to the next. Thank you so much for coordinating and promoting this. I have revived my Instagram account and bought a new journal at Kmart on my way to work after leaving yesterday morning, and feel positively inspired!!!
Creative Darebin Networking Breakfasts
Led by a qualified career counsellor, this weekly breakfast event will cover all aspects of your creative career and how you can add creativity to your career.
Special Guests will be invited to join us on the first and third Fridays of every month to talk about their career, creative opportunities and to answer your questions. 
Join us for breakfast at the central Cedar Bakery from 7am each Friday.  Buy one of the first 2 tickets: your first Coffee for the Day is Included free!

Check out Creative Darebin Networking Breakfasts FB & IG @ https://linktr.ee/creativedarebinnetworking  
Check out the other breakfasts at: creativenetworkingbreakfasts.eventbrite.com/
Check out the other breakfasts at: creativenetworkingbreakfasts.eventbrite.com/
FAQs
What are my transport/parking options getting to the event?
Preston has ample free parking, and the venue is close to trains buses and trams.
Where can I contact the organiser with any questions?
Please email me at bjdcareers@gmail.com
 Is my registration/ticket transferrable?
Life has way of upsetting even the best plans; if you find yourself unable to make it, please pass this opportunity onto a friend! There is a small charge ($2) to cover administration costs.
Can I update my registration information?
Yes
Do I have to bring my printed ticket to the event?
No. 
 Am I able to buy a ticket at the breakfast?
It is preferred that you buy a ticket beforehand as I prepare material for each breakfast and must also let the Cedar Bakery Cafe know how many people are attending: however, if you do arrive without buying a ticket, the fee for attending will be $12. 
What is the refund policy?
If you are unable to attend a breakfast please transfer it to a later date before sales close. There is a small charge ($2) to cover administration costs. 
Refunds will only be given in cases of illness or other emergency. Please email bjdcareers@gmail.com with your details if this is the case. 
 The name on the registration/ticket doesn't match the attendee. Is that okay?
Please email bjdcareers@gmail.comm with the exact details of the change if this is the case. 
When & Where

Cedar Bakery
33-37 High Street
Preston, VIC 3072
Australia

Friday, 6 April 2018 from 9:00 am to 10:30 am (AEST)
Add to my calendar
Organiser
BRUNO DORING of BJD Career Services -  Creative Networking Breakfasts
 Helping you create your future.
Bruno specialises in advising people who wish to base their career on their creative skills. 
Bruno has a strong interest in music, film, theatre and the visual arts, having worked with bands, studied theatre and worked on over 500 film and television productions and understands the crucial importance of Networking.  To this end he started the Creative Darebin Networking Breakfasts in November 2016.
Bruno Doring is a Professional Member of the Career Development Association of Australia (CDAA) and has practised since 2013. 
His qualifications include:
Graduate Certificate in Career Education and Development from RMIT University
Graduate Certificate In Arts Administration (with Distinction) from RMIT University
Bachelor of Education (Mathematics/Media Studies) from Deakin University