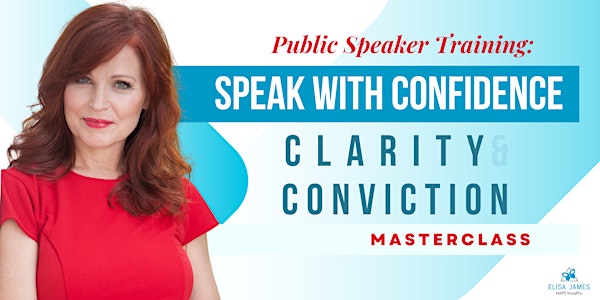 Speak with Confidence, Clarity & Conviction Public Speaking Masterclass
Location
Singapore
Singapore
Singapore, Singapore 569933
Singapore
FREE 2-Hour Masterclass For Business Owners & Professionals who want to excel in their field & master their speaking & presenting skills
About this event
𝑾𝒉𝒚 𝒅𝒐 𝒔𝒐𝒎𝒆 𝒑𝒆𝒐𝒑𝒍𝒆 𝒔𝒐𝒖𝒏𝒅 𝒔𝒐 𝒄𝒐𝒎𝒑𝒆𝒍𝒍𝒊𝒏𝒈 𝒂𝒏𝒅 𝒄𝒂𝒑𝒕𝒊𝒗𝒂𝒕𝒊𝒏𝒈 𝒘𝒉𝒆𝒏 𝒕𝒉𝒆𝒚 𝒔𝒑𝒆𝒂𝒌❓ 🤔
While others struggle because people don't listen to them...
➡️ Is a fear of public speaking holding you back?
➡️ Are you struggling to get your message understood clearly?
➡️ Are you nervous about getting on camera ?
➡️ Do people switch off when you are speaking or presenting?
➡️ Do you feel nervous during work presentations?
There is a reason that some people sound compelling and engaging when they speak...
and it's got nothing to do with the words!
If you need to learn how to become a better public speaker or presenter - then join us!
This isn't your typical speaking event...
This masterclass is specifically designed for Leaders, Business Owners, Entrepreneurs, Corporate Executives, Coaches, Business Coaches, CEO's and Start Up's who want to take their careers to the next level.
✅ To command authority, you need the right skills to embody confidence
✅ Climbing the corporate ladder is all about effective communication and sounding like a Leader
✅ Don't let your voice get in the way of what you want to say! A stronger, more engaging sound is available to you
✅ There's a difference between being a good speaker and being a speaker that yields influence and creates impact
✅ Don't let your fear of public speaking or being on camera ruin your career prospects!
💪 It's time to learn to win over any audience with a holistic approach to Public Speaker Training from Australia's #1 Voice and Speaking Coach - Elisa James M.Mus.T.h.M
Ready to be valued, trusted and respected because of what you bring to the table?
Then REGISTER for FREE NOW!!! ✍️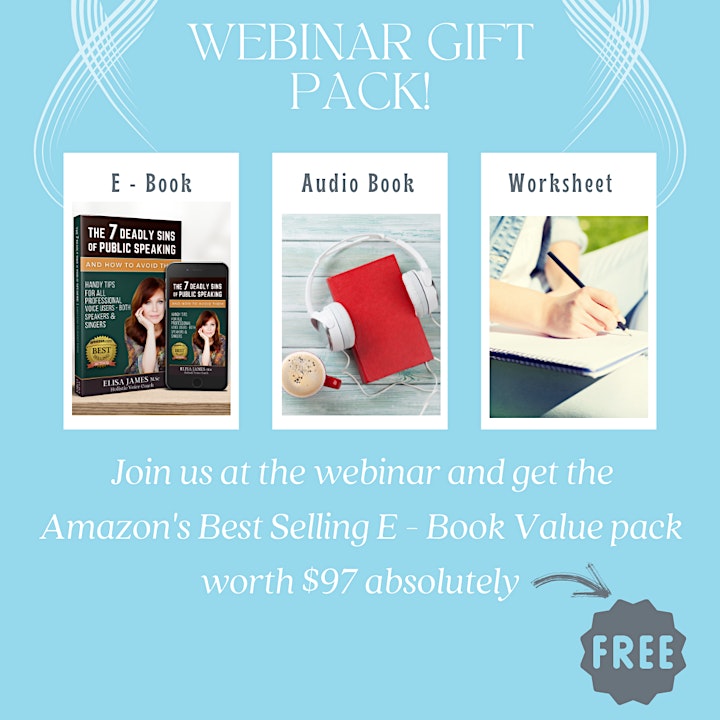 📅 Join us, LIVE on for our unique FREE 2-hour Masterclass on:
Thursday, 25th August 2022: 7PM AEST (Sydney Time)
Elisa James M.Mus., T.h.M., is a professional voice and presentation coach to speakers, singers and actors all over the world.
She holds a Masters Degree in Voice Production and is passionate about helping people bring their voice and their message to a bigger global audience.
After 35 years on stage and on-camera worldwide as an entertainer, Elisa now coaches business owners, authors, and speakers in the art and science of successful public speaking and performance.
She has coached some of the world's most esteemed coaches, speakers & Organizations including:
Tony Robbins Coaches and Speakers, T.Harv Eker Coaches and Speakers, Brendon Burchard Coaches, Apple, Google, Get Motivated Events USA, TV Presenters, Radio D'J's, Celebrities, Olympians and many more...
Here's what some of Elisa's Students have to say:
"Elisa will help you move forward FASTER!
- Dre Job Search Specialist