Speak with Confidence, Clarity and Conviction - Public Speaking Masterclass
FREE 2-Hour Online Masterclass For Business Owners & Corporate Leaders who want to improve their public speaking & presenting skills.
About this event
Want to gain more respect and authority in work & business❓🤵
You may have decades of experience...
Yet how do you convey this when you speak on stage 🗣, in a boardroom or on camera 🎥?🤔 ?
You need to sound and look like a leader to deliver impactful and engaging work presentations or lead your team during virtual meetings.
You also need to speak with confidence and clarity if you want to get more visibility on video and grow your business brand.
If you are a business owner, or a start-up, you need to be getting on camera FAST to grow your business and be quickly seen as the expert in your field.
85% of ALL internet traffic is now video....
So are you still avoiding shooting video for your business due to your lack of confidence or fear of public speaking?
Don't let your 🙅voice (and nerves) get in the way of what you have to say.
💪 It's time to learn to win over any audience with a holistic approach to Public Speaking.
What You'll Discover at This Event
The most successful business speakers in the world know a few secrets:
☑️ To command authority, you need the right skills to embody confidence
☑️ Learn to respond assertively to questions and speak your mind calmly!
☑️ Overcome your nerves and fear of public speaking
☑️ Learn the 8 steps to master your communication skills and go from fearful to fearless on camera and off!
This isn't your typical speaking event. It's specifically for corporate professionals and business owners who want to take their careers to the next level.
Who is this event for?
👍 Aspiring Speakers
👍 Business Owners
👍 Corporates Leaders & Managers
👍 Entrepreneurs
👍 CEO's
👍 Start-up Businesses
And ANYONE who wants to grow their visibility and gain more credibility in the marketplace!
Ready to be valued, trusted and respected more?
Then REGISTER for FREE NOW!!! ✍️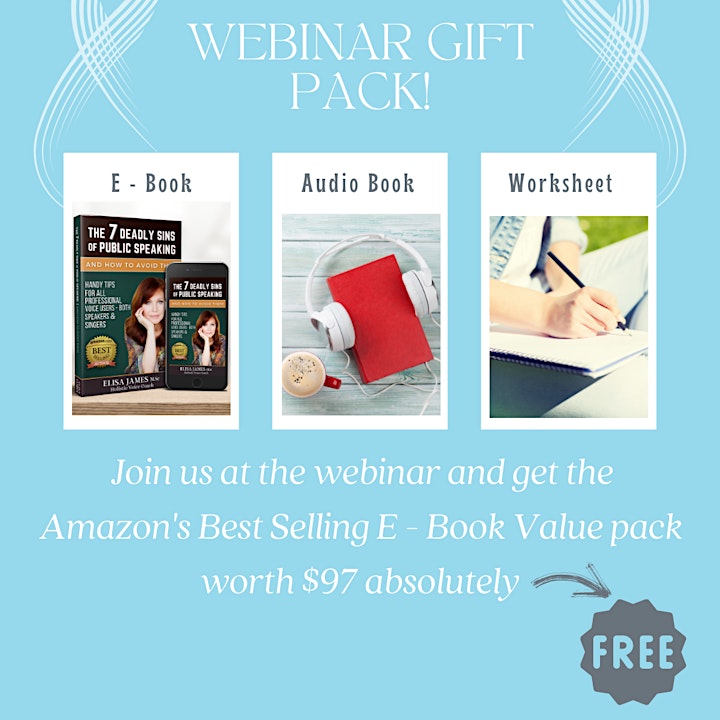 📅 Join us, LIVE on Tuesday, October 19th for our unique FREE 2-hour Masterclass.
Elisa James M.Mus., T.h.M., is a professional voice and presentation coach to speakers, singers and actors all over the world.
After 35 years on stage and on camera as an entertainer, Elisa now coaches business owners, authors, and speakers in the art and science of successful public speaking and performance.
www.elisajames.com
The Voice of Confidence TV (YouTube Channel)
Organizer of Speak with Confidence, Clarity and Conviction - Public Speaking Masterclass
Elisa James is a veteran performer with over 35 years experience in the entertainment industry world-wide. 
Starting as an singer, acrobatic-dancer, actor & trapeze artist at a very young age, she eventually switched to singing full time and re-located from Australia to Europe in 1995 with a recording contract.
After 20 more years of touring, recording and performing all over Europe and the USA, Elisa recently moved back to Australia. She now works regularly on TV and film as an actor, speaker and presenter and also as a guest speaker on many International virtual summits, podcasts and masterclasses.
Elisa loves sharing her passion for the voice and is expert in the psychology behind your vocal sound - uncovering the mental, physical and emotional blocks that affect speaking and performance.
As well as her three decade career in the Performing Arts, Elisa also holds a Masters Degree in voice, and a Masters in Holistic Health. She teaches Vocal Mastery, Public Speaking Workshops, Vocal Maintenance/Rehabilitation workshops and On-Camera Confidence for Business Owners.
As a Holistic Voice and Presentation coach Elisa coaches clients from all over the world, and has hundreds of people enrolled in her signature online courses, webinars, masterclasses and mentoring programs all year round.
Elisa's passion is helping business owners and aspiring speakers FIND THEIR AUTHENTIC, VOICE OF CONFIDENCE.
www.elisajames.com
info@hapsvoicepro.com
The Voice of Confidence TV (youtube)