SPE & EAGE Curtin Uni Student Chapter Joint Technical Talk with Baker Hughs
Topic: The Importance of Pore Pressure & Geomechanical Understanding for Successful Well Planning, presented by Amitava Ghosh.
About this event
In this technical presentation, Amitava would be sharing his experience and knowledge regarding the significant roles played by pore pressure and geomechanical in well planning and importance of understanding these knowledge to successful well planning.
Speaker Bio
Amitava started his career as a Geoscientist in Reliance Industries, India after completing his M.Tech in Applied Geology in 2002, where he achieved hands-on experience in seismic interpretation, operations geology with specific focus on pore pressure prediction and geomechanics. He got significant exposure in working with several deep-water and HPHT basins in India during this period.
During 2008-2011, Amitava worked with Global Pore Pressure Prediction Team in Shell. During this period, he actively worked on several challenging pore pressure projects drilled across the globe. Also carried out 3D seismic interpretation for a better structural reconciliation for South Pars field.
He joined Baker Hughes Geomechanics team in 2011 and currently based in Perth as a Geomechanics Team Leader for AP region. He is the regional SME for Pore Pressure Prediction. Since joined he has been both a participant and leader in numerous Geomechanics projects around the globe. He is responsible for managing Baker's Asia Pacific geomechanics consulting team and has been intimately involved in several exploration well successes in AP.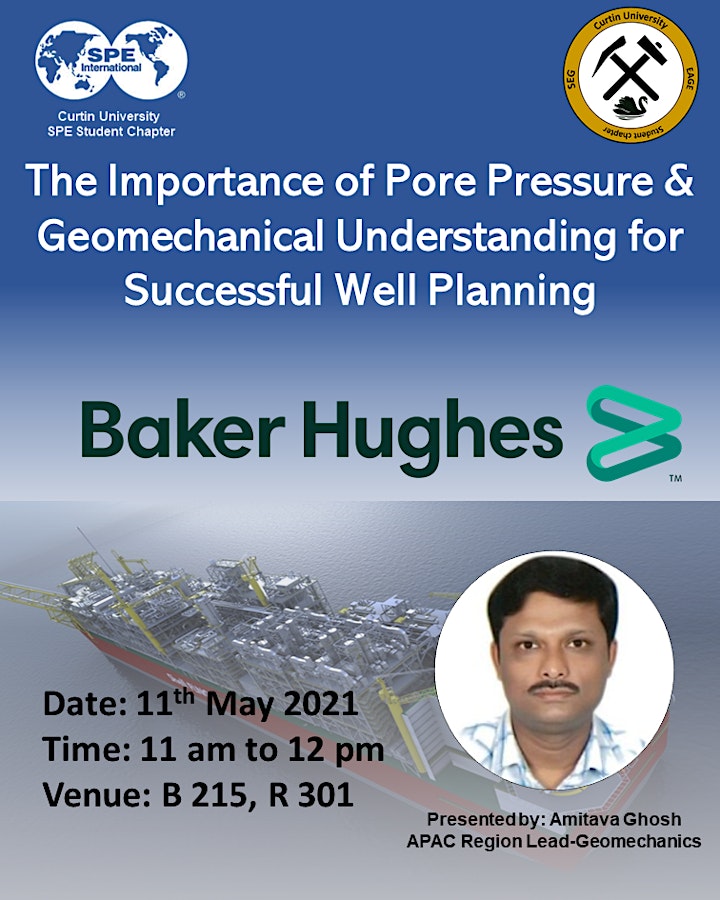 Organiser of SPE & EAGE Curtin Uni Student Chapter Joint Technical Talk with Baker Hughs