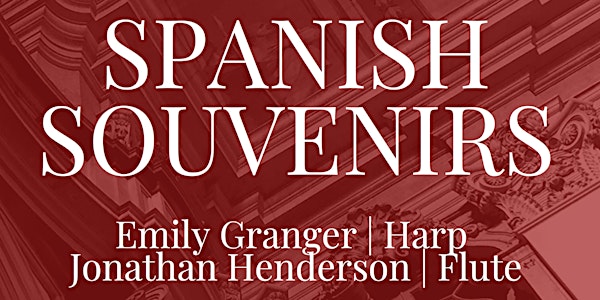 SPANISH SOUVENIRS: Emily Granger & Jonathan Henderson / Maleny Recital
Location
Maleny Community Centre
23 Maple Street
Maleny, QLD 4552
Australia
The enchanting combination of flute and harp unites two young soloists in a recital celebrating Spain's national dances and folk music.
About this event
In today's deadline-driven world, there are so few moments of spontaneity to be experienced. Freedom is scarce and time is a limited resource for many. Everything is pre-programmed and scheduled in, and our emotions are anticipated ahead of time.
One rare exception occurs in live music performance. Especially when it comes to chamber music, being part of the audience allows us to feel close to the music as it unfolds. Permit yourself an hour to switch off, recharge and disconnect from deadline mode. Rebel against your smartphone. Dare to get nothing done!
From your seat, you have the chance to lose yourself in the music being played right in front of you. We invite you to sit back, let your mind wander and share this rare exchange of music between performers and audience, only achievable in the intimacy of the chamber music salon.
Music can only speak for itself when it is played, and heard. The creative moments of live performance which remain unpredictable for musicians and audiences alike can't be described in advance. The effect can only be felt through our exchange with you, thanks to your presence in the concert hall.
PROGRAM
The enchanting combination of flute and harp unites two of Australia's vibrant young soloists, Jonathan Henderson and Emily Granger, in a recital celebrating the rich heritage of Spain's national dances and folk music. Redolent with Spanish motifs, two robust miniatures by Jacques Ibert and Alphonse Hasselmans beautifully evoke the flamenco guitar. Paris-dwelling composers Maurice Ravel and Emmanuel Chabrier yield elegant interpretations of the Habañera, owing to their long-standing admiration of Spanish culture from neighbouring France. A cornerstone of the Spanish Baroque, Les Folies d'Espagne of Marin Marais offers a suite of variations adapted for solo flute. At the heart of this recital sits a deeply evocative rêverie – Manuel De Falla's melancholic Nocturno, and the widely popular Seven Spanish Folksongs, a cycle in strikingly diverse regional styles imbued with Hispanic flair. François Borne's Fantasie Brillante on Themes from Bizet's Carmen spins the flute in virtuosic threads around a charming opera melody potpourris, not without the infamous Habañera, Chanson Bohème and beloved Toreador.
works by MAURICE RAVEL, MARIN MARAIS, GEORGES BIZET, JACQUES IBERT, EMMANUEL CHABRIER, MANUEL DE FALLA and more
This concert is approximately 60 minutes in duration, no interval.
ARTISTS
Emily Granger | Harp
Jonathan Henderson | Flute