Space Jams will trek the South Coast in Mar/Apr with talented musos in tow. UniBar hosts the massive tour finale across 2 levels and stages
About this Event
Space Jams UniBar ADL Lineup:
Oisima (full band)
Wanderers
Siberian Tiger
Bermuda Bay
Hartway
Lilac Cove
Cat Lucky
Clay McMath (MC)
Destrends (Vic)
DJ Es'Ay
Lost Woods
Major Shade
Rob Edwards
Trav Collins
Yo
March 2021 marks Space Jams' FIRST BIRTHDAY! 1 year since the overnight eradication of Australia's live performance industry. 1 year since Space Jams founder Josh Morphett paved the way for live music enthusiasts to continue accessing live music from wherever they and their handheld device were in the world. 1 year since the Adelaide-based Instagram Live-stream music festival was born.
To celebrate an incredible year, which included 4 online festivals, 3 sellouts at Jive and 100+ artists and performances, Morphett is taking Space Jams on the road to 6 regional towns and a big 2-stage 14 band finale at UniBar ADL. Thanks to the support of our dedicated road-trip superheroes RAA, helping South Australians trek across the state safely, and local refreshment legends Pirate Life, Space Jams will tour the South Coast with talent in tow. Wanderers*, Lilac Cove and Rob Edwards will perform in Myponga, Goolwa, Mt Gambier, Robe, Streaky Bay, Pt Lincoln and Adelaide. Local artists from each region will be included on lineups, as well as incorporating local vendors and sponsors. 22 other artists will be joining the core touring group at various shows, including Siberian Tiger, Bermuda Bay, Ollie English and Hartway.
UniBar ADL will host the tour finale, opening the nostalgic upstairs Old UniBar as the second stage. Headlined by the captivating Oisima and his full band, 14 artists will play over 2 stages during the evening with local comedian Clay McMath taking on MC duties yet again. Capacities are limited and tickets will sell quickly.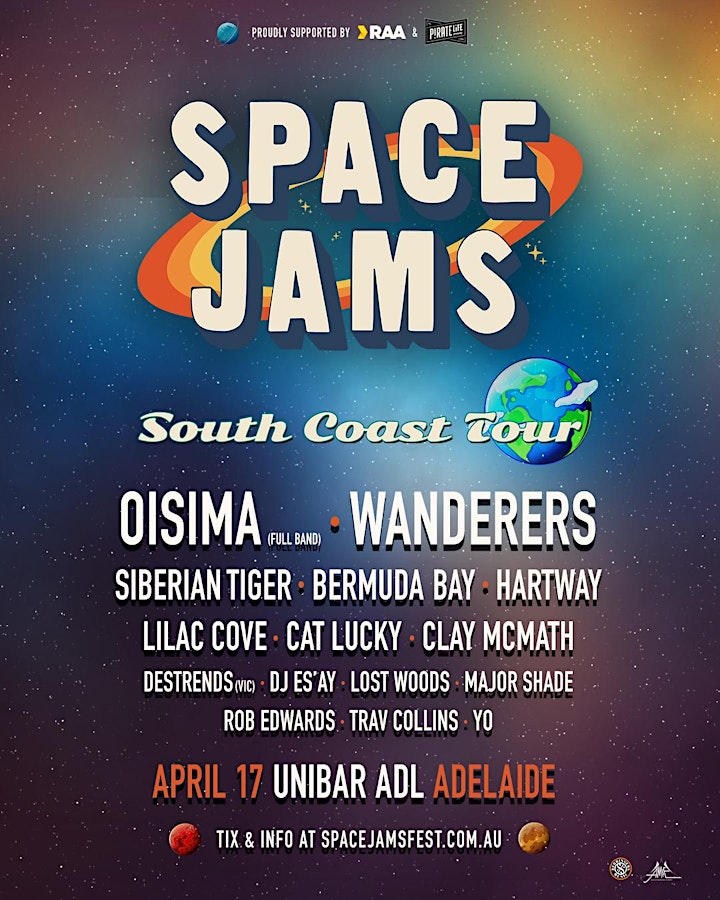 Performers
Date and Time
Location
UniBar ADL
Level 2 Union House The University of Adelaide
Gate 10 Victoria Drive
Adelaide , SA 5005
Australia
Refund Policy