Southport State High School invites you to attend the Southport Business Alliance Corporate Breakfast on Wednesday, 2 June 2021
About this event
The education sector is rapidly evolving, but one thing has remained consistent - Education is the HUB of our community. So how can your business benefit and leverage off Education?
Join us at the Southport Business Alliance Corporate Breakfast to hear from Study Gold Coast CEO Alfred Slogrove and network with some of Southport's most influential business people.
When: Wednesday, 2 June 2021 at 6.30am
Where: Southport Sharks
Tickets: $45 includes hot breakfast
Profits from your tickets will also support disadvantaged students at Southport State High School.
____________________________________________
About Alfred Slogrove
Alfred Slogrove has spend more than 15 years as an industry leader in the education sector and is a passionate Gold Coaster, where he has accomplished a wide variety of achievements including State and National Awards for his leadership in the industry.
Prior to starting his role as the CEO of Study Gold Coast, Alfred was the Director of Business Development at TAFE Queensland and spent five and a half years developing great industry relationships and partnerships with the likes of Gold Coast Health, Advance Queensland, the 2018 Gold Coast Organising Committee and many more. He has a very strong understanding of both national and international education policies both at a federal and state government level.
Holding a Bachelor of Business Management and qualifications in education, Alfred's leadership and entrepreneurial skills has allowed him to develop and implement a national 'Payment Gateway' to support a scholarship fund that has supported over 2,000 state wide scholarships to students. These scholarships are offered state-wide and have supported students from various backgrounds to start a new career path.
________
How you can support disadvantaged students
Southport State High is committed to ensuring every student achieves their potential and seeks like-minded businesses to collaborate to ensure the Southport area continues to evolve as a world class community. There are several ways you can assist in changing the life of our disadvantage students to provide them with basic education needs to succeed at school:
Benefits of donating:
• Giving a student a chance at a brighter future – Our Sponsorship opportunities give students from low income families the chance to thrive
• Tax credit – All donations are 100% tax deductible
• Higher graduation rates – Students that are provided with the basic essential educational needs have a higher success rate of graduating high school
• Personal satisfaction - spending money on someone else can make you even happier than spending it on yourself
Sponsorship opportunities per student include
• School Bag - $60
• Winter Jacket - $70
• Interschool Sports - $80
• Full Uniform (Formal, Sports, 2 x Socks, Shoes, Winter Jacket, Bag) - $350
• All Educational needs for a year (excluding device) - $1000
• Device to allow a student to access our digital curriculum – $ Various
If giving back to our community is of interest to you there will be more information available at the event or you can email principal@southportshs.eq.edu.au or call 07 5509 1222.
___________
Other Information: There is also a great opportunity to promote your business on the day by donating a prize that we raffle at the breakfast. If you would like to take advantage of this opportunity please contact Alina Pilic on 5509 1230 or apili0@eq.edu.au
Please feel free to forward this invitation onto any of your business contacts that may be interested in the opportunity to attend the Southport State High Alliance Breakfast.
 ______________
FAQs
What can I bring into the event?
Please bring your business card.
How can I contact the organiser with any questions?
Email- apili0@eq.edu.au
Phone- 07 5509 1230
Do I have to bring my printed ticket to the event?
No. We have a list of attendees. 
Is it ok if the name on my ticket or registration doesn't match the person who attends?
Yes, although please email apili0@eq.edu.au prior to the event to advise.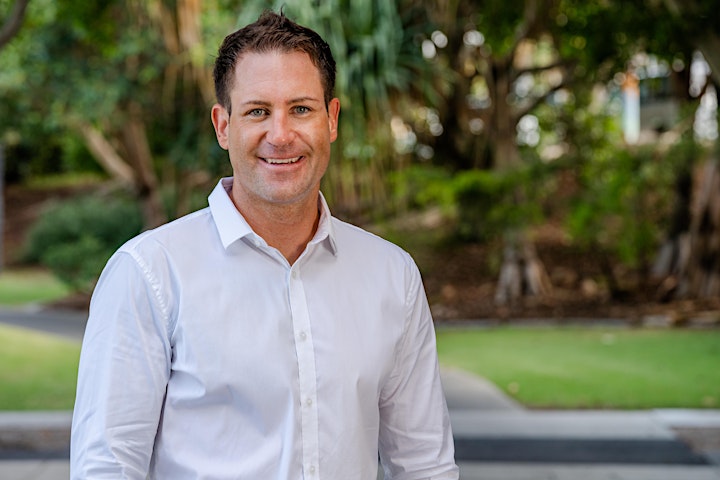 Pictured above: Alfred Slogrove, CEO, Study Gold Coast
Organiser of Southport State High Business Alliance Breakfast - June 2021