Event Information
Location
Moss Vale Showground
16 Illawarra Highway
Moss Vale, NSW 2577
Australia
Refund policy
Contact the organiser to request a refund.
Eventbrite's fee is nonrefundable.
Boasting highland vendors, restaurants, winemakers, distillers, brewers, bistros, farmers market growers areas, live music, demos & VIP tent
About this event
The newly reorganised committee is delighted to announce that the annual Southern Highlands Food and Wine Festival will return in Feburary 2022 at a new venue and with a new look, all designed to not only support the food and wine industry in our shire, but to also see the region lead the state making this a favourite festival in NSW.
The festival will be held on Sat 26th and Sun 27th Feburary at Moss Vale Showground offering a new layout to engage with local providers with a choice of ticket options. Boasting Highland vendors, restaurants, wine makers, distillers and brewers as well as bistros and a farmers market growers area.
Expect live music, covered and open air dining spaces, a VIP tent, cooking demonstrations and more. All with ample parking and transport options as well as a wine pick up service at the exits so you don't have to carry your orders around all day.
Choose between our:
VIP package at $150 pp with added extras such as express exclusive entry and private parking, bubbles on arrival in the VIP tent as well as a take home Riedel Glasses Pack valued at $75 just to start
OR
General Admission at $30 pp with access to all the stalls, tables, and growers areas as well as free live music. Tickets on sale now
Under 18 years old - $15 (half price)
Kids Under 6 years old - FREE
NOTE - COVID REFUND POLICY
On a positive note with the emergence from lockdown imminent and working within the health and government guidelines. But rest assured, if you cannot make it to the Southern Highlands Food & Wine Festival because of a lockdown or travel restrictions in your area, you'll have the opportunity to refund your tickets up to 48hrs prior to the start of the festival. The same goes if we have to cancel the event - you'll be offered a full refund or the opportunity to transfer your tickets to next year's event.
Sponsored by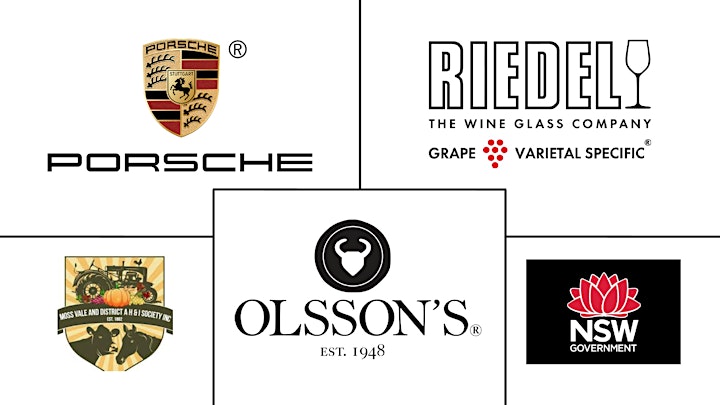 Artist Impression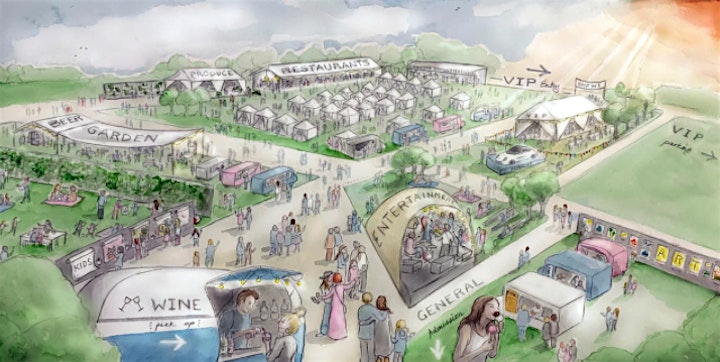 Booking Terms and Conditions
Please read these terms and conditions carefully as these conditions incorporate the basis on which bookings for Southern Highlands Food & Wine Festival (The Festival) are accepted and are as follows:
BOOKINGS AND QUOTES
Enquiries can be made at festival@shfwa.com.au
Bookings can be made at https://shfestival.com.au/
Bookings and final reservations are subject to availability.
Southern Highlands Food & Wine Festival regrets that it is not possible to refund completed bookings unless the event is cancelled by the Southern Highlands Food & Wine Association, except as required by law or in accordance with the LPA Ticketing Code of Conduct. Any refunds or partial refunds and/or exchanges must be made at the original point of sale and may be subject to exchange fees.
PAYMENT OPTIONS
Payments are accepted by Visa or MasterCard or Amex only via the website.
Credit card payment fees and GST where applicable are included in the quoted price.
All payments are only accepted in AUD dollars.
RATES & CHARGES
Rates quoted are in Australian dollars.
GST is applicable for all activities and events.
CANCELLATION & FORCE MAJEURE
While every effort will be made by SHFWA to run the Festival, we reserve the right to variation or cancellation by is forced to do so by Act of God, war, fire, flood, storm, gales, tempest or public health obligations such as Covid 19 restrictions.
If the Festival is rescheduled due to Covid 19, an option to receive a full refund via Eventbrite will be available for 7 days following the cancellation date, by logging on at www.eventbrite.com.au and putting in your details and request for refund. Otherwise, all tickets will automatically be transferred to the revised dates in the same session that was purchased.
PETS
Southern Highlands Food & Wine Festival do not allow pets at our events.
PERSONAL BELONGINGS
You acknowledge that we do not cover your personal belongings under our insurance policy and therefore take no responsibility for any loss or damage of the occupants' personal property left at our event. You agree that you will not make any claim against us for any damages or loss to your personal belongings regardless of how or where the loss or damage occurred.
BEHAVIOUR
We would hope that all behaviour across the Southern Highlands Food & Wine Festival keeps in mind the needs and enjoyment of others. We come together to enjoy the atmosphere and great food and beverage on offer. At all times respecting and appreciating each other and the environment we're in. Please be especially mindful of others and DO NOT ATTEND the FESTIVAL if you are feeling unwell or have a fever, sore throat etc. Help keep everyone Covid safe by hand washing & sanitising, sneezing into your elbow instead of your hand, maintaining social distancing as much as possible and obeying any public health regulations as to seating, standing etc that may be in force.
LIABILITIES
You acknowledge that we do not accept liability for any injury, damage, loss, additional expenses and disruptions caused directly or indirectly by events, which are beyond our control and agree not to make any claim in relation thereto.
RUBBISH AND WASTE
All rubbish and waste is to be placed into the bins provided at our events. We encourage recycling and bins for this are also provided at our events. We encourage you to bring your own water bottles in order to minimise use of single use plastics.
EMERGENCIES
All injuries which require attention, a doctor or ambulance should be reported to Southern Highlands Food & Wine Festival staff, immediately.
BREACH OF TERMS AND CONDITIONS
You agree that, should you or your guests breach any of the terms and conditions:
You will pay to us the total loss or damage that we suffer as a result of that breach and hereby authorise us to debit your credit card as payment of that loss or damage.
Purchase of ticket constitutes acceptance of these terms and conditions.
The terms and conditions of booking are subject to change without notice.
WHAT'S INCLUDED IN YOUR TICKET?
All Southern Highlands Food & Wine Festival 2021Entry tickets include…
Entry to The Festival
A souvenir SHFWA Festival Cup
Roving entertainment, bands and DJs
Access to over 50 great quality food, beverages and produce.

Wine purchase collection area
VIP Ticket holders also receive the above and...
Exclusive VIP entry gate and Priority, VIP only parking area
Access to VIP Tent & Amenities access
A box of two Reidel glasses value $ 75
A glass of bubbles on arrival in VIP Tent
Preferential Access to Porsche test drive
Vouchers worth $100 towards future online wine purchase
WHAT IS THE AVERAGE COST?
Once you're at the festival, all food, drinks and merch can be purchased by contactless payment.
150ml full glass pours start at $7.00
Individual tasters start at $2.00
Most food dishes range from $10 – $15
Award winning and flagship local restaurants will sell 'signature dishes' especially prepared for The Festival.
Date and time
Location
Moss Vale Showground
16 Illawarra Highway
Moss Vale, NSW 2577
Australia
Refund policy
Contact the organiser to request a refund.
Eventbrite's fee is nonrefundable.