South West Angels: Official Launch 15 March 2019 | 4PM - 8PM @ Clairault
Join an exclusive soireé and networking event as we officially launch the South West Angels - with keynotes, panels and pitches!
About this event
South West Angels' Official Launch, Friday, March 15, 4pm – 8pm
'How Do you Access High Growth Emerging Technology Opportunities'
High growth ventures don't just grow in Silicon Valley - the South West has amazing capacity and skills to grow new ventures that can not only be successful in the south west or across Australia, but also globally.
But, how do get access to these opportunities; how do you determine which are the best opportunities?
A entrepreneurial group of local business leaders and investors has established the South West Angels which is bringing global best practice on how to focus on the best opportunities, how to assess and manage early stage risks and how to value these opportunities for growth and harvesting.
For further details, please contact the Business Manager and we look forward to seeing you soon!
***********************************************************************************************
South West Angels (SWA) is a for-purpose not-for-profit (NFP) and member-lead Association comprising actively engaged private investors that seek to provide investment capital – financial and intellectual – and mentorship to innovative businesses and emerging ventures in the south west region of Western Australia. SWA offers a platform for founders, entrepreneurs and start-ups to present their business ideas and investment opportunities to members. The group aims to create awareness of angel investing, as an alternative asset class, and educate investors on best practice for investing in local ventures in order to generate efficient quality deal-flow in the south west and complement the diverse innovation ecosystem.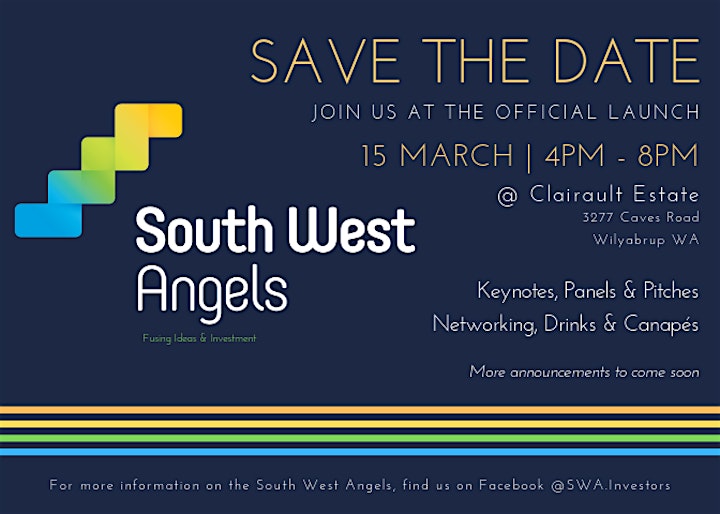 Organiser of South West Angels: Official Launch 15 March 2019 | 4PM - 8PM @ Clairault