Sound Healing & Guided Meditation - Tibetan & Crystal Singing Bowls & Gongs
Relax, experience a sense of calmness and the feeling of being enveloped by beautiful, soft, yet powerful sounds.
About this event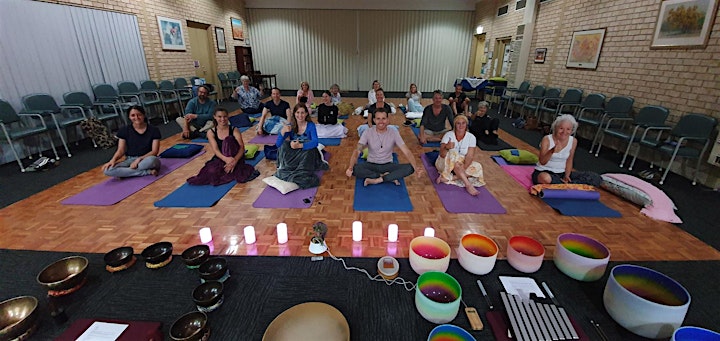 Relax, experience a sense of calmness and the feeling of being enveloped by beautiful, soft, yet powerful sounds
🧘‍♀️ Enjoy deep relaxation
🧘‍♀️ Melt away stress
🧘‍♀️ The beautiful sounds will facilitate the perfect escape and time-out you deserve at the end of the week.
⭐⭐⭐ 'Lovely to relax, unwind and let the sounds take you away. Thank you Andrew for an amazing night. I'll be back!' – Tahlee⭐⭐⭐
THE INSTRUMENTS enjoyed during our guided sound meditation:
🎵 Tibetan Bowls
🎵 Crystal Singing Bowls
🎵 Paiste Earth & Moon Gongs (tuned to the vibrations of the Earth and Moon)
🎵 French Koshi Chimes
🎵 North American Indian Rain Sticks
🎵 Ocean Drum
🎵 Siberian Shamanic Drum
🎵 And more
⭐⭐⭐ 'Sound healing last night with Andrew was amazing! His knowledge and passion for these beautiful instruments translated into a wonderful, rejuvenating and soul soothing journey. I can't wait for the next one' - Madeline ⭐⭐⭐
ABOUT THE SOUND JOURNEY:
☯️ Each hour long sound session is unique
☯️ Often tailored towards a theme or common healing challenge.
☯️ The particular sequence of notes, frequencies and the order of instruments played result in a variety of possible feelings both mentally and physically
☯️ Carefully curated by Andrew, ensure participants receive the most positive and harmonious outcome possible.
⭐⭐⭐ 'Andrew really knows his instruments well and I experienced a big shift during the tribal drumming. I felt uplifted and energised afterwards.' – Kim ⭐⭐⭐
ANDREW COX, ACCREDITED SOUND THERAPIST:
🎓 Accredited International Sound Therapist with the Sound Healing Academy UK
🎓 Meditation Teacher with the Meditation Society of Australia
🎸 Life long avid musical instrument collector
🌏 Over the years Andrew has acquired and played instruments from all corners of the world.
⭐⭐⭐ 'My girlfriend and I enjoyed our first sound healing experience with Andrew and Servane last night in South Perth, and lemme tell you - best date idea ever. Chatting about our experience afterwards, what I found most fascinating was how through every step of our sound healing journey, my girlfriend and I experienced a similar feeling, or similar thought. Andrew walked us through the sound healing journey instrument by instrument after our session, and explained a little more about the theory and reasoning behind the journey, and again - it all lined up with what we felt during the session. I'm looking forward to our next sound healing session with Andrew and Servane from Treemendus Health - it was an uplifting, stress relieving, and life-affirming experience.' – Matthew ⭐⭐⭐
TO JOIN, please note:
➡️ Mats and pillows are provided but feel free to bring your own and/or a blanket for extra comfort.
➡️ Tickets are limited so please book ahead.
➡️ Please arrive between 6:50 and 7:00 pm
⭐⭐⭐ 'The sound healing session last night was incredible. Thank you so much.' – Larissa ⭐⭐⭐
If you would like to unwind, relax and experience a special sound journey of your own, then secure your tickets today ➡️
To learn more about Andrew, Sound Therapy or view other up-coming events, please visit: http://treemendushealthevents.eventbrite.com/