Actions and Detail Panel
Sound Healing Concert
Sun. 21 May 2017, 3:30 pm – 6:00 pm British Summer Time United Kingdom Time
Description
Sound Healing Concert with Rafaelle Mackay & Carly Grace
with Alchemy Crystal Singing Bowls
3:30 - 6:00pm
Join us for this special and enchanting afternoon with Rafaelle Mackay & Carly Grace a Sound Journey through the acoustic world of Alchemy Crystal Singing Bowls.
Together we will open and unite through the power of sound as we receive the pure tones and harmonies of the Crystal Singing Bowls inviting us to open and expand into our potential. A blissful afternoon wehere we will awaken our Higher Senses supporting Greater Creativity, Opening and Love in the Heart.
Carly Grace and Rafaelle Mackay will weave together sounds of light supporting feelings of opening in the heart and expansion. Following this blissfull expereince we will receive the healing melodies and songs of Rafaelle Mackay in a space of deep relaxation and meditation.
Rafaelle Mackay is Vocalist, Composer, Therapeutic Musician and Workshop leader based in Montreal, Canada. As a vocalist she invites her audience to connect to inner worlds in her meditative concert series and her album "Mayu", which is appreciated by practitioners of meditative arts of all styles.
A beautiful afternoon of receiving, connection and opening.
- We will work through the Energy Centers of the body to support Opening and Wellbeing
- Awaken your Higher Senses supporting Greater Creativity, Opening and Love in the Heart
- Experience the vibration and aliveness of your cells as you receive the healing sounds of the Alchemy Crystal Singing Bowls
- Feel inspired, open and connected to your self and to a greater sense of onness
- Enter the pure nature and possibilities of your being
Following this session the Sounds will continue to sing through the cells of the body supporting you to co-create with your life in an abundant and inspired way.
The Alchemy Crystal Singing Bowls are made of 99.992% pure quartz infused with precious crystals, gemstones and/or minerals. Our entire human body down to our very DNA is crystalline in structure, causing it to respond and resonate with the extraordinary frequencies associated with quartz crystal.
Rafaelle mackay Bio:
Rafaelle Mackay is Vocalist, Composer, Therapeutic Musician and Workshop leader based in Montreal, Canada. Fed from a deep inner connection to the power of the human voice, she has dedicated herself to bringing people along in an exploration of this fine instrument. "I sing to get answers, I sing to heal my soul and my body, I sing for strength and for courage. I sing for and with the divine within. What a gift!"

Her passion for healing with the voice has led her to become a therapeutic musician, earning a certification for Music for Healing and Transition Program. Where she sings and plays for various palliative care units . She has studied the craft, spirit and community of voice in improvisation at a mastery level under the guidance of pioneering teacher Rhiannon. Rafaelle has been holding vocal improvisation groups and world music choirs in Montreal and Canada for the past 5 years. Bridging the worlds of nature and technology, she is currently collaborating with musicians, producers and DJ's, layering beats and voice to bring depth, inspiration and sensitivity to dance floors. As a vocalist she invites her audience to connect to inner worlds in her meditative concert series and her album "Mayu", influenced through her Hindustani classical vocal studies in North India and by her journey of discovery traveling to Asia, South America and Europe to study with teachers and masters of voice and consciousness.

​http://www.rafaellemackay.com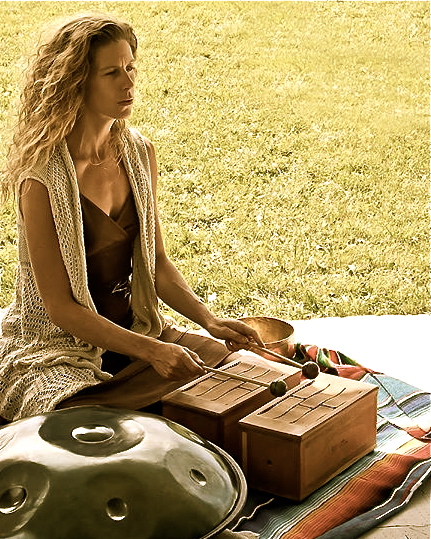 Carly Grace Bio
Carly leads through the power of Sound working with Alchemy Crystal Singing Bowls and Voice, she has dedicated her service to support indidivuals to return to their true nature and in turn their true potential through the weaving of Meditation, Energy and Sound Healing. Known for her deep and compassionate presence she provides a safe space for you to open and release blocks on a physical, mental, emotional, spiritual or genetic level, supporting you to feel empowered to create positive change - "as our frequency shifts we are able to self-heal, move into a clearer state of being and in turn create a happier reality."

Carly is based in London where she leads ongoing Sound Healing gatherings with a community of over 2,000 people, she hosts regular Meditations in the workplace and Sound Healing and Well-Being Retreats in the UK and abroad. She worked as Co-Director of the London College of Spirituality, a grassroots organization committed to personal and planetary evolution hosting inspirational events with guests from around the World. She is now supporting Sound Universe London sharing Alchemy Crystal Singing bowls as tools for healing and supporting individuals to connect to their true gifts through the power of sound.

http://www.carly-grace.com/