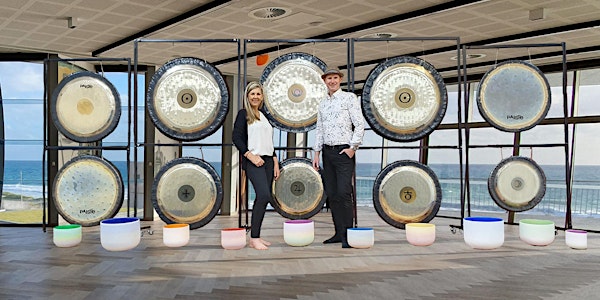 Sound Healing, Breathwork & Meditation Immersion - Heart Chakra
Enjoy a deep journey of Sound Healing, Breathwork and Meditation with the powerful sounds of 10 Symphonic gongs and 19 crystal bowls.
About this event
Join Kohra & Andrew for an extended 2 ½ hour journey of self-healing & heart chakra balancing.
Your journey begins with a brief self-reflection and heart connection to identify what you need to let go of and the energy you wish to invite and cultivate. This will be followed with shaking to music designed to loosen up and shake out built up tension & stress in your mind and body. When these heavy energies are released, your body is flooded with positive energy and a sense of freedom. We then ground and balance the energies with a guided breath journey, breathing in beats to music to clear your thoughts and center your whole body. An amazing experience to connect deeply with your breath and get you into flow states and heart coherence.
This is followed by a heart chakra balance meditation accompanied with the healing sounds of 19 crystal singing bowls attuned to your chakras. The vibration of the bowls will entrain you from a beta state of awareness to a deep meditative theta state, creating a deep sense of inner calm. You will literally float away on a harmonious sound cloud!
You will then be immersed with the sounds of 10 Symphonic and Planet tuned Gongs. The layers and overtones of the gongs will vibrate every cell of your body, relaxing muscles, releasing emotions, bringing your body back into a deep state of relaxation and clearing your auric field of any unwanted or old energy. Mentally and emotionally the sound of the Gong helps to quieten the mind, physically releasing tension and blocks, stimulating the glandular, nervous and circulation systems as well as breaking up emotional blockages.
The healing sounds of ocean drum, rain stick, solfeggio tuned pipes, chakra & koshi chimes will also be woven into the soundscape to entrain you into a deep relaxation.
When you awake, you will feel refreshed, calm, revitalized & energized, ready to watch the sun set over the ocean while enjoying some light refreshments after your sound healing immersion.
With a focus on self love & reflection, this experience will be an opportunity to connect deeply within & discover the essence of yourself. This is an experience you will remember...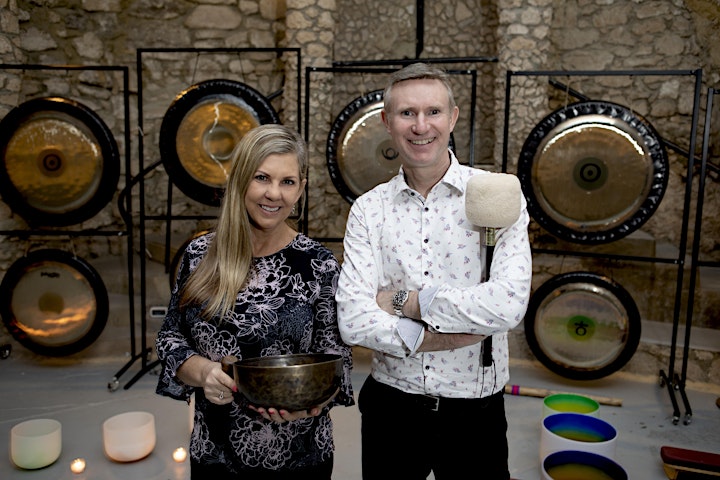 PLEASE NOTE:
Tickets are non refundable.
* By purchasing a ticket you agree to the following:
It is your responsibility to advise us of any medical conditions or health concerns before undertaking this event and advise if you have any of the following:
- acute inflammations and tumours, or open wounds.
- pacemaker or defibrillator
- metallic implant or screws
- post-surgery before the sutures have been removed and the scar is not fully healed
- inflammatory skin disorders - deep vein thrombosis in the leg or known thrombi
- cardiac pacemakers, artificial heart valves, or cardiac arrhythmia
- people with a stent or shunt
- people with a deep brain stimulation device (DBS)
- epileptics
- pregnant women (first 12 weeks of pregnancy)
We well take the upmost care for your physical, emotional and spiritual well-being.
Sound Healing is a complimentary medicine and does not replace your orthodox medical practitioners. It is understood you will take full responsibility for your own well-being during and after the event. Refunds will not be issued but tickets are transferable to another person at any stage before the event.
Organiser of Sound Healing, Breathwork & Meditation Immersion - Heart Chakra
About Andrew from Treemendus Health


Andrew holds two diplomas in Sound Therapy with the Sound Healing Academy UK. Is an accredited Meditation Teacher with the Meditation Society of Australia and also holds a diploma in Kinesiology from the O'Neill Kinesiology College in Perth.

'For years I spent much of my spare time traveling the world collecting exotic musical instruments for seemingly no apparent reason, until, after experiencing my own healing challenge, I learned and experienced the therapeutic benefits of sound. Now, with the knowledge of how various notes may positively influence the body both mentally and physically, I very much enjoy sharing these wonderful instruments during the carefully curated guided Sound baths, Meditations, and private sessions I offer.'

Andrew has facilitated groups internationally, nationally and has worked one to one with many people to help with their particular health challenges over the years. He currently conducts a weekly Friday night Sound Healing and Meditation in South Perth.

www.treemendushealth.com.au
@TreemendusHealth

About Kohra from Vibrant-Health

Kohra holds a Diploma in Energetic Kinesiology, and an Advanced Diploma in Functional Kinesiology. During her 3 years of study in Kinesiology she experienced her first Sound Healing Gong session – and knew she had to learn about this powerful instrument! Kohra started her Gong playing at Echoes Satori, then deepened her learning with Advanced Gong Therapy Practitioner training with Gong Master Mehtab Benton. This led to further studies to complete a Diploma in Integral Group Sound Healing with the Academy of Sound Healing.

Kohra has been offering Kinesiology sessions & facilitating individual and group sound healing sessions since 2016. She is passionate helping others to discover and create their true power and potential with the healing powers of Sound & Vibration.

As well as group sound healing Kohra offers individual Sound Healing sessions from her studio in Wanneroo.