3 Musicians take you on a soulful sound transformational journey to open your heart and surrender to the healing medicine of sound.
About this Event
Friday 4th, December, 7-9pm.
Tickets selling fast. Limited to 25 people.
Cost: $50 including refreshments and light grazing.
'A community project for people to enjoy beautiful soul enriching music and sounds that help elevate their vibration'.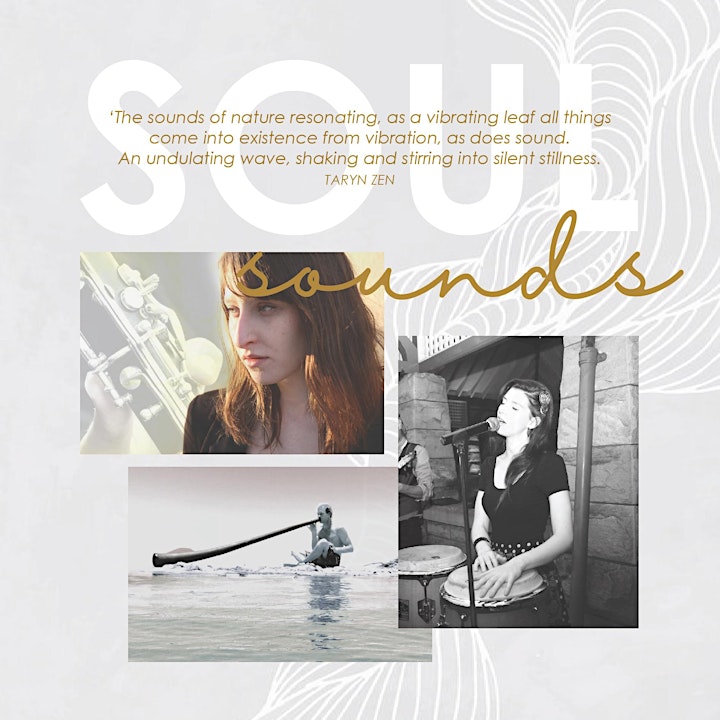 TARYN ZEN is a musician, dancer, yoga teacher and vibration alchemist. She is forever developing her healing craft in a range of modalities from across the globe. Key musical influences include Indian raga and Nada yoga, Brazilian rhythms, European classical, cabaret and jazz.
As a multi-instrumentalist and voice therapist, each musical journey is channeled on intuition. Taryn acknowledges her teachers and rigorous formal training that allows her to create with freedom. Recently her offerings at Akasa have included Ecstatic Dance and Movement Therapy and Sound Healing. Specialising in clarinet sound baths, Taryn offers a unique approach to old medicine.
SCOTT ROMAIN has been exploring therapeutic music for the past 20 years, using the sounds of Drum, Didgeridoo and Singing Bowl leading to a profound and moving experience. Scott studied Hypnotherapy with the The International Hypnosis Federation, also studying NLP and Positive Psychology, with the Mindbody Institute.
Scott has been involved in various body movements work, bringing fourth, 'Didgenology' The science of movement, vibration and sound emanating from the Didgeridoo. A creation of harmony within one's own awareness. A sound journey for shifting states of consciousness.
NATASHA KAVANAGH'S charismatic vocal and piano style draws from rich and diverse influences cultivated over 13 years as a professional singer, musician and performing artist. Growing up on Sydney's Northern Beaches, Natasha has enjoyed collaborating with vibrant local musicians, performing artists and iconic local bands.
As well as singing, Natasha also plays piano, keys and conga drums and is an accomplished songwriter/producer, choreographer and dancer. Natasha graduated from NIDA's Singer Dancer Actor program. One of Natasha's greatest loves in life is to share and take part in the healing power of storytelling through song and the arts.