Description

★ SOUL OF SYDNEY FUNK FUNDRAISER SPECIAL ★
★★★SUN OCT 26 - 1pm

★GREEN WOOD HOTEL COURTYARD [36 BLUE ST NORTH SYDNEY] ★
★★ feat. ★SOUL OF SYDNEY DJ'S & FRIENDS


★THE GROOVE DEALERS (4 Turntable Takeover) feat.
DJ Adverse, DJ Cman, Makoto, Caratgold & Juzzlikedat


+ 2ser All stars & friends.


★MEEM (Back to Funk - 2ser)

★RAINE SUPREME (Hardcore Classic Radio - 2SER)
★PARIS GROOVESCOOTER (Jumping The Gap - 2ser)

★EL CHINO (Departure Lounge Radio - 2ser)

★PHIL TOKE (Soul of Sydney, Spirit of House)





★ SOUL OF SYDNEY FUNK FUNDRASER- 2SER 35TH BIRTHDAY SPECIAL★

SUNDAY OCT 26 - 1pm
@
GREENWOOD HOTEL COURTYARD - NORTH SYDNEY

★★ AFTERNOON FEEL-GOODFUNK, SOUL, DISCO + OLD SCHOOL PARTY VIBES & BEYOND ★★
★★ LIMITED CAPACITY FUNDRAISER JAM IN A NEW INTIMATE PARTY SPACE, PUT ON BY SYDNEY'S SOUL FUNK FAMILY STRICTLY FOR THE LOVE ★

Join FB Event /
www.facebook.com/events/1550753405154064/


★Music by /
SOUL OF SYDNEY DJ'S & FRIENDS

★THE GROOVE DEALERS (4 Turntable Takeover) feat.
DJ Adverse, DJ Cman, Makoto, Caratgold & Juzzlikedat

+ 2ser All stars & friends.

★MEEM (Back to Funk - 2ser)
★RAINE SUPREME (Hardcore Classic Radio - 2SER)
★PARIS GROOVESCOOTER (Jumping The Gap - 2ser)

★EL CHINO (Departure Lounge Radio - 2ser)

★PHIL TOKE (Soul of Sydney, Spirit of House)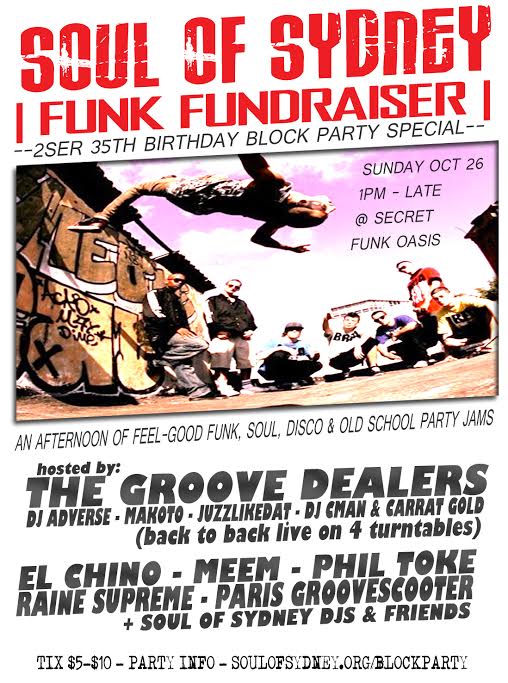 Location / NEW Secret Indoor / Outdoor Funk Oasis (5 Mins from CBD)

Info /

After an amazing sold out show last year to close out 2ser subscriber drive for 2013 with legendary NYC DJ DP ONE, we are looking to do it all again with the help with some of Sydney's finest selectors and some very special guests which we will be announcing very soon. We come together a community of music heads to help celebrate one of the local radio stations who has been there to support our scenes from day one.

★ Info.
www.soulofsydney.org/blockparty
★Info: soulofsydney@gmail.com
♫ Mixtapes: Check out podcasts from the DJ's playing on the day for an idea of the kind of vibes you can expect.
♫ Listen to Soul of Sydney Radio ! -->
www.soundcloud.com/soulofsydney
★For videos of our block party jams check out videos and info here:
www.facebook.com/soulofsydneyblockparty/media_set?set=vb.100001361822608&type=2

★ABOUT SOUL OF SYDNEY
▔▔▔▔▔▔▔▔▔▔▔▔▔▔▔▔▔▔▔▔▔▔▔▔▔
Created in November 2009, Soul of Sydney is an independent, artist run collective who are bonded by a love of 'funk' based music. Our people include DJ's, Musicians, Producers, Dancers & Designers who have come together to promote and support the music we love in this city, and the street culture around it.
Soul of Sydney Block Party is our monthly Sunday musical afternoon (12-9pm) feast. Focused on a family orientated get together, DJ's, Record Collectors, B-boys & B-Girls, and musicians come down to share & enjoy some of the music they love in a completely different environment, outside of bars or clubs.
We have an 'open decks, open mic & open dance floor' policy just to keep it personal and give everyone a chance to do their thing where locals can come down as our guests outside of a usual club set.
Music styles generally sit at a safe middle ground of Soul, Funk, Disco and a fair bit of Jazz & golden era hip hop stuff too with artists James Brown, Marvin Gaye, Aretha Franklin, Bob Marley, De La Soul, J Dilla, Stevie Wonder, Run DMC, Grandmaster Flash, Larry Levan amongst the playlist.
★♫ ♩ ▔
VIDEOS ! CHECK OUT THE GOOD TIMES AT SOUL OF SYDNEY, SYDNEYS FUNKIEST DANCEFLOOR!

_
ADD SOUL OF SYDNEY ON FACEBOOK FOR MORE INFO ON MORE SECRET PARTIES