Sales Have Ended
Ticket sales have ended
Tickets include a three course meal and show ticket. Drinks will need to be purchased on the night and in addition to the meal. Food and drink details will be published shortly. All dietaries will be accommodated but must be communicated and requested 1 week prior to the event by emailing info@lakespeare.com with your ticket confirmation. No dietary orders will be arranged without proof of booking and any dietaries requested with less than a week's notice will not be accepted. By booking this ticket you understand that you may be photographed at this event and should you wish to be excluded from any photography you will tell the event organisers prior to arrival. You will also accept that this request may result in a particular seating arrangement as decided by the event organiser. All ticket holders will need to follow a COVID-Safe protocol which will be provided to ticket holders on purchase. Wet Weather Plan Each show has a backup wet weather date (outlined below) and all tickets will be transferred to those dates. If you cannot attend the back-up date, please note that no refunds are possible for the food proportion of each ticket but you will be refunded for the performance portion of your ticket. Audience Protocol COVID-19 SAFETY PROTOCOLS Tickets are NOT transferable as registered guest names will be printed on each ticket and names submitted will be final – no name changes will be accepted. Identification will be required to gain access to the function space, this must match the name on your ticket. If the name does not correspond to your ID, you will not be permitted entry to the venue. Please note, one of the ACT Government requirements is reduced touch points, which includes NO BAGS at all allowed into the venue. Should you require a bag for any reason, such as medical or family needs, please advise us ASAP via return email and we will aim to support you in this matter. ENTERING The name of every booked attendee will be checked off the list with Photo ID to ensure that it matches our contact. You will be temperature checked before being allowed into the venue. Your temperature needs to be below 37.5 This is a ticketed and SEATED event. No standing or dancing is permitted. Please do not attend if you are experiencing any of the following: Fever Flu-Like Symptoms such as; Coughing, sore throat and Fatigue, Shortness of Breath OR Have been in contact with a person with a confirmed case of coronavirus. SEATING Patrons will have a ticketed seat and must sit in their designated seat. Bookings will be seated at one table and no seating may be re-arranged. Bookings NOT made together CANNOT sit together. What can't I bring into the Venue? Any type of bag including a handbag, camera bag, lunchbox or plastic bags; Jackets or items of clothing may not be carried into the venue – they must be worn at the time of entry; Thermoses or drink bottles; Any Camera or Recording Equipment. What can I bring into the Venue? You may carry permitted items on you at time of entry either in your hand or pockets. You may be asked to place any items brought into the venue on an inspection table for verification at time of entry; You may carry small purses without a shoulder strap; One sealed, non-alcoholic beverage in a plastic bottle and up to 600mL in size; Patrons attending with an infant may bring a large size, clear zip-lock bag into the venue to carry required items such as nappies, wipes and formula. A stroller may also be permitted subject to the venue's standard terms and conditions. Additional items must not be carried in the stroller
Sales Have Ended
Ticket sales have ended
Tickets include a three course meal and show ticket. Drinks will need to be purchased on the night and in addition to the meal. Food and drink details will be published shortly. All dietaries will be accommodated but must be communicated and requested 1 week prior to the event by emailing info@lakespeare.com with your ticket confirmation. No dietary orders will be arranged without proof of booking and any dietaries requested with less than a week's notice will not be accepted. By booking this ticket you understand that you may be photographed at this event and should you wish to be excluded from any photography you will tell the event organisers prior to arrival. You will also accept that this request may result in a particular seating arrangement as decided by the event organiser. All ticket holders will need to follow a COVID-Safe protocol which will be provided to ticket holders on purchase. Wet Weather Plan Each show has a backup wet weather date (outlined below) and all tickets will be transferred to those dates. If you cannot attend the back-up date, please note that no refunds are possible for the food proportion of each ticket but you will be refunded for the performance portion of your ticket. Audience Protocol COVID-19 SAFETY PROTOCOLS Tickets are NOT transferable as registered guest names will be printed on each ticket and names submitted will be final – no name changes will be accepted. Identification will be required to gain access to the function space, this must match the name on your ticket. If the name does not correspond to your ID, you will not be permitted entry to the venue. Please note, one of the ACT Government requirements is reduced touch points, which includes NO BAGS at all allowed into the venue. Should you require a bag for any reason, such as medical or family needs, please advise us ASAP via return email and we will aim to support you in this matter. ENTERING The name of every booked attendee will be checked off the list with Photo ID to ensure that it matches our contact. You will be temperature checked before being allowed into the venue. Your temperature needs to be below 37.5 This is a ticketed and SEATED event. No standing or dancing is permitted. Please do not attend if you are experiencing any of the following: Fever Flu-Like Symptoms such as; Coughing, sore throat and Fatigue, Shortness of Breath OR Have been in contact with a person with a confirmed case of coronavirus. SEATING Patrons will have a ticketed seat and must sit in their designated seat. Bookings will be seated at one table and no seating may be re-arranged. Bookings NOT made together CANNOT sit together. What can't I bring into the Venue? Any type of bag including a handbag, camera bag, lunchbox or plastic bags; Jackets or items of clothing may not be carried into the venue – they must be worn at the time of entry; Thermoses or drink bottles; Any Camera or Recording Equipment. What can I bring into the Venue? You may carry permitted items on you at time of entry either in your hand or pockets. You may be asked to place any items brought into the venue on an inspection table for verification at time of entry; You may carry small purses without a shoulder strap; One sealed, non-alcoholic beverage in a plastic bottle and up to 600mL in size; Patrons attending with an infant may bring a large size, clear zip-lock bag into the venue to carry required items such as nappies, wipes and formula. A stroller may also be permitted subject to the venue's standard terms and conditions. Additional items must not be carried in the stroller
A unique dinner and show experience from Typica Manuka and Lakespeare & Co for 50 guests only
About this Event
**DINNER & SHOW TICKETS SOLD OUT**
Songs & Sonnets over Dinner
This December enjoy being serenaded over a three course meal prepared beside a grand piano on Manuka Lawns - what better way to end this year?
For two nights only a grand piano will be brought onto the lawns for an intimate audience of 50 to experience original compositions from the Lakespeare & Co company. The programme involves selections from musical theatre giant Stephen Sondheim and Rockspeare musical composer Jay Cameron, peppered with Sonnets from Shakespeare. You just might hear a few surprise toe-tapping tunes you wouldn't expect on a grand, outside, in Manuka.
Lakespeare & Co endeavour to bring high quality storytelling to Canberrans and our first musical offering is thanks to Typica Manuka and this unique arts+business partnership.
We know Canberrans will be thrilled by this unique evening which will touch on the losses of this year and also the hope for the future.
6:00pm Venue opens
6:30pm Guests all seated
6:45pm Entree served
7:05pm Musical set 1
7:35pm Main Course served
8:00pm Musical set 2
8:20pm Dessert served
9:00pm Evening concludes
Tickets and Seating
A reserve seating $125: the best seats, closest to the performers and the piano with no sight line issues and great sound.
B reserve seating $100: offers a good view of the performers with great sound.
C reserve seating $85: offers a restricted view of the performers with good sound.
Show Only seats $40: seats in the C reserve area without dinner provided.
Tickets include a three course meal and show ticket. Drinks will need to be purchased on the night and in addition to the meal. Food and drink details will be published shortly.
All dietaries will be accommodated but must be communicated and requested 1 week prior to the event by emailing lakespeareis@gmail.com with your ticket confirmation. No dietary orders will be arranged without proof of booking and any dietaries requested with less than a week's notice will not be accepted.
Bookings will close midday the Tuesday before the performance.
Food
This menu is being carefully curated by Head Chef Max Heim, recently returned to Australia after working in Michelin star restaurants overseas.
ENTREE
white asparagus | krill shrimp | lemon
MAIN
braised beef cheeks | roast potatoes | peas
DESSERT
poached pear | macadamia | tarragon
**Menu subject to product availability
Drink 
A selection of wines and beer will be available for purchase in addition to the tickets listed here.
Cast and Creatives
Katerina Smalley: Lakespeare Company member
David Pearson
Jay Cameron
Lexi Sekuless: Lakespeare Co-Artistic Director
Naomi Casimir: Production support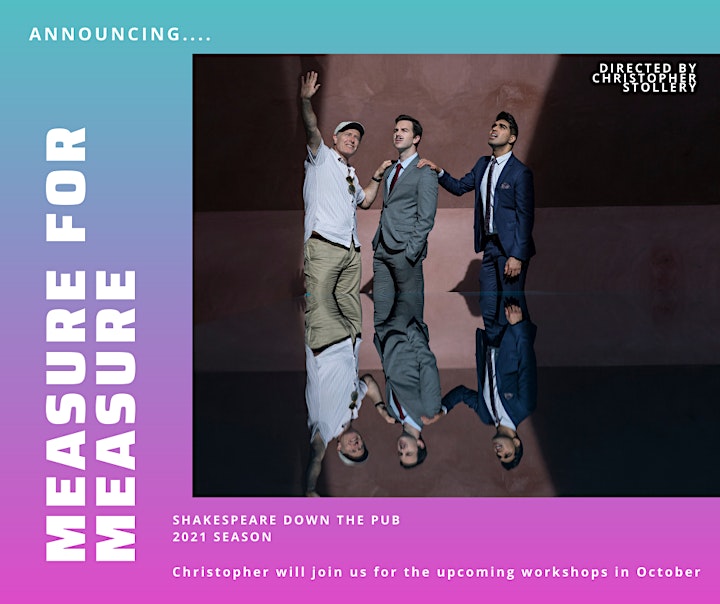 COVID-19 SAFETY PROTOCOLS
Tickets are NOT transferable as registered guest names will be printed on each ticket and names submitted will be final – no name changes will be accepted.
Identification will be required to gain access to the function space, this must match the name on your ticket. If the name does not correspond to your ID, you will not be permitted entry to the venue.
Please note, one of the ACT Government requirements is reduced touch points, which includes NO BAGS at all allowed into the venue. Should you require a bag for any reason, such as medical or family needs, please advise us ASAP via return email and we will aim to support you in this matter.
ENTERING
The name of every booked attendee will be checked off the list with Photo ID to ensure that it matches our contact.
You will be temperature checked before being allowed into the venue. Your temperature needs to be below 37.5
This is a ticketed and SEATED event. No standing or dancing is permitted.
Please do not attend if you are experiencing any of the following:
Fever
Flu-Like Symptoms such as;
Coughing, sore throat and Fatigue,
Shortness of Breath
OR
Have been in contact with a person with a confirmed case of coronavirus.
SEATING
Patrons will have a ticketed seat and must sit in their designated seat.
Bookings will be seated at one table and no seating may be re-arranged. Bookings NOT made together CANNOT sit together.
What can't I bring into the Venue?
Any type of bag including a handbag, camera bag, lunchbox or plastic bags;
Jackets or items of clothing may not be carried into the venue – they must be worn at the time of entry;
Thermoses or drink bottles;
Any Camera or Recording Equipment.
What can I bring into the Venue?
You may carry permitted items on you at time of entry either in your hand or pockets.
You may be asked to place any items brought into the venue on an inspection table for verification at time of entry;
You may carry small purses without a shoulder strap;
One sealed, non-alcoholic beverage in a plastic bottle and up to 600mL in size;
Patrons attending with an infant may bring a large size, clear zip-lock bag into the venue to carry required items such as nappies, wipes and formula. A stroller may also be permitted subject to the venue's standard terms and conditions. Additional items must not be carried in the stroller
REFUNDS
A wet weather back up date has been allocated for each show and information will be sent to ticket holders. Transfers to different dates or future events will only be possible for COVID-19 related cancellations.