Location
The Armidale Playhouse
309 Beardy Street
Armidale, NSW 2350
Australia
An evening of live music celebrating social & political solidarity & struggle, organised by The Rocky Bottom Girls, Bar Finch & Patsy Asch
About this event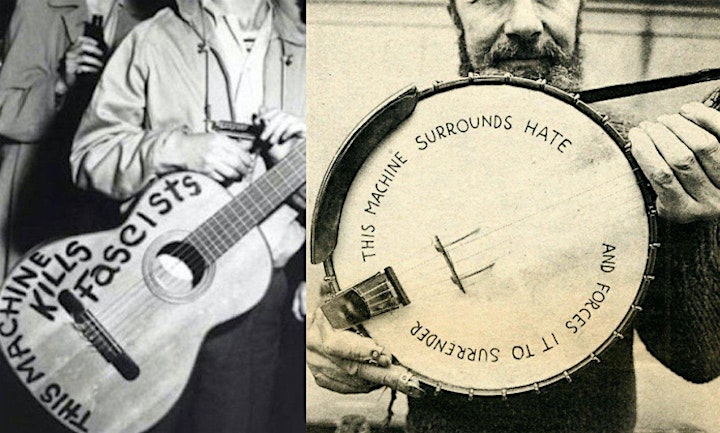 The history of social and political struggle is often captured best in music. All the humour, passion, outrage and humanity of those movements, the solidarity and collectivity—for workers', women's and indigenous peoples' rights, for peace and national liberation; against racism, homophobia, Apartheid, environmental destruction and nuclear weapons—is poured into song.
On this special evening, local band the Rocky Bottom Girls (Jhana Allan, Sujata Allan, Clara Murray and Craig Johnson) will be joined by an exciting line-up of local musicians of all ages. Including Bar Finch, Strung, Massiel Barros-Torning, Harri Keinonen and the Reclaim the Night Choir, playing songs and sharing stories from the history of these movements, to remember and learn from the past, as we continue to build solidarity and community today.
Images: (top) Woody Guthrie's and Pete Seeger's iconic anti-fascist inscriptions on their instruments in the mid 20th century; (middle) The Rocky Bottom Girls rehearsing in Armidale in 2022; (bottom) Massiel Barros-Torning.
Produced with the support of Jennifer Hamilton and the Community Weathering Station.