Sales Have Ended
Registrations are closed
Registrations are no longer being taken for this session
Sales Have Ended
Registrations are closed
Registrations are no longer being taken for this session
Description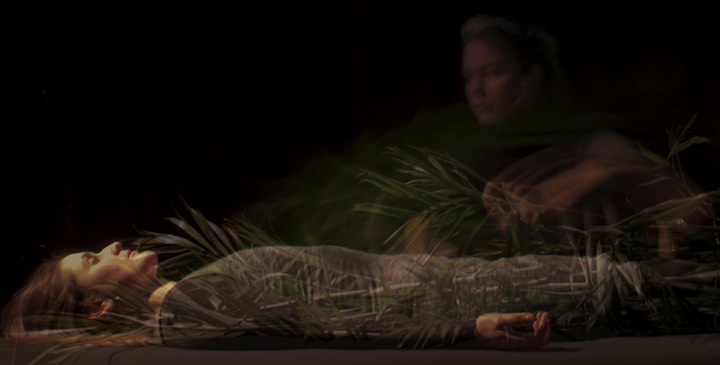 "Unexpectedly affecting" Ben Brooker, Realtime 122
"Transporting and curious….like nothing else I've done." Participant
SOMATIC DRIFTS is a sensory live art experience and accumulative installation. The artwork explores trans-human and inter-species empathy by enabling the participant to experience the bodies of other entities, through touch and illusion. Travelling beyond our own boundaries across time, landscape, geography and consciousness, these mediatised shamanic drifts allow us to ask: What realm does the human exist within? How far can we drift? What can this drift enable us to change?
Credits Artist Cat Jones, Sound Design Melissa Hunt.
Presented as part of PICA's Radical Ecologies exhibition.
Dates 31 July - 4 September (Exhibition)

2-6 August (Live experiences)

Duration 45 minutes
Registrations Essential and non-transferable

Please note that the dropdown menu of times does not show which sessions are already booked, so a list of booked sessions is posted at the bottom of this page.
IMPORTANT INFORMATION this live experience:
Is for participants 18+ only;
Takes place inside an enclosed space;
Involves touch from the artist
Involves lying on a padded surface (accessible via a step);
May induce temporary shifts in body perception;
Will be recorded (video and sound);

Will collect some personal information;

Is unsuitable for people with current or past symptoms of hallucination or psychosis.
Aboriginal and Torres Strait Islander people are advised that the installation may include images and sound recordings of living or deceased persons.
---
Acknowledgements
Somatic Drifts has been supported by the Australia Council; Australian Network of Art and Technology; Creative Practice Lab, School of the Arts and Media, UNSW; Adhocracy 2014, Vitalstatistix; Bundanon Trust AIR; SymbioticA, and Waverley Artist Studios. Research for this project has been supported by a Synapse Residency with UWA School of Medicine and Pharmacology and UNISA, Sansom Institute, Body in Mind.

With very special thanks to Mark Mitchell, Vicki Sowry, Su Goldfish, Prof Stephan Schug, Prof Lorimer Moseley, the Body in Mind research team, Prof Matthew Martin-Iverson, John Quintner, Gaelle Mellis, Rene Christen, Gordy Rymer, Julie Vulcan, Antonietta Morgillo, Tarsh Bates, Cate Hull, Aaron Clarke, students of the NuraGili Winter School 2015, Georgia McLeod, Tarsh Bates, Leigh Robb, Andrew Varano, Nadia Johnson and many others.
---
Save