SOMA SUNDAY FUNDRAISER with special guest Jarmbi Githabul
About this event
We would like to open Soma's doors and create a community space to share, grow, be inspired and have fun.
Join us for another Soma Sunday. We are so blessed to have Jarmbi Githabul as our guest speaker as we explore Indigenous Wisdom and Culture.
Jarmbi is a regional custodian of the Northern Rivers. Through his own journey of healing and deep connection with culture and spirit, Jarmbi guides people to the natural wisdom of who they are through culturally informed teachings.
Deeply committed to community activism and connection to wisdom, he works with both indigenous and non-indigenous communities, focusing on the intersecting issues of sovereignty, environment, human rights and trauma healing. He has also shared his work internationally through talks, workshops and ceremony.
Breath work and meditation session with Gary Gorrow and some sweet tunes with Adam Harpaz.
All the profits will be donated to the Narayani Foundation (HAS) which is dedicated to helping those in need in the rural areas of India. The current lockdown has effected the most basic needs of the most vulnerable. All profits go directly to the cause. 100% impact. It only takes 51 cents a day to feed one person.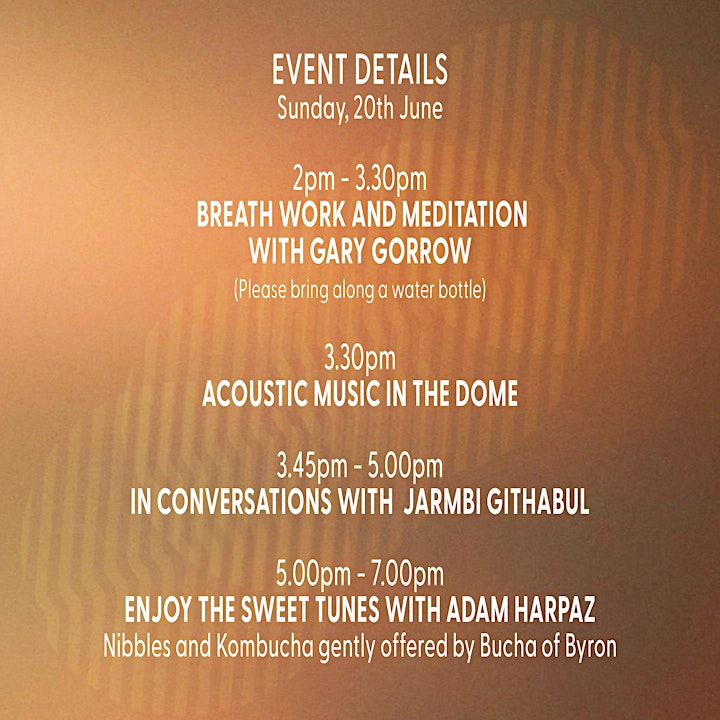 This precious land is a sanctuary for us. We ask that your footprints be conscious and eco friendly.