SolidFacts UserGroup Meeting #1 - 2015

Wednesday, 4 March 2015 from 6:30 pm to 9:00 pm (AEDT)
Event Details
AGENDA:
6:30pm – 6:45pm
Meet at the South Oakleigh Club – Welcome

6:45pm – 7:15pm
Presentation 1
SolidWorks Surfacing
Adrian Connard (Field Engineer - Intercad)


7:15pm – 7:45pm
Sponsor Presentation
All of a CAD designers patent questions answered - Interview with a Patent Atorney
Ben Mott (Patent Attorney – Wadeson)


7:45pm – 8:15pm
Food Served, Lucky Door Prizes


 8:15pm – 8:45pm
Presentation 2
SolidWorks World 2015 News
Haldun Olguner - SolidFacts


8:45pm – 9:00pm
Questions and Answers – General Discussion
NOTE: Please print and bring along your ticket which will be emailed to you on completion of registration.
 
---

A Word from your committee:
Welcome to 2015!
We have some news regarding the committee. Unfortunately Matthew McKnight has had to stand down from his position as committee member due to his new job. We wish Matt all the best for his new career path, and a massive thanks for the huge effort he put in last year to Help us keep SolidFacts running. All the best.

As a result, we have 2 new committee members, Steve Galliene from 3D4 and Ed Love from MDK Toolmakers. Hal and Duncan will continue to run the user group, and welcome Steve and Ed to the team, and look forward to their valuable input into the SolidWorks community.
---
Presentation 1
Our first presentation is from Adrian Connard on Surfacing. this was a highly requested topic from our user survey last year, and one not to be missed. 
Adrian is a Field Engineer and Elite Application Engineer for Intecad Pty Ltd, Australia's leading SolidWorks reseller, long time supporter of the SolidWorks user group, and all round nice guy. Adrian know's SolidWorks, and his presentations are fantastic.

---
Presentation 2
With Ben Mott and Wadeson coming on for their second year as SolidFacts sponsor, we have setup a bit of a Q&A session on patents.. Everything you wanted to know as a CAD Designer. 
Ben, Patent Attorney/Principal at Wadeson, has been a long time attendee/supporter and now a sponsor of the SolidFacts User Group. A Mechanical Engineer who has gone on to practice Patent Law, Ben is the man in the know when it comes to protecting your intellectual property. This is a great opportunity to pick Ben's brain to ensure that your designs and innovations are kept out of the hands of your competitors.

---
Presenation 3
Our Illustrious leader Haldun will give us the run down on SolidWorks World 2015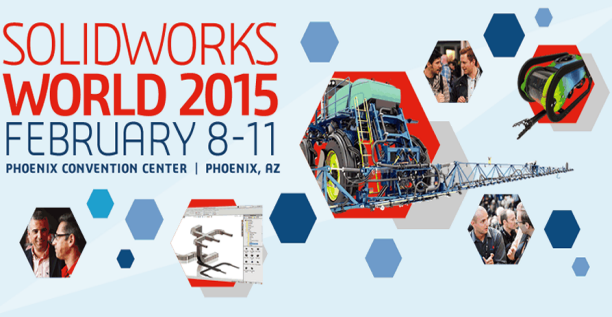 As if you need any more incentive to show up we're also giving away a number of Lucky Door Prizes. To be in the draw for this, and the other prizes, you must print and bring your ticket to the event. No ticket no prize. 
Don't mistake this for a sales event. Keeping with a revised format started this year the presentations are focused on the technical aspects of SolidWorks.

A quick reminder that this too is a free event but due to space limitations places are strictly limited so get in early and register now. 
REMEMBER: Please print and bring along your ticket which will be emailed to you on completion of registration.
Don't forget to forward this to your friends and work colleagues so they can sign up to our mailing list and be invited to our future meetings!
http://www.solidfacts.org.au/subscribe/

Check out our facebook page to keep the conversations going:
http://www.facebook.com/groups/solidfacts/

Also check out our LinkedIn page as well :
http://www.linkedin.com/groups/SolidFacts-Victoria-SolidWorks-User-Group-4681662

See you there!
Cheers
Haldun (Alby) and Duncan
SolidFacts is proudly supported by:
When & Where

South Oakleigh Club
1 Victor Road
Bentleigh East, VIC 3165
Australia

Wednesday, 4 March 2015 from 6:30 pm to 9:00 pm (AEDT)
Add to my calendar
Organiser
SolidFacts is an active, independent, non-profit User Group for SolidWorks, its third party related software and general manufacturing in Australia.  The group has been in operation since December 1997.
Our Aim is to provide relaxing and technically informative meetings and to help promote the exchange of knowledge with in the Solidworks user community.
SolidFacts meetings are scheduled once every three months. The meetings attract users from a wide range of backgrounds and industries.