RSPCA's Santa Paws returns in 2020 and invites all dogs and their owners to come and have a Christmas photo taken with the whole family!
About this Event
Santa Paws is the paw-fect way to get a unique family photo in time for Christmas and in doing so, you are also supporting the RSPCA and the animals in our care this festive season.Our two photo rooms are set up in a different style.
Room 2 will feature a wood-look backdrop, with green pine trees and cosy Christmas decor. Room 2 is suitable for groups of up to 5 persons and Santa.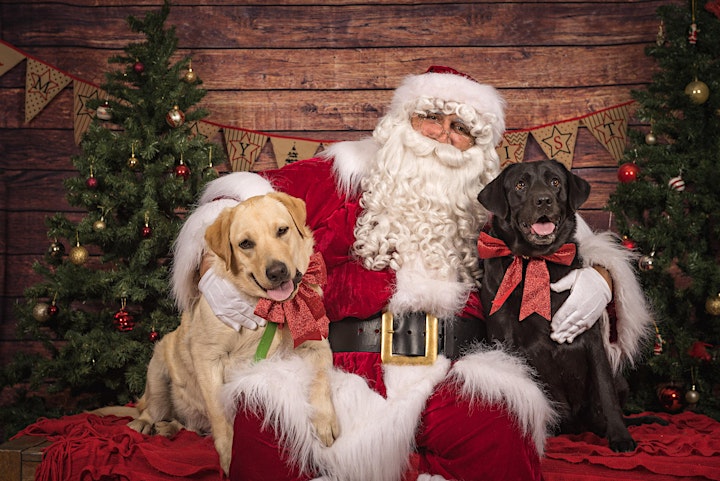 STEP 1 - Choose which Photo Pack you would like
STEP 2 - Fill in your personal details & select your Photo Session Time
STEP 3 - Select your Delivery Option (Postage & Pick Up Available; digital images will be emailed to you)
STEP 4 - Add any Additional Photos to your order
STEP 5 - Complete your booking!
PHOTO PACK OPTIONS
Pack 1 - Digital image only - $20.00 (+ GST & booking fee)
Pack 2 - Digital image + 1 x 6"x4" print - $30.00 (+ GST & booking fee)
Pack 3 - Digital image + 1 x 5"x7" print - $30.00 (+ GST & booking fee)
Pack 4 - Digital image + 1 x 8"x10" print - $35.00 (+ GST & booking fee)
BOOKING CONDITIONS
Pre-payment is mandatory to attending your photo session. No refunds will be given.
One photo available per pack (i.e. Pack 2 would include one 6"x4" print and an electronic version of the same image).
The photographers will choose the best image for print.
Please only select one session time. Session times run for 5 minutes.
Photo prints will be available for pick up from the RSPCA Wacol Animal Care Campus (if Pick Up option is selected) from Monday 30th November.
Digital images will be emailed to you by Wednesday 25th November.
In the interest of animal welfare and safety, this is a dog-only event. Please keep all dogs restrained at all times, either on a lead or in a crate, unless otherwise approved by an RSPCA staff member or volunteer.
You know your pets best - if your dog is not social or will be too stressed by coming to a venue with many people and other dogs, please consider whether this event is right for you.
All dogs are to be on lead during their photo session.
Under no circumstances will you be permitted to take your own photos in the photo booth room.
COVID-19 SAFETY MEASURES
Your wellbeing is our priority, so physical distancing will be practised during your visit, both in and out of the photo room.
We are asking attendees to wait in their car until their session time, at which point we will call you inviting you to come to the photo rooms. As such, please do not arrive any earlier than 5 or 10 minutes before your session.
People will be seated a safe distance from Santa, with a tree or props positioned in between. We are limited in how many people can fit in the photo this year - if you have a group of 4+ humans, we may need to have Santa stand behind the group/step out of the photo to ensure we are maintaining appropriate distances. Feel free to contact us on 3258 5608 to discuss this further!
All attendees will be asked to sanitise their hands upon entry to the photo rooms, and surfaces will be regularly disinfected.
Use of shared props will not occur, so please bring your own festive gear if you wish to have this in your photo.
Santa won't be able to hi-5, shake hands, hug, or have children sit on his lap.
Attendee details will be kept for 56 days as per government contact tracing requirements.
If you are feeling unwell, experiencing any flu-like symptoms, have been in contact with someone who has tested positive to COVID-19, or been to a COVID hotspot recently, please contact us to cancel your session.