Description
WHAT: Networking Night with Guest Speaker Christina Hobbs
WHERE: WeWork, Level 9, 401 Collins St, Melbourne VIC 3000
WHEN: Tuesday, 3rd December
TIME: 6.00pm for a 6:30pm start - 8.00pm
TOPIC // Building Long Term Wealth
TICKET: Free
"Women currently retire with 47% less superannuation than men and one in four elderly Australian women are experiencing poverty as a result." - WGEA
Building wealth long term is both possible and highly rewarding. It will take some work, like constructing your dream home, it requires time, a solid plan and sometimes a little help from the experts.
Whether you want to live out your dreams, live life on your terms or simply set up your retirement, living a financially independent, stress free life will open your world up to possibilities. To achieve this, building wealth long term is a must!
Join us for an inspiring evening where we will get to hear from our guest speaker Christina Hobbs the CEO of Verve super, Australia's first superannuation fund tailored for women. Her mission is building the financial power of women. She's determined to disrupt Australia's superannuation space and is taking on the challenge of improving long-term wealth outcomes for women, head on.
This event will be an introduction for anyone looking to learn more about basic investing through shares and superannuation. There will be prize giveaways for a few lucky winners! Wine & light refreshments will be served…
WHAT YOU CAN EXPECT TO GET OUT OF THIS EVENT

Introduction to shares, how they work and a simple method on how to get started;

Understanding of superannuation and what it means for you long term;

Investing through your values and diversification;

Learning some hints and tips and have the confidence to start your investment journey;

Have heaps of fun!
GUEST SPEAKER // Christina Hobbs || CEO Verve Super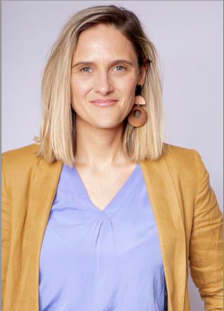 Christina is the co-founder and CEO of Verve Super, Australia's first ethical superannuation fund designed for women, by women. Christina has worked for the United Nations supporting women and children in countries like Syria, Iraq, Turkey, Jordan, Lebanon, Somalia and Kenya. Her work at Verve Super has seen her named a finalist in this year's Women's Agenda Leadership Awards in the category of Emerging Leader in the Corporate Sector. She's passionate about growing the capital of women and using wealth to change the world!
WeWork
WeWork is a global shared workspace company, connecting people in beautifully designed spaces to foster a sense of community. From desks to offices and entire headquarters, WeWork creates environments for productivity, innovation, and connection. Enterprise organisations (500+ employees) are WeWork's fastest-growing sector globally, currently accounting for 40% of total memberships. Founded in New York City in 2010, WeWork integrates space, community, services and technology in more than 500 locations around the world. In Australia, WeWork has grown to over 10,000 members across Sydney, Melbourne, Brisbane, and Perth.