Learn how to apply Alcohol Inks to two stunning ceramic planters, ready to house your plant babies in style!
About this Event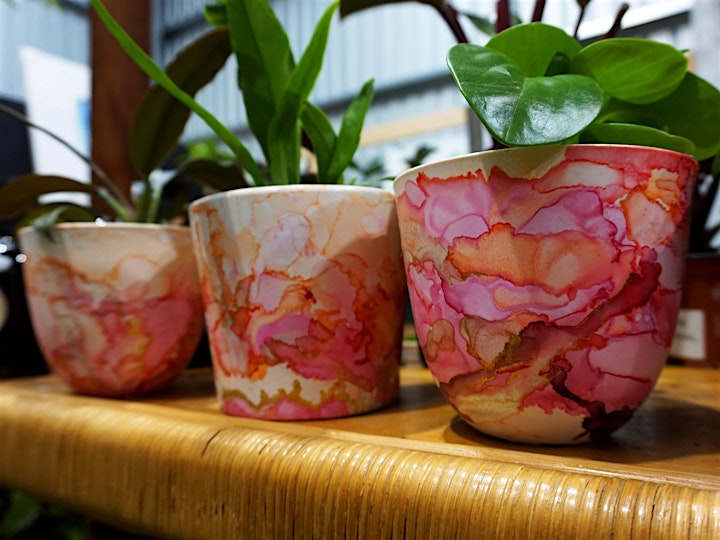 Plant lovers listen up! Wouldn't you love to be able to hand paint your own pots with Alcohol Inks in whatever colours you desire?! Join artist Teagan Watts in this Alcohol Inks Planter workshop. Sip on coffee and enjoy some nibbles while you work!
This workshop is suitable for beginner and intermediate artists. At the end of the workshop you will take home not one, but two stunning hand painted ceramic pots, as well as an artwork ready to frame. All materials supplied. (Please bring your own straw if possible)
What you will learn:
• An introduction into the unique properties of alcohol inks
• A wide range of techniques and methods for application on both yupo paper and ceramic
• Knowledge of product choices, applications, sealing processes, and further uses
What you will receive:
• All materials including alcohol inks, yupo paper, markers, gloves etc
• Two white ceramic pots ready to beautify - one small, one large
(a range will be available)
• The confidence and skills to create stunning pieces with alcohol inks
No previous experience necessary - just an open mind and be prepared to become obsessed with alcohol inks! These classes often sell out in advance so book early to avoid disappointment.
Morning tea and a beverage from the cafe are included in ticket price. Please advise me of any dietary requirements (for food) ahead of time.
This workshop area is only accessible via a staircase, but I do host at wheelchair friendly venues (feel free to contact me with any enquiries). Also, due to the use of methylated spririts, it is not suitable for pregnant women or children under 16 years of age.
PLEASE NOTE: By attending this class you agree to not reproduce the techniques taught in any workshop/business venture after the event. Of course you are free to use your knowledge to create beautiful gifts for family, friends and yourself!