For farmers and other land managers: Learn about balancing soil chemistry so that soil physics and soil biology work as nature intended.
About this event
Brought to you by Wet Tropics SoilCare and Terrain NRM...
In this two-day course you will learn how to achieve:
- Better water infiltration and higher water-holding capacity in your soils
- Increased water use efficiency
- Up to 100% higher levels of soil microbes
- Improved soil structure—healthy ongoing soil aggregate formation
- Healthier populations of beneficial soil organisms
- Better nutrient delivery and efficiency to plants
- Healthier livestock (less internal/ external parasites and disease)
- Decreased soil, pasture, crop, animal and human disease
- Higher pasture/crop yields and carrying capacity
For more information, visit www.workingwithnature.net.au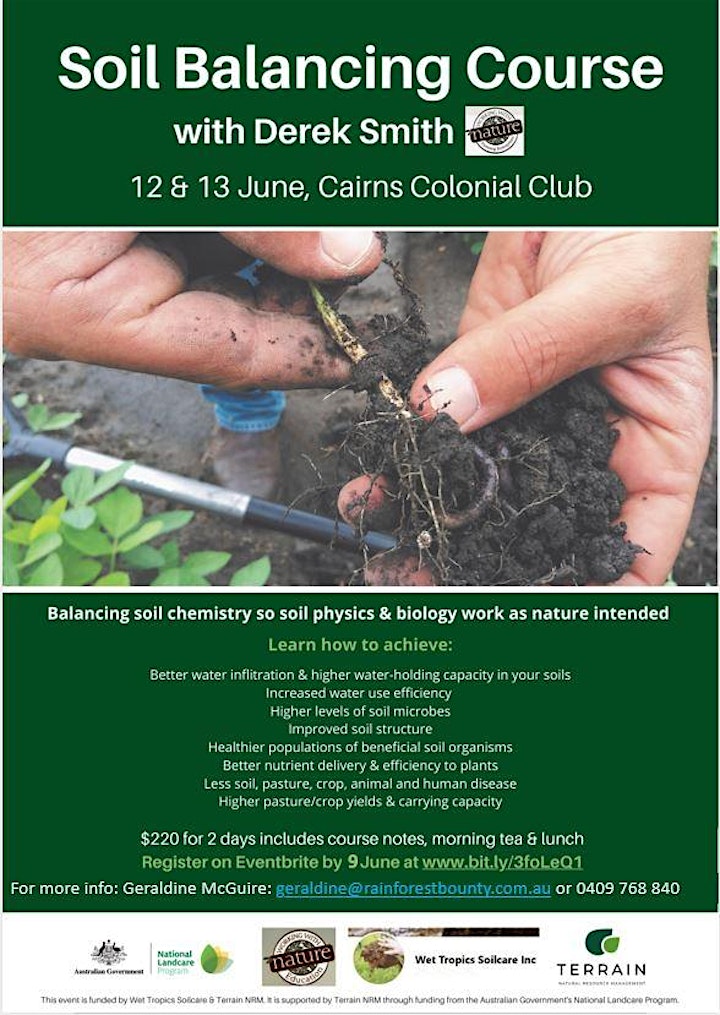 Organiser of Soil Balancing Course
Wet Tropics Soilcare (WETS) is a farmer-led community organisation in the Wet Tropics of far northern Queensland, dedicated to helping its members learn about soil health for farm productivity, profit and environmental sustainability through workshops, forums, invited experts and hands-on learning. WETS aims to share that information with the wider community wherever possible.