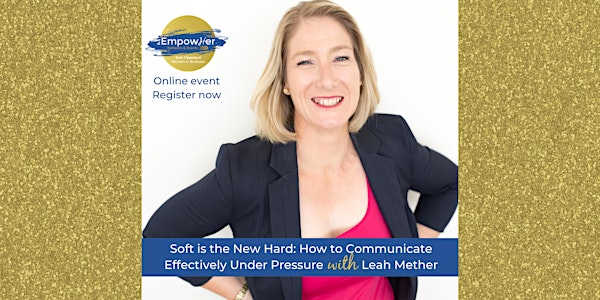 Soft is the New Hard: How to Communicate Effectively Under Pressure
Soft is the New Hard: How to Communicate Effectively Under Pressure with Communication and Soft Skills Specialist, Leah Mether
About this event
Join Leah Mether, the EmpowHer Leadership team plus women just like you from across East Gippsland ONLINE to delve into the topic of Communication.
Do you have days when you feel like you're communicating with toddlers rather than adults in the workplace?
Is the toughest part of your job the 'people bit'?
Soft skills like communication are hard, particularly under pressure and conflict is part of life, no matter how much you try to avoid it. EmpowHer are thrilled that fellow Gippslander, Leah Mether will be our keynote speaker for this event.
Leah Mether helps make the people part of leadership and work life easier. She is a communication and soft skills trainer, speaker, facilitator, coach, and author of the book Soft is the New Hard: How to Communicate Effectively Under Pressure.
With a background in leadership, corporate communications, business and journalism, Leah works with leaders and teams to help them improve their communication, mindset and self-management. Her work is based on the belief that soft skills are the new hard; we are our own biggest roadblock to success; and no-one is a perfect communicator, everyone can improve.
With more than 15 years of experience working with thousands of clients, and an acclaimed book to her name, Leah Mether knows what it takes to communicate under pressure. Like you, she knows the challenge of defusing conflict, managing performance, influencing decisions, and having difficult conversations.
Winging it in communication simply won't cut it, and avoidance only makes problems grow. There is a structure that works, and it's about laying the foundations first. Leah is renowned for her practical, relatable, straight-shooting style. Utilising her Five Cs model of effective communication, she helps leaders and teams shift from knowing, to doing and radically improves their effectiveness.
During her 1 hour keynote: Soft is the New Hard: How to Communicate Effectively Under Pressure, Leah will share practical strategies to help you:
Have difficult conversations.
Defuse conflict.
Manage yourself under pressure.
Influence decisions and outcomes.
Communicate clearly to give yourself the best change of being heard.
No-one is a perfect communicator; everyone can improve and in this presentation, Leah will show you how.
This event will be presented via Zoom in two parts:
1pm - 2pm - Leah's Keynote address with Q & A opportunity
2pm - 3pm - Networking with EmpowHer leaders and community attendees: a chance to connect with other local community members and discuss your thoughts and feelings on Leah's presentation.
Past attendee reviews of Leah's;
"Leah's capacity to engage with and bring out the best in her audience is second to none." - Tony Smith
"Leah is articulate, funny, straight talking and inspirational. She walks her talk and you know she's there to support you. Highly recommend." - Julie Callahan
"The most engaging course I have attended in years. I didn't want the day to end." – Brooke Landels
Audience:
Whilst EmpowHer focus on addressing the questions and needs of regional women in business and leadership, anyone who is interested in this topic and speaker is welcome to attend. We are an inclusive organisation and welcome people from all walks of life; this includes men, members of the LGBTQIA+ community and people with a disability.
Ticket Prices:
We know that things are very tough financially at the moment for many. So we've completely changed our pricing to help as many people attend as possible.
$30 per person for large businesses and corporations to send their staff and for individuals who can comfortably afford it
FREE for those affected by COVID 19, bushfires and drought who could really use a financial break - don't worry, we get it!
We're absorbing the Eventbrite booking fees for this event.
EmpowHer events are run by a team of Volunteers. We appreciate your financial contribution towards this community focused organisation.
Please note:
There are ONLY 100 tickets available. Please only book if you're committed to attending this event.
If you do book but cannot attend last minute, please cancel your registration no later than 24 hours prior to the commencement of the event to allow for another to take your spot - we have enabled the Wait List.
This event is for Gippsland residents only.
Using Zoom:
You can join this online event via the Zoom App, which you can access via your computer, tablet or smartphone. Both Android and Apple operating systems are supported.
If you're new to Zoom and don't already have the App downloaded, you will be prompted to do so when you click the link to the event which we will supply closer to the event time and date. It's very easy and safe to use.
EmpowHer East Gippsland is proudly supported by Gippsland Primary Health Network through the One Good Community Wellbeing Grants.
📌 EmpowHer is an Incorporated Association, run by a team of volunteers who are all Gippsland businesswomen. All funds are reinvested back into our activities to support local women. With EmpowHer, you don't have to do it alone.