Description
Social Work Careers Symposium
Presented by UNSW School of Social Sciences and the Social Work Student Association as part of Social Sciences Week @UNSW.
This symposium will provide an opportunity for Bachelor of Social Work (Honours) students to meet with social work graduates working in government, the community sector, and non-traditional employment. Presenters will discuss employment trends, share how they foster opportunities and build networks in human services, and offer their unique insight on how to enhance graduate employability.
All students enrolled in a social work program at UNSW may attend, however, attendance is mandatory for Level 4 students undertaking Social Work Practice – Level 4 Placement.
Topics to be covered on the day include:
Oh! The places you'll go!
What is unique about a social work degree, how to leverage the skills developed, advice on further study
Representing your skill set with assurance
Job application, CV, social media, job interviews
International and regional mobility

Indigenous Employment Yarn
Download the full program here.
PLEASE NOTE THAT THIS EVENT IS ONLY FOR CURRENT UNSW STUDENTS STUDYING THE BACHELOR OF SOCIAL WORK (HONOURS).
---
Date: Friday 13th September 2019
Time: 9.00am – 4.30pm
Venue: Electrical Engineering Building - Rooms G23 and G03
Cost: Free
Compulsory for Level 4 BSW (Hons) students; other students welcome.
For any enquiries, please contact Maree Higgins (m.higgins@unsw.edu.au; 9385 2365).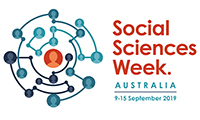 This event is proudly presented by UNSW School of Social Sciences as part of Social Sciences Week @UNSW 2019. Click here for a full list of upcoming events.