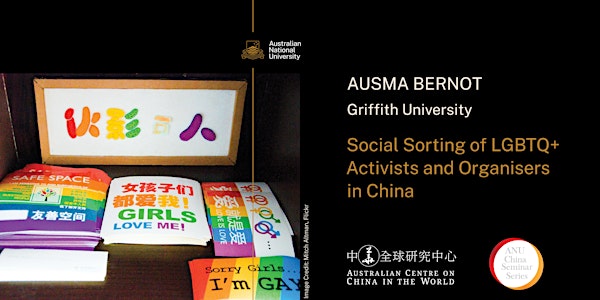 Social Sorting of LGBTQ+ Activists and Organisers in China
Location
Seminar Room, Building 188, Fellows Lane
The Australian National University
Acton, ACT 2601
Australia
Join us for a hybrid (online and in-person) seminar on "Social Sorting of LGBTQ+ Activists and Organisers in China"!
About this event
The expansion of home-grown social media platforms in the past decade has provided a (relatively) safe haven for LGBTQ+ people in China to connect online. Additionally, prior to 2016, a growing number of LGBTQ+ groups and organisations had established themselves in the country, building physical spaces of connection and belonging. In recent years, negative effects were brought on by (1) closures of LQBTQ+ social media accounts, (2) laws and regulations that chipped away at organisational capacity, and (3) the Covid-19 pandemic—a convenient excuse to cancel in-person LGBTQ+ activities. Considering the increasing restrictions in the digital and institutional spaces, we posit the question of how LGBTQ+ activists and communities in China have responded to the cocktail of institutional and digital surveillance. The findings of this exploratory research suggest that the LGBTQ+ communities have been negatively affected by institutional marginalisation, digital censorship, as well as harsh police monitoring and harassment.
This research is based on a working paper, co-authored by Ausma Bernot and Professor Sara E. Davies.
About the Speaker
Ausma Bernot is a PhD Candidate at the School of Criminology and Criminal Justice, Griffith University. She has six years of work experience with forensic science and research organisations across the globe, in particular China, where she had the chance to gain insights on how technologies are governed at provincial and national levels. Being fluent in Mandarin and building on existing networks in China, Ausma has excellent capabilities to access key information on both technology and governance in the country.
Her current research focuses on the effects that the merging of infotech and biotech triggers in the fields of governance, surveillance, policing, and public safety. Ausma's doctoral research explores the dynamic interaction between surveillance technologies and social context and questions totalisation of surveillance in China.
When she is not reading or writing about surveillance, you could find her exploring the wonders of the nature around Queensland.
The ANU China Seminar Series is supported by the Australian Centre on China in the World at The Australian National University's College of Asia & the Pacific.