Social Media Essentials Workshop

Wednesday, 2 December 2015 from 9:30 am to 5:00 pm (AEDT)
Event Details
Are you looking to build or improve your skills in Social Media? For those in Marketing, or looking to get into Marketing, this is a fun and informative hands-on workshop where you will get real insight into what works, what doesn't and how to beat your competitors! You might be looking to build your brand, create leads or generate sales. This workshop will teach you how to do just that using Social Media channels. Come along and get on the inside track!
The workshop will focus on Facebook, Twitter and LinkedIn and will include:
#1: Building and Optimising Social Media Profiles
Why should I use Social Media? Statistics and Results

What platforms should I use?

Managing your visibility on Social Media

Building best-practice Social Media profiles including:
Photos

Headlines

Descriptions

Profile Information
#2: Identifying and Building your Network
How to find your target customers and influencers

How to connect with your prospects

Tracking, reporting and documenting your network
#3: Sharing Content
Searching for content in line with the strategy (Own and 3rd Party).

Reviewing content for relevance and adherence to the strategy.

Editorialising approved content 

Posting content

Tracking, reporting and documenting content metrics.
#4: Sales and Lead Generation
How to sell using Social Media

Tracking, reporting and documenting Sales
#5: Social Media Advertising
How to use Facebook Advertising

How to use Twitter Advertising

How to use LinkedIn Advertising

Do they work?
Details:
Date:              Wednesday 2 December, 2015
Time:              9:30am - 5:00pm
Location:        INSPIRE Centre - Building 25 - Pantowora Street, Bruce, ACT
Cost:              $300 (ex. GST) incl. free parking, morning tea, lunch and afternoon tea!
Bring:             A laptop and charger. We will provide Wireless Internet access.
Presenter:     Colin Anstie, Founder and CEO, Raging Digital
"I founded Raging Digital to help businesses, executives and marketing professionals, build, measure and monetise their digital universe. Dedicated to disruption and addicted to change. I'm pretty dangerous in Social Media, Search, Web, Email Marketing, Analytics, Content Marketing, eCommerce and CRM. Operating with a million browser windows open. Golfer who loves adventures that end with lower costs, increased sales and consistently flowing revenue. Die hard 80's pop music fan."
Colin Anstie, Founder & CEO, Raging Digital
---
Still not Convinced?
Here's what some of the previous attendees have to say ... 
"Colin was not only an extremely engaging speaker, very generous with his knowledge, but has walked the walk big time. I would definitely recommend you attend one of his workshops!"
"Colin is friendly, funny, and knowledgeable. The practical exercises that let us work on our own business during the day was a great touch."
"Colin's expertise is obvious from the outset. He brings together depth of experience in digital marketing, business development and communications to create strategic understanding underpinned by detailed knowledge and research."
"Overall I think this was a fantastic day and a really important course to attend. I thought I had a grasp on social media and digital marketing but was very surprised that I had only scratched the surface. This course has given me great tools that I can utilise in my current workplace and future careers."
"Colin was a natural speaker which made it easy to stay focused, and relaxed enough for others to freely participate in conversations—this allowed for valuable information sharing. Also, I felt that Colin was right on the pulse with current trends which was invaluable."
"Colin is a natural mentor who identifies what's needed in a business development context and supports and guides business developers to enable them to fully realise their potential, reach their goals and achieve success."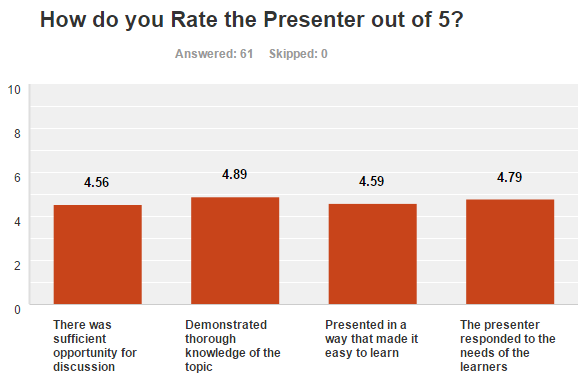 ---
Frequently Asked Questions
1. How do I get to the workshop?
Punch "INSPIRE Centre for ICT Education, Pantowora Street, Bruce" into Google Maps or check out our map below if you prefer to drive GPS free.
2. Where do I park?
Free Parking is included in your Master Class ticket price. If you are driving, we recommend you park in the car park marked on the map below. It is long day parking (other are limited to 3 hours) and there will definitely be spaces available.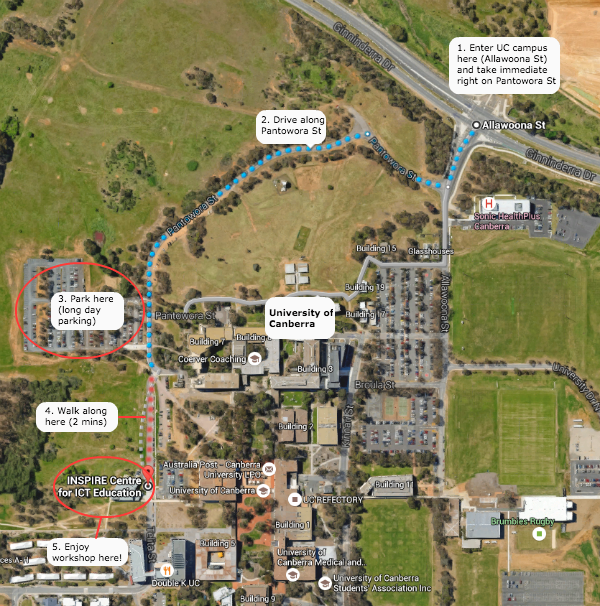 3. How do I get free parking?
Take a CASUAL ticket from the machine when you enter the car park. We will replace it with a validated parking ticket during the class for free exit!
4. What should I bring to the class
Bring a laptop (tablets won't suffice sorry), laptop charger, business cards to spruik your wares, and everything else will be provided for you! If you don't have a laptop, send us an email at col@ragingdigital.com and we will provide one!
5. Will there be any take home goodies?
Yes! We will provide you with a take home booklet containing information from the day and email you the entire presentation pack after the event.
6. How can I contact the organiser if I have questions? 
You can email the course facilitator Colin Anstie directly at col@ragingdigtial.com or call on 0429 864 884. He is quite a friendly fellow. 
7. Do I need to print and bring my ticket to the class? 
No, that sounds like a lot of fuss, we will take care of that for you!
8. What is the refund policy?
If you are unable to make it, no problem! You can have a full refund, attend a future event or even transfer it to someone else if you like. We are good like that. If the class is cancelled for any reason, you will receive a full refund or credit to a future event.
9. What should I wear?
I wouldn't take fashion advice from us. We recommend you wear something comfortable and most people wear smart casual clothing.
10. Is this class run by the University of Canberra?
No, they just have a really fancy centre which they provide for us. It suits the class perfectly. They are very nice to us.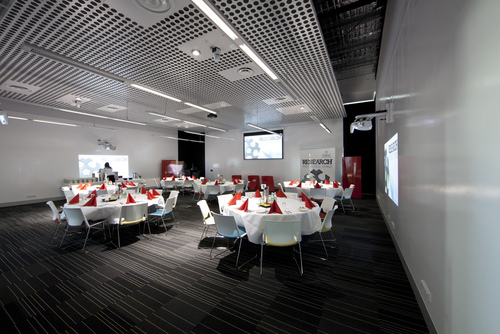 11. Why did you call it a "really fancy centre"? 
State of the art gear, loads of natural light, pretty new - we just rate it.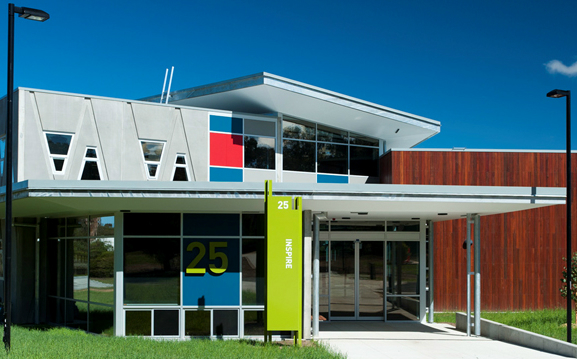 12. What can I expect?
The day will look a little bit like this...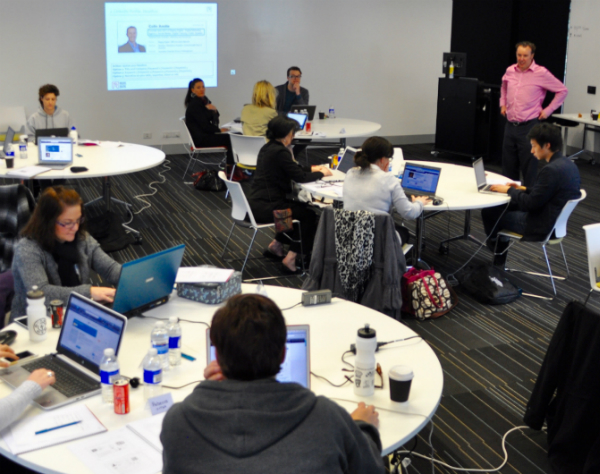 I can't wait! Hope to see you there!
When & Where

Inspire Centre - Building 25 - University of Canberra
Pantowora Street
BRUCE, ACT 2617
Australia

Wednesday, 2 December 2015 from 9:30 am to 5:00 pm (AEDT)
Add to my calendar
Organiser
We love to challenge the norm, try new things, and drive revenue. Pioneered in Australia. Guaranteed Edgy Straight Talk.  We are specialists at Digital Training all over the country. We focus on growing your digital sales. www.ragingdigital.com