Sales Have Ended
Registrations are closed
Thanks for your interest in Media School's social media marketing course. We've sold out for the date you're after I'm afraid. (Or you may have missed the cut off if you've tried to book within 16 hours of the course start time.) Sorry! We repeat this course monthly - usually the first Friday of the month. Find other offerings by going to 'Select a different date' (here on Eventbrite.) Or check out the course page on our website http://mediaschool.com.au/social-media-marketing-training-course-sydney/ Hope to see you next time! If you have a question you can call me directly on 0403 517242 or email phil@mediaschool.com.au Regards, Phil Stubbs, Principal Trainer
Sales Have Ended
Registrations are closed
Thanks for your interest in Media School's social media marketing course. We've sold out for the date you're after I'm afraid. (Or you may have missed the cut off if you've tried to book within 16 hours of the course start time.) Sorry! We repeat this course monthly - usually the first Friday of the month. Find other offerings by going to 'Select a different date' (here on Eventbrite.) Or check out the course page on our website http://mediaschool.com.au/social-media-marketing-training-course-sydney/ Hope to see you next time! If you have a question you can call me directly on 0403 517242 or email phil@mediaschool.com.au Regards, Phil Stubbs, Principal Trainer
A one-day training course providing strategic thinking and practical tips. Offered month in Sydney's East. Classes are small.
About this event
A one-day social media training course providing strategic thinking and practical tips. Offered each month in Sydney's East. It's a live, in-person workshop with an experienced educator. 
We limit numbers and covid-safe rules apply, including social distancing.
Call 0403 517242 to talk with instructor Phil Stubbs, or for more info read on: 
How we work  
We provide and use: 
examples of best practice (small business and large)
live online demonstrations
learning resources you can use later (including videos) 
a plain English approach to teaching (we avoid tech talk) 
practical exercises which focus on your business  
What's in the social media course?   
This is our popular all-in-one package – where we cover the key bases in a day. The key components of the course are:
1. Big picture / strategic thinking
the key principles for success in the long run
what you can learn from businesses using it well
what you can expect to get out of social media
where social media fits in with your overall marketing
which social media platforms to use
2. Key aspects of developing the major platforms
Facebook
how to use Facebook for marketing your business
tips for maximising the effectiveness of Facebook
what to post on Facebook / what works best
examples of best practice (small business and large)
an intro to Facebook advertising
Facebook learning resources 
Instagram 
how to use Instagram for marketing your business
tips for maximising the effectiveness of Instagram 
what to post on Instagram / what works best
examples of best practice (small business and large)
Instagram learning resources 
Twitter
how to use Twitter for marketing your business
tips for maximising the effectiveness of Twitter
what to tweet about / what works best
an explanation of the key Twitter tools
examples of best practice (small business and large)
Twitter learning resources 
Linkedin
how to use Linkedin for networking, branding and B2B
tips for maximising the effectiveness of Linkedin
examples of business people using Linkedin well
Linkedin learning resources 
YouTube
how to use YouTube & videos for marketing your business
tips for maximising the effectiveness of YouTube
types of videos you can put on YouTube / what works best
examples of best practice (small business and large)
YouTube learning resources 
Blogging
how to use blogging for marketing your business
tips for maximising the effectiveness of your blog
what to blog about / genres of blog posts
examples of best practice (small business and large)
blogging learning resources 
3. Social media planning
the key elements of a social media plan
prac session where we brainstorm content ideas 
the steps to take you from ideas to plan to implementation 
how to schedule content to platforms ahead of time  
4. Key issues
how to build and then interact with your community
what to do about negative comments 
how to measure ROI (return on investment) 
5. Starting and managing your time
intro to social media sharing platforms 
how to schedule platforms ahead of time  
how to feed and interlink your social media and website
other tips to help you save time  
Download the social media course outline.   
Why learn about social media marketing? 
The cost to start social media platforms is free. The hidden cost is the time it takes to really get it working well – which makes it imperative you understand the principles for long-term success, how successful players are using it, and how you should be spending your own precious time.
Those successful businesses have used social media to:
listen to what's happening in the market
build relationships with customers
focus attention on their brand's strengths
position as a leader in their field and build brand value
get themselves higher in google searches
generate leads and opportunities 
Who should do the course? 
This one day course is for people who want to learn quickly how they can use social media more effectively. Whether you run a small business, you work in a corporate environment, or you're promoting a charity or creative project. It includes people with marketing, PR and advertising responsibilities.
The course is suited to people who are beginner to intermediate level e.g. we often get participants who have a personal Facebook profile but are now looking to use Facebook for business. 
See the organisations that have sent people to our courses. 
Who is teaching the course?
Phil Stubbs has 10+ years experience working in advertising and the media, 10+ years teaching at universities, and 7+ years campaigning online.
He has a solid foundation in marketing having worked in leading advertising agencies in Sydney including The Campaign Palace. He's worked on campaigns for clients with large budgets – from Rydges Hotels to Oil of Ulay through to small business, creative startups, charities and causes. He set up practical advertising programs at Charles Sturt University and the Uni of Western Sydney. 
Can't make the current course date?
We can let you know when the next course is on by email. 
Subscribe to our mailing list. 
(You can unsubscribe at anytime.) 
Interested in other social media courses? 
As well as social media marketing, we offer intensive courses on key platforms. Coming up hands-on training on Linkedin and blogging. Also classes on content marketing and podcasting. 
View our other social media courses. 
What people are saying about our training  
Here are some comments from people who've attended our courses -   
Trevor Thomas, Managing Director, Ethinvest:
"Phil's social media training was strategic, relevant, content-rich, well-paced and enjoyable. An extremely interesting and worthwhile course." 
Karen Guest, Marketing Leverage (former Marketing Manager at Uncle Toby's):
"Very enlightening and engaging. Thoroughly enjoyed the course. Would highly recommend it."
Kate Pembroke (former Head of Corporate Affairs of Destination NSW): 
"Enjoyed the videos, resources, humour, venue, and wonderful food. A practical, great course. Phil was a relaxed and insightful teacher."
Trevor Sartour, Executive Director, Building Indigenous Capability: 
"10 out of 10. Full marks for a great program! Great content, well structured, enjoyed Phil's expertise and knowledge, packaged with a down to earth presentation. Plus tremendous takeaway resources and great food."
Clint Piper, Clint Piper Consultancy, former General Manager of Wella: 
"Works well for new or experienced social media users. The examples were great. The takeaway resources are invaluable."
Lisa Gray, Director of People & Culture, Starcom Mediavest: 
"The course gave me ideas about where I will be going and the confidence to go there. Phil keeps you engaged and interested the whole time."
Ingrid Roepers, Director, IRPR: 
"Great overview of how the jigsaw puzzle of platforms fits together. Enjoyed learning about the 'marketing mindset' change. Phil is a great presenter."
Debbie Graham, Darley Street Bistro: 
"Got my brain working! Has definitely pointed us in the right direction."
Rosy Mobbs, Journalist and Media Trainer: 
"The course answered a lot of questions I knew I wanted to ask but didn't know enough to ask them." 
Check out more comments from past participants.
Our secret weapons (experience + care)  
We're confident you'll get a lot out of this course. We've been working in business, education and the media for over 20 years. We genuinely care about helping people and seeing their business succeed. We'll make the day well worth your time and money. 
By all means, give me a call on 0403 517242 or email phil(at)mediaschool.com.au if there's anything you'd like to know more about. 
Phil Stubbs, 
Director, Media School. 
See our website for our full Refunds Policy.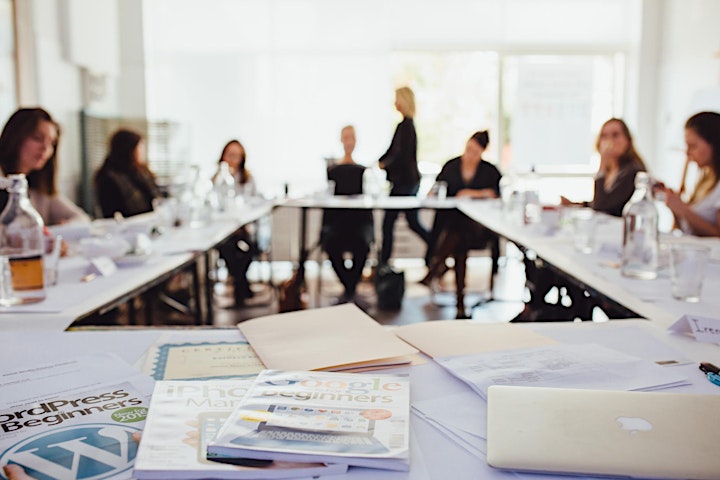 Organiser of Social Media Course - Sydney live class (one day)
Training mainly in digital media - including courses in podcasting, blogging, social media marketing (including

Facebook, Instagram, Linkedin and Twitter)

 and content marketing. Find out about our latest classes by subscribing to our email.
Professionals and individuals who want to get up to speed with new media. Including s
mall business owners, people working with marketing, PR and advertising responsibilities, and folks launching new creative projects or new careers. 
Lead trainer is Phil Stubbs. Phil's

 experience includes 10+ years teaching marketing communication at university and 10+ years working in the media (including leading ad agencies and online.) 

Find more about Phil Stubbs. 
We're based in Sydney. We can deliver our courses in other Australian cities - Melbourne, Canberra, Brisbane, Adelaide, Perth, the Gold Coast, Sunshine Coast, Newcastle and Wollongong. And in NZ (Auckland, Wellington and Christchurch.) Or wherever you are in the world - via online training (live in real-time using video streaming.) 

We won't swamp you with unnecessary info and jargon. We aim to give you the key ideas to get things going. We have experience in both the media and in teaching. Plus we provide videos and resources you can review later which help explain and remind you what to do. 
As well as public courses, we offer corporate / in-house training. We can also present as a keynote speaker for your conference, meeting or event.

TEACHING ENVIRONMENT:
We think you're more likely to be inspired and learn when you're in an inspiring environment. Our teaching spaces tend to be intimate and creative. Most classes are limited to about 12 people.
Email phil(at)mediaschool.com.au