Event Information
Refund Policy
Refunds up to 7 days before event
Description
The challenges our society, environment and economy face - and the opportunities they present - are immense. Adelaide is once again developing a reputation as a progressive place to test new ideas, models and partnerships. Social Capital is on a mission to grow the social economy. Our movement has now grown to more than 700 social innovators, enterprises and entrepreneurs.
To broaden and deepen our social impact and maintain momentum from last year's much talked-about conference, we are excited to be launching the Social Capital 2017 event series.
We invite you to join with us and other leaders in social innovation, enterprise and purpose-driven entrepreneurship for the Social Capital
Conference
on

7 July

. Our daytime and evening events are filled with presentations, workshops and activity designed around
three themes that make up social capital nexus:
ideas that unlock potential - our intellectual capital

harnessing talent and building movements - our human capital

resourcing and scaling innovation - our financial capital.


Our 2016 conference was a great success, inspiring hundreds of purpose-driven people. We are excited about what is being created for this event. Tickets are limited, so get yours now (and if you can, consider sponsoring one for someone else).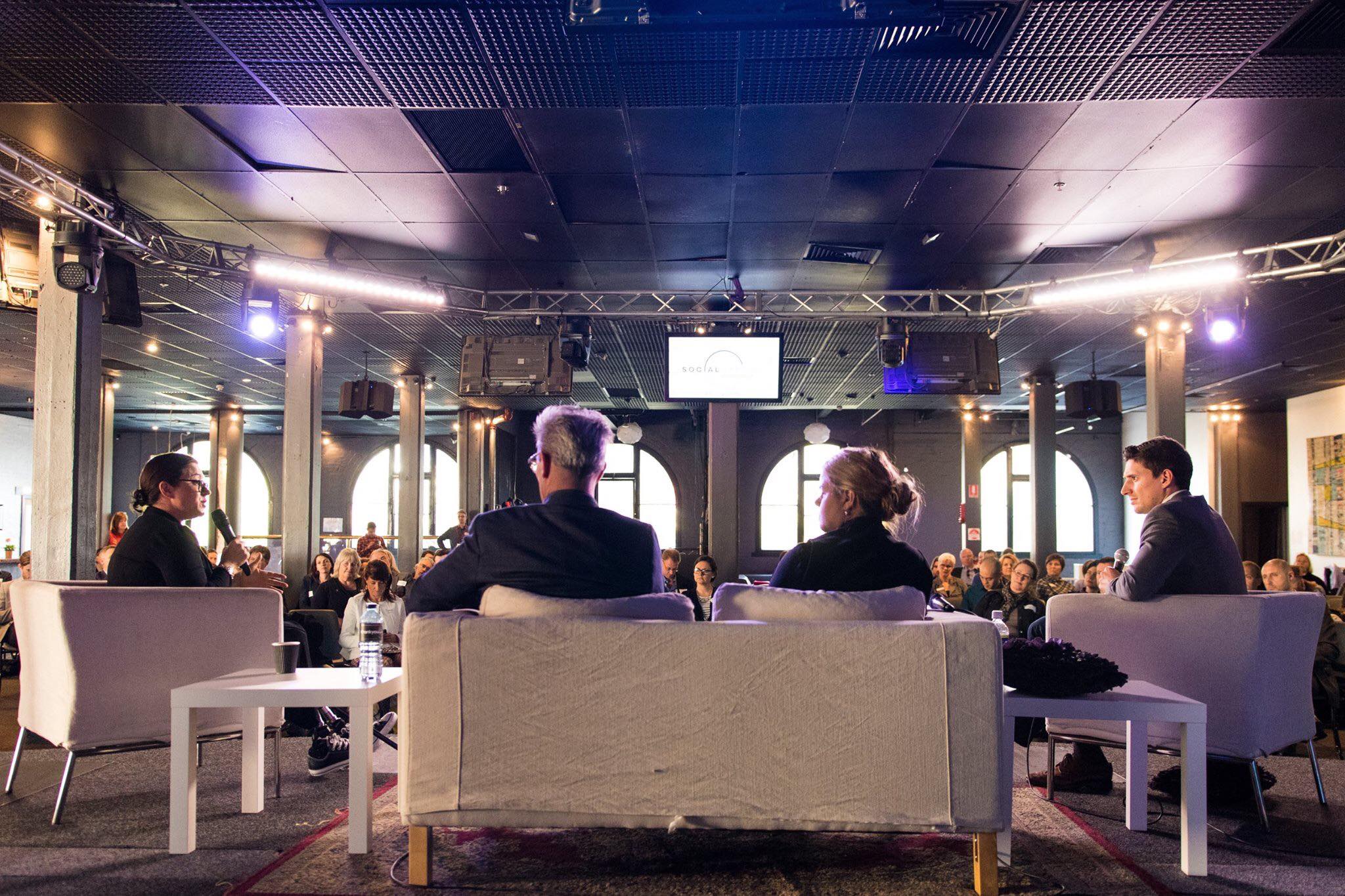 MEET SOME OF OUR SPEAKERS
Suzi Sosa: Thinker in Residence and award-winning social entrepreneur
Suzi is the second Thinker in Residence of the Social Capital residencies run by the Don Dunstan Foundation.
She comes to Adelaide from sister city Austin, Texas, where she's made waves in academia and social enterprise on her quest to solve social problems in financially sustainable ways.
As co-founder and CEO of
Verb
, she connects social entrepreneurs to large corporations around the globe using a proprietary online platform, a concept that won her the Ernst & Young Social Entrepreneur of the Year Award in 2014.
Dr James Muecke AM: global entrepreneur, opthalmologist and founder of Sight for All
James works across the globe curing blindness and teaching others to do the same, with a specific focus on Asia and the developing world. He is founder of Sight For All, a not-for-profit organisation dedicated to fighting blindness in Australian Aboriginal communities and in the developing world (www.sightforall.org).
He was made a Member of the Order of Australia in 2012 and was Ernst & Young's Entrepreneur of the Year (Social Category) in 2015.
Dr Pamela Ryan OAM: venture capitalist, policy thought leader, philanthropist and researcher


Pam Ryan is perhaps one of South Australia's greatest exports when it comes to effecting social change through multi-disciplinary action.
Pam is a business woman, venture capitalist, psychologist, consultant, researcher, philanthropist, policy thought leader, founder of Psychology Beyond Borders, author, documentary producer and pilot.
Pam
was a speaker at this year's
South By Southwest (SXSW) Interactive
conference in Texas on "Impact: The Next Frontier for Venture Capital" and is currently writing a book on the future of social entrepreneurship, enterprise and impact.
Dr Eva Balan-Vnuk, state director of Microsoft and social business model expert
Eva Balan-Vnuk is the State Director for
Microsoft
in South Australia, where she works with private, public and not-for-profit sector organisations to harness new tech to improve productivity, collaboration and efficiency. While an undergraduate she undertook a traineeship with Microsoft in Austria, and since then has worked widely in Europe and Asia deploying and researching technology as an enabler for business.
While researching her PhD at the University of Adelaide, she lectured on social entrepreneurship and new venture planning, and is currently a visiting research fellow at the Entrepreneurship, Commercialisation and Innovation Centre.
Announcements of new speakers, creative collaborations and partners are coming very soon.


EVENT PARTNERS
We appreciate the generous support of
Coastlands
(venue partner) and
Jamshop
(creative partner).
We are seeking new and continuing partners to support our event series, including our July conference. Contact Matthew Wright-Simon (Engagement and Partnerships Director) on
mws@socialcapitalcity.com
for a partnership package.
SPONSORED TICKETS
Not everyone is at the same stage of their journey in the social economy. Some people have an entrepreneurial mindset, or represent people who need help with social and environmental solutions, but do not have the financial means to buy a ticket. To address this, we have created a 'Sponsored tickets' category.
Organisations and individuals are invited to support micro-philanthropy through 'sponsoring' a ticket for someone else. Sponsorship can be anonymous, nominated for a particular person or group on behalf of the sponsor. If both parties are willing, we can make introductions on the day.
ABOUT SOCIAL CAPITAL
Social Capital connects and leads a movement that has expanded to more than 700 social innovators, entrepreneurs and purpose-driven enterprises. We are focused on three ventures: the exciting redevelopment of the existing Royal Adelaide Hospital site as an innovation campus; the Social Capital Residencies with the revived Don Dustan Foundation Thinkers in Residence program; and the 2017 Social Capital event series, building on the success of our 2016 conferences.
Date and Time
Location
Refund Policy
Refunds up to 7 days before event