Social Capital Conference 2017: Scaling up - growing the social economy
Description
In a world that is both increasingly interconnected and values-conscious, new forms of opportunity can be found for those who are tuning in. The new economy is one where 'social', 'environmental' and 'commercial' imperatives are intimately intertwined. Seeing and capitalising on these opportunities requires new frames on value creation, and new forms of enterprise and collaboration.
We invite you to join us on Friday 7 July at the 2017 Social Capital conference and evening event, where leaders and entrepreneurs from across the business-social spectrum will be offered the opportunity to peer into this emerging global future; to hear first-hand from experts working around the world about the new approaches that are gaining momentum; and to consider the growth opportunities for their organisations here and now in South Australia.
Our daytime and evening events are filled with presentations, workshops and activity designed around
three themes that make up social capital nexus:
ideas that unlock potential - our intellectual capital

harnessing talent and building movements - our human capital

resourcing and scaling innovation - our financial capital.


Our 2016 conference was a great success, inspiring many. Tickets are limited, so get yours now (and if you can, consider sponsoring one for someone else).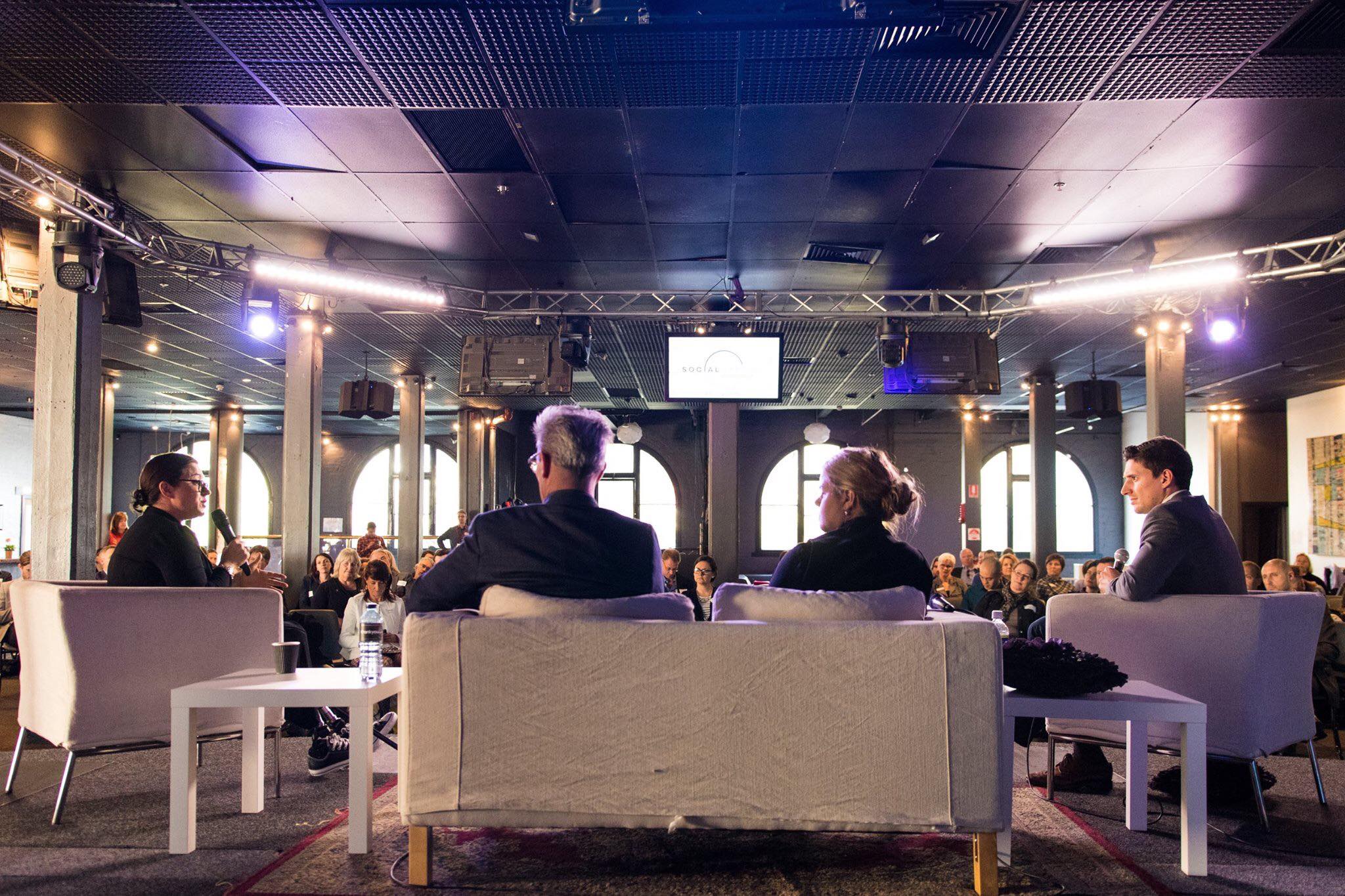 OUR CONFERENCE KEYNOTE SPEAKERS
We have six outstanding keynote speakers with global and national experience and success in social enterprise, innovation, entrepreneurship and impact. Each presentation will be followed by an audience Q&A session.
Suzi Sosa: Thinker in Residence, CEO and award-winning social entrepreneur
Suzi comes to Adelaide from sister city Austin, Texas, where she's made waves in both academia and social enterprise on her quest to solve social problems in financially sustainable ways.
As co-founder and CEO of
Verb
, she connects social entrepreneurs to large corporations around the globe using a proprietary online platform, a concept that won her the Ernst & Young Social Entrepreneur of the Year Award in 2014.
Suzi is also the second Social Capital Thinker in Residence.
Dr Pamela Ryan OAM: Venture capital and impact investor, psychologist, researcher, author, international NGO founder and philanthropist

Pam is perhaps one of South Australia's greatest exports when it comes to effecting social change through multi-disciplinary action. She is a business woman, venture capitalist, psychologist, consultant, researcher, philanthropist, policy thought leader, founder of Psychology Beyond Borders, author, documentary producer and pilot.
Pam was a speaker at this year's
South By Southwest (SXSW) Interactive
conference in Texas on "Impact: The Next Frontier for Venture Capital" and is currently writing a book on the future of social entrepreneurship, enterprise and impact.
Alan Noble: Director for Engineering for Google Australia New Zealand and serial entrepreneur
Alan attended the University of Adelaide and Stanford University and is currently the Engineering Director for
Google Australia and New Zealand
, where he has overseen the its growth to over 600 engineers. He holds seven patents, and has worked in Australia, Japan and the US for both multinationals and startups. As a 'serial entrepreneur', Alan has founded a number of tech ventures, with many being acquired by larger organisations such as Nokia and Riverbed technologies.
Alan is a co-founder and director of StartupAUS, an organisation building the community of technology entrepreneurship in Australia, and is on the board of the South Australian Museum. In February 2017 he founded AusOcean, whose mission is to develop and apply technology to learn more about our oceans.
Dr James Muecke AM: Australian Social Entreprenuer of the Year, ophthalmologist and founder of Sight for All
James was Australian Social Entrepreneur of the Year in 2015. He works internationally in addressing eye health, with a particular focus on Asia and indigenous communities. He is Founder and Chair of
Sight For All
, an Adelaide-based purpose-driven organisation that mobilises medical professionals, reaching around 500,000 people each year.
James was made a Member of the Order of Australia in 2012
Dr Eva Balan-Vnuk, state director of Microsoft, researcher and social enterprise expert
Eva is the State Director for
Microsoft in South Australia
, where she works with private, public and not-for-profit sector organisations to harness new tech to improve productivity, collaboration and efficiency. While an undergraduate she undertook a traineeship with Microsoft in Austria, and since then has worked widely in Europe and Asia deploying and researching technology as an enabler for business.
While researching her PhD at the University of Adelaide, she lectured on social entrepreneurship and new venture planning, and is currently a visiting research fellow at the Entrepreneurship, Commercialisation and Innovation Centre.
Stacey Thomas, CEO, philanthropy, investment and social impact specialist
Stacey is a philanthropy and social impact specialist who thinks philanthropy can and must take risks to back projects that would otherwise never get funded.
As CEO of the
Fay Fuller Foundation
, she helps fund initiatives that aim to address physical and mental health and wellbeing issues in South Australia, providing grants and investment in projects focusing upon prevention, cure and capability building. Her wealth of experience in social investment and community organisations includes an appetite for taking risks to reap rewards for all.
Stacey also consults to other purpose-driven organisations on strategy and project management, as well as serving on the boards of The Australian Centre for Social Innovation, Impact100 SA and Time for Kids.


OUR CONFERENCE WORKSHOP FACILITATORS
We have three outstanding workshop facilitators and presenters who will lead participants through how to build a movement in support of your vision; know what early investors are looking for; and how to transform your business model for maximum income and impact.

Christie Anthoney, CEO,

of Festivals Adelaide, arts leader and connector
Christie is CEO of
Festivals Adelaide
, the peak body for Australia's best arts festivals, Christie Anthony knows the power of the festivals to mobilise, connect and encourage experimentation within communities. Christie works with the festivals, industry and government to create understanding and evidence of this phenomenon, itself at the heart of social enterprise in the creative sector.
Christie believes that good company, inspiring thought and the appreciation of great talent mean as much to a population as any other measure of wellbeing. She encourages the creation of a soul-stirring vision and knows that investment in human capital is the bedrock for building thriving communities.
Jenny Vandyke, Tech, fintech and social enterprise innovator and author
Jenny is the managing director of
Startup Adelaide
, a judge for the Anthill Smart 100, and the author of The Innovation Recipe. Jenny is on a mission to help South Australia to pivot from the industrial age to the entrepreneurial age.
Working with new ventures since the age of 12, over the last 20 years Jenny has worked with numerous startups from the tech and social enterprise sectors, from bootstrapped operations to billion dollar fintech startups in Sydney, Melbourne, and Adelaide. Over the years Jenny has delivered hundreds of workshops and keynotes, including recent keynotes for Southstart, CPA Week, Open State and the Vivid Festival.

Suhit Anantula,

Strategy and impact designer and business mentor
Suhit is a Partner and Strategy Designer at
Business Models Inc
. He is based in Adelaide yet works internationally, including with India's largest start-up incubator and in enabling multi-party innovation in San Francisco.
Suhit is focussed on innovation and commercialisation for social impact. He combines design and business with a focus on social innovation and social entrepreneurship.


OUR EVENING EVENT PRESENTERS
We have four social enterprise founders sharing their story about how they clarified their vision, designed a business model and obtained capital for life-changing experiences and impact. Our evening event will focus on networking and collaboration over drinks and canapes and will be a must-attend gathering of leaders and innovators, including many from the Conference.



Amy Orange, founder of

Harvest Fair peer-to-peer food business
Amy is a local social entrepreneur with a lifelong passion for social justice, with a particular focus on equality, freedom of choice and inclusion for all members of society, leading to some unconventional ventures over the last 12 years. Working across offender rehabilitation, voluntary euthanasia, and gender equality, Amy has also spent the last decade working in the not for profit community, the last four years, supporting family carers.
Amy is the Founder of Harvest Fair, a social enterprise home delivery meal service which provides flexible employment and skills development opportunities for women who struggle to find a place in the mainstream workforce. It will be launching to the public in Adelaide in October 2017.
James Stewart, founder of

Kick.it, an app to help smokers
James wants to eradicate smoking. It's an ambitious aim – a billion people smoke tobacco, a habit that will kill roughly half of them, making it the biggest cause of premature preventable death in the world. His weapon in this epic battle is a smartphone app called Kick.it, which James describes as the world's first smoking cessation research platform, making it an ideal framework to tackle other pressing health issues, such as obesity, mental health and diabetes.
Kick.it was brought to fruition in Adelaide, and James credits the welcoming startup culture in his adoptive home for the progress he's made with Kick.it.
Louise Nobes, founder of Inspired BUY and KIK Coffee cafes
Social worker turned social entrepreneur, Louise has harnessed the experience her career in supporting young people, refugees and people with disabilities has provided to establish social innovation organisation Inspired BUY and the social enterprise, KIK Coffee. Inspired BUY impacts the lives of young people through education, training and support into sustainable employment, with a particular focus in Adelaide's northern suburbs.
KIK Coffee is about to open its third outlet devised, designed and run by disadvantaged youth. The cafés provide skills, work experience and importantly self-belief in young people whose life journey has been lacking in self-esteem and trust. KIK is the coffee supplier for the Social Capital Conference.


Joseph Cassar and Danny Connery, co-founders of Svelte Studios and digital partner for social start-up Sophie
Friends turned business partners, Joey and Danny have always found it easy to get excited about a good idea. From building an eCommerce solution for an Elephant Sanctuary in Thailand, product development strategy for an NGO in Cambodia and managing the redesign of the national newspaper in Samoa, their favourite work experiences have always been those that have an impact in the communities they live.
Svelte Studios is the strategic, creative and digital partner for Sophie. In the same way a Fitbit tracks physical movement and provides insight into your physical health, Sophie analyses language and behavioural cues and provides insight into a child's mental wellbeing.
OUR PARTNERS

We appreciate the generous support of
Coastlands
(venue partner) and
Jamshop
(creative partner).
We are seeking new and continuing partners to support our event series, including our July conference. Contact Matthew Wright-Simon (Engagement and Partnerships Director) on
mws@socialcapitalcity.com
for a partnership package.
SPONSORED TICKETS
Not everyone is at the same stage of their journey in the social economy. Some people have an entrepreneurial mindset, or represent people who need help with social and environmental solutions, but do not have the financial means to buy a ticket. To address this, we have created a 'Sponsored tickets' category.
Organisations and individuals are invited to support micro-philanthropy through 'sponsoring' a ticket for someone else. Sponsorship can be anonymous, nominated for a particular person or group on behalf of the sponsor. If both parties are willing, we can make introductions on the day.
ABOUT SOCIAL CAPITAL
Social Capital connects and leads a movement that has expanded to more than 800 social innovators, entrepreneurs and purpose-driven enterprises.
We are focused on three ventures: the exciting redevelopment of the existing Royal Adelaide Hospital site as an innovation campus; the Social Capital Residencies with the revived Don Dustan Foundation Thinkers in Residence program; and the 2017 Social Capital event series.