Location
Curtin 139 St Georges Terrace
139 St Georges Terrace
Perth, WA 6000
Australia
Smart Zero: Leveraging Digital to Drive Decarbonisation
About this event
An event hosted by the Cisco Centre for Networks (C4N) as part of 2022 WA Energy Week.
Energy Week is an annual program of events run by the Australian Institute of Energy (AIE) and Energy Policy WA - featuring our own sundowner panel as a part of the week long occasion.
This event will explore the role of digital technology to support industry to accelerate decarbonisation. Featuring insightful presentations from Carl Solder and Rachelle Doyle, discover how industry experts are driving decarbonisation by leveraging digital.
📣 All industry professionals with an interest in decarbonisation should attend.
If you are interested to hear from expert speakers from across the sector, join us!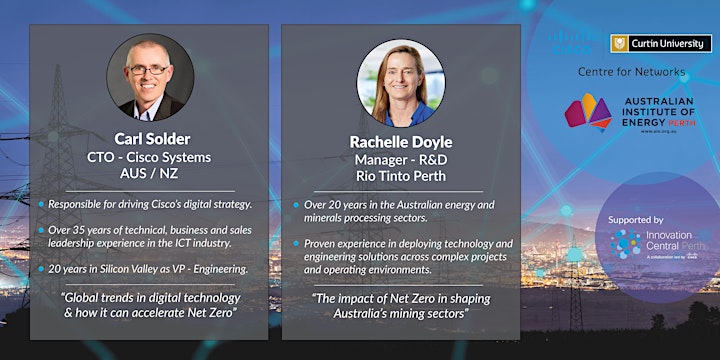 AGENDA
5.00 PM: Arrival & Registration
5.10 PM: Event open & welcome - Andrew Bell (Facilitator)
5.15 PM: The impact of Net Zero in shaping Australia's mining sectors - Rachelle Doyle, Manager Research and Development - Rio Tinto
5.25 PM: Global trends in digital technology & how it can accelerate Net Zero - Carl Solder, CTO - Cisco Aus & NZ
5.35 PM: Facilitated Panel exploring challenges within the industry
6.00 PM: Networking & Refreshments
7.00 PM: Event Concludes
*Registrations are mandatory and seating is limited, please follow the links to register.
*Please note that images and footage will be taken throughout the event. These will be used by ICP for marketing purposes on our website and social media or other third party publications. Please contact the event organiser if you wish to be exempt from this.
COVID GUIDELINES:
If you are feeling unwell or are experiencing COVID-19 symptoms, please do not attend this event.
Public parking is available in the vicinity at:
- His Majesty's, 377 Murray Street
- Citipark, 427 Murray Street
- Perth Convention Centre, 21 Mounts Bay Road
- Central Park, 152-158 St Georges Terrace