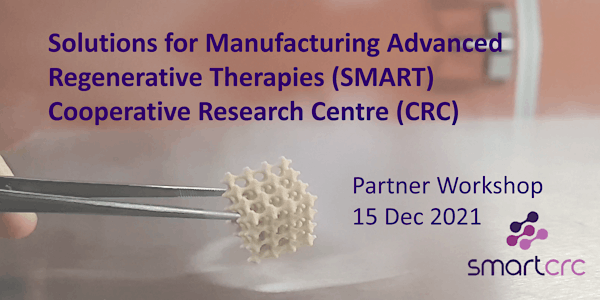 SMART CRC Partner Engagement Workshop
The SMART CRC is hosting our first workshop of interested partners, a key opportunity to hear our progress and discuss our forward plan.
About this event
The Solutions for Manufacturing Advanced Regenerative Therapies Cooperative Research Centre (SMART CRC), an industry-led bid, aims to accelerate the applications and adoptions of regenerative therapies in Australia.
The purpose of this workshop is to provide a summary for partners of the SMART CRC and to define high-priority projects relevant to industry. The SMART CRC has research programs in three interrelated fields: Biomanufacturing; Cell and Gene Therapy; and Biomaterials and Microenvironments. If successful, the SMART CRC, is expected to operate from the third quarter of 2023 to the third quarter of 2033.
The agenda for the meeting will include:
Session 1 (Silvio Tiziani, Director, External Strategy and Planning, Australian Regenerative Medicine Institute and Chief Executive Officer, CCRM Australia)
Introductions
Why the SMART CRC
Team and progress to date
Summary of research programs
Session 2 (TBC)
Research program break-out sessions
Q&A and feedback on the research program
Potential partner projects
Potential partners to be in each project
Prioritisation of projects
Implications for broader research program
Session 3 (Greg Spinks, Managing Director, Consulting & Implementation Services)
Overview of CRC program
Governance and management arrangements
IP arrangements
Timing of activities
Next steps