Description
The Smart Cities Research Cluster, of the Faculty of Built Environment, UNSW, is pleased to invite you to the "Smart Cities and Informed Urbanisation Workshop", which will take place on April 6, 2017 in Sydney. The workshop will bring together digital strategists, urban planners, government leaders, academics, business leaders and start-ups to explore and discuss "how Australian cities can use digital technologies in designing future-oriented places for life, work, and play in shaping a more sustainable future". More specifically, the workshop will look at potential solutions for precinct-scale urban redevelopments, at smart transport applications and at IoT and data driven urban management opportunities. The workshop will also identify avenues for Australian cities and organisations to engage with the emerging smart city and digital technology market in India.
This workshop is part of our annual tech-design-policy event and follows on from successful conferences such as the Open Data and Open Cities Workshop held in 2015, and the Smart Cities and Urban Innovation Symposium held in 2016. Through these events, the Smart Cities Research Cluster at UNSW promotes ideas for digital placemaking and strengthens the connections between people and organisations concerned with the future of cities and urbanisation.
We are confident that the outcomes from the Smart Cities and Informed Urbanisation Workshop will strongly inform future policy and research debates on sustainable smart cities and will forge national and global partnerships in this important sector.
We welcome you to this workshop to share emerging ideas on smart city potentials and challenges.
Assoc. Prof. Hoon Han and Dr. Scott Hawken, Convenors of the Smart Cities Research Cluster, UNSW
Sarbeswar Praharaj, Coordinator, Smart Cities and Informed Urbanisation Workshop
The Workshop Schedule is presented below: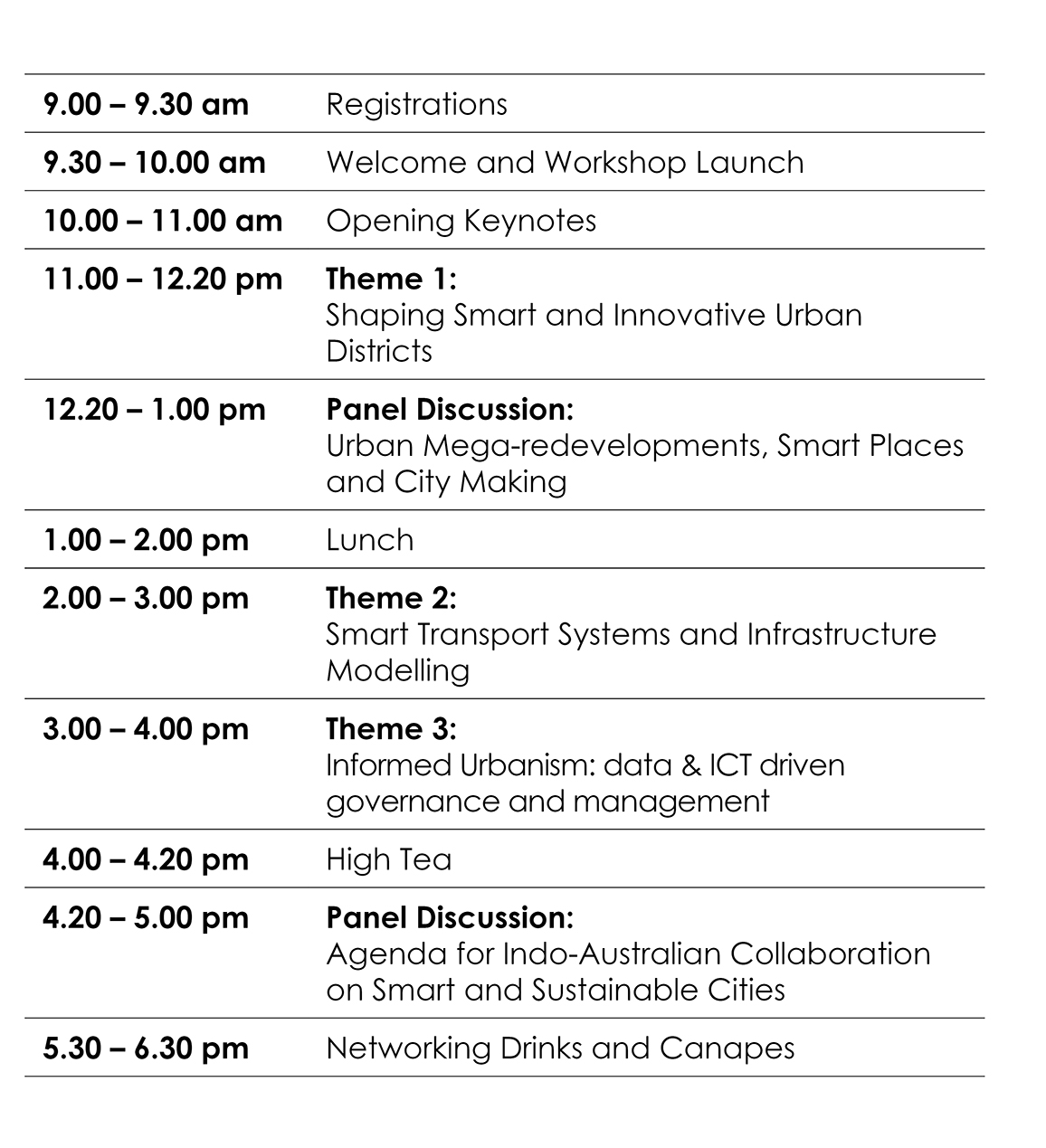 For sponsorship and partnership opportunities please contact Sarbeswar Praharaj on +61 449 572 480 and s.praharaj@unsw.edu.au
To learn more about the research cluster please visit: https://www.be.unsw.edu.au/research-centres-and-clusters/smart-cities/about-us
For general inquiries please email smartcities@unsw.edu.au or s.hawken@unsw.edu.au
Important: This is a catered event and registration is mandatory for attending the workshop.