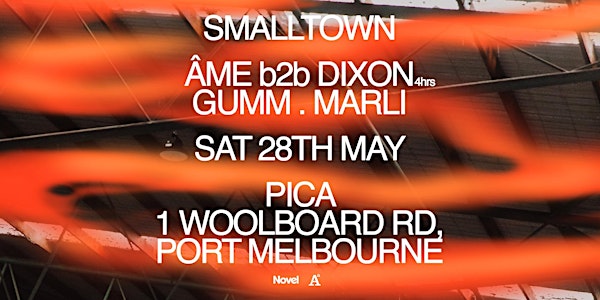 smalltown with Âme b2b Dixon (4hrs)
Location
PICA (Port Melbourne Industrial Centre of the Arts)
1 Woolboard Rd, Port Melbourne
Melbourne, VIC 3207
Australia
smalltown with Âme b2b Dixon (4hrs)
About this event
smalltown with Âme b2b Dixon (4hrs)
Sat 28th May, 3 PM - 11 PM
PICA (Port Melbourne Industrial Centre for the Arts)
TICKETS ON SALE NOW
Lineup:
Âme b2b Dixon (4hrs)
Gumm
Marli
Drawing on the memories of smalltown's past, now, we look to the future. A new location and fresh energy, a revamped package and an elevated venture. And as we've always done, this one will be one to remember forever. We welcome back Âme + Dixon for a 4hr b2b showcase, alongside special guest Paramida.
–––––––––––––––––
Âme (DJ): Âme's singularity is derived from their strata – a catacomb of Frank Wiedemann and Kristian Beyer's symbiotic relationship. Their label Innervisions is metamorphic of their expression and powers combined. Âme are just as multifaceted when translated to the live arena. Kristian is the veteran globe-trotting DJ, while Frank, more a creature of the studio, performs dynamic live sets and these days covers just as many miles. For this instalment of smalltown, we're excited to welcome the DJ arm of Âme - Kristian Beyer. Intentionally, every venture under the Âme brand knows no bounds. Together and apart they frequent the booths and stages of the world's top clubs and festivals, carrying the Âme sound far and wide.
Dixon: Few artists walk the line between past and future as well as Dixon. As a DJ, he cuts a striking figure behind decks, rising from Berlin beginnings among the original pioneers of electronic music. Over a career, he has evolved his sound into something visionary, running renowned record label Innervisions with Ȃme. His ear for the perfect mix eventually brought down Resident Advisor's Top DJs Poll, after taking out first place for its last four years running. However, Dixon's ambition has driven a calling into wider fields of fashion and technology, expanding what it means to be a contemporary innovator. Dixon's strength is found in his transcendent dance floor moments. Echoed in a flawless aesthetic, his performances feel both safe and unpredictable, with this singular sense of balance seeing his global appeal widen year after year.
Featuring the same level of production as Let Them Eat Cake and B3, and Funktion-One Sound by Full Throttle Entertainment, join us as we venture to new territory, Port Melbourne's Industrial Centre for the Arts - PICA.
Support: Gumm + Marli
–––––––––––––––––
Strictly 18+
FB: Novel (Tours & Events)
IG: @wearenovel
W: www.novel.com.au
–––––––––––––––––
We acknowledge the traditional custodians of the land this event is taking place upon, the Wurundjeri People of the Kulin Nation, and we pay our respects to their elders of past, present and future.
Any patrons who have specific queries regarding the accessibility of the venue are encouraged to get in touch with us at hello@novel.com.au.
* No refunds. Refunds will only be permitted in the instance that the event is cancelled or postponed due to Covid-19. *